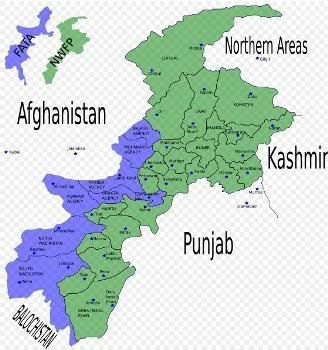 On the eve of Pakistan's 63rd independence day, President Asif Ali Zardari announced major reforms in the political, administrative and judicial make up of the Federally Administrated Tribal Areas (FATA) – a combination of seven semi-autonomous tribal agencies bordering Afghanistan.
It should be noted that as per the constitution of Pakistan, FATA is under the direct control of the President of Pakistan who exercises his authority through a "Political Agent" for each of the seven agencies. For all intent and purpose, a political agent can be considered as a mini-viceroy who exercises vast powers over his agency and is not answerable to any judicial oversight. The writ of the Supreme court of Pakistan does not extend to FATA which is governed by the colonial era Frontier Crimes Regulation (FCR) that allows the political agent to imprison people without any trial for an indefinite period of time. Moreover the people of FATA are not allowed to enjoin the democratic process enjoyed by their fellow citizens as none of the Pakistani political parties are allowed to exist in FATA.

For more than a decade, FATA has been in the news for all the wrong reasons. It has become a hot bed of terrorism and militants from all across the globe have used this as a sanctuary for carrying out their wicked acts but this news announced on Pakistan's independence day is definitely positive. According to this Dawn news stroy, the key aspects of the reforms announced by the President are:
1. Extension of the Political Parties Order of 2002 to the tribal areas
2. Changes to the FCR to curtail the powers of arbitrary arrest and detention without the right to bail
3. Exclusion of women and children below 16 years of age under the Collective Responsibility Clause of the FCR
4. Setting up the Fata Tribunal with powers similar to those of the high courts
5. Audit of the funds received and disbursed by political agents by the Auditor General of Pakistan
Like anything else, the success and effectiveness of these reforms will largely depend on their implementation nevertheless on the face of it, this is definitely a move in the right direction. The militancy and terrorism in FATA can not be eradicated through the military means alone. Any lasting peace in this area will require a comprehensive set of political, judicial and economic reforms to accompany the military action.





There is a general feeling that people of FATA have suffered enormously at the hand of Maliks (tribal leaders), political agents and terrorists both home grown and foreign born. They deserve better from the government of Pakistan and its instiututions. One can only hope that these reforms only constitute a starting point for a long journey towards integrating FATA into the Pakistani state.
Photo Credits: Title map is from wikipedia