Adil Najam
My posts over the last few days have all been designed to build up to this (here, here and here).
Irrespective of whether Abdul Sattar Edhi is a Pakistani or not, irrespective of how much most Pakistanis hold his selfless zeal in reverence – and irrespective also of all the ways in which a few have tried to malign him – I believe that Abdul Sattar Edhi deserves a Nobel Peace Prize. I need your help in putting together a nominations package.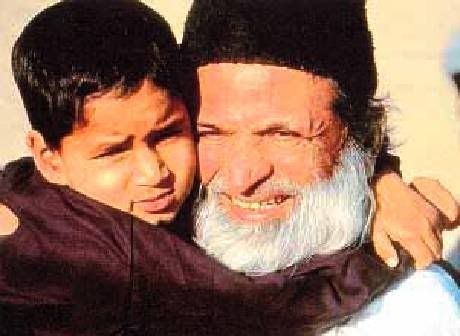 I do not wish to make this a nationalistic thing. He would not like that. For me it is a humanistic thing. As he has made clear again and again, humanism and humanitarianism is more important than everything else; certainly it is bigger than nationalism.
Here is a man who has dedicated his whole life to serving the most marginalized and the most wretched in society. The destitutes, the mentally ill, corpses left by the roadside, children abandoned at his doorsteps, women kicked out by their families. When there is no one to go to, there is always Edhi Sahib to go to.
As importantly, he has done this – in his words – 'wholesale'. He has single handedly built – literally by begging – a social services structure at a national scale. Bigger than what governments have. He has never taken a ruppee as salary himself. He lives in a two room apartment that most middle class Pakistanis would not call home and he oversees the largest ambulance network in the world, now with airplanes and helicopters, a multi-million dollar enterprise of relief, of goodwill, and of humanitarianism. If he does not deserve the Nobel Award, I do not know who does.
As I had mentioned in the last post, the Edhi Foundation is collecting signatures on a petition that he be given the Nobel Award. I like other bloggers (here, here, and here) would urge you to sign that petition and join the thousands others who already have.





But I think we can do a little more. Here is how.
I checked out the website of the Nobel Peace Prize Committee and looked at their nominations procedure. It is not clear whether they accept petitions or not, but it turns out that they do have categories of individuals who can make nominations (which are due by February 1). One of those categories is "university professors of social science, history, philosophy, law and theology." I am not sure if I have much standing with them, but I fit into that category, and therefore I believe I have the ability to formally send in a nomination, and I plan to write in a nomination letter over the next few days.
What I would like to do, then, is to ask you all to write your own testimonials to why Abdul Sattar Edhi deserves a Nobel Award in the comments section. We want to gather as many testimonials/comments as possible.
Personal stories and examples of how he touches people's lives and meets the ideals of the Nobel Peace Prize are especially useful.
So let me please request you for your help. If you agree with me that Abdul Sattar Edhi deserves a Nobel Peace Prize:
Please leave a testimonial in the comments section saying that he deserved the award why you believe that Abdul Sattar Edhi deserves a Nobel Peace Prize.
Please email this post to your friends and ask them to do the same.
If you are a blogger, please spread the word on your blogs and to your readers and ask those who agree with my proposition to leave a testimonial.
And to meet the deadline we need to do all of this in the next few days. I have no pretensions that a letter from one professor will do the trick. But since I have this ability, I want to at least give it a shot. At least we would be able to say, we tried.
What do you say, folks?