This photograph was taken by Talha Masood on a Pakistan Railways train from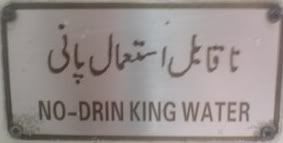 Islamabad to Lahore. It first appeared, under this headline, in Talha's weblog, My Cosmos, which is a wonderful chronicle on the life and times of Islamabad.
For a picture taken by a cellphone camera, its quality is very good. But more than that, here is another example on Pinglish in action. Note the space between 'N' and 'K' and how it makes all the difference.
For more on the meaning of Pinglish see ATP's first blogpost on the subject.