Adil Najam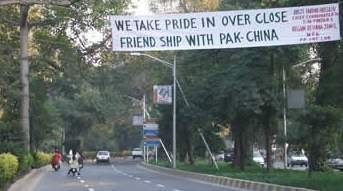 The headline used for this photograph by the Daily Times was just too good not to reproduce above.
I do not know if this qualifies as Pinglish or not but the typo – 'over' instead of 'our'; the misplaced space in 'Friend Ship'; and the grammar slippage in 'with Pak-China' are so very charming and so very Pakistani. (or, maybe, it means what it says; i.e., we have an OVER-close friendship with China!)
But please, let no one think I am being a snob in laughing at these mistakes. I really am not. Really.
Its our language too and as a free people we will use it whatever way we want. What better revenge can we have on our erstwhile colonists. Also, I have always subscribed to the notion that 'Friend Ship is the best Ship of all' :-)