Adil Najam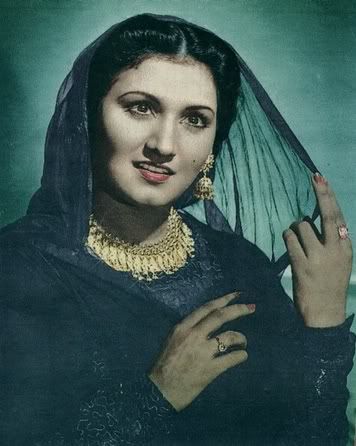 Today ATP gets to feature the work of two people whom I hold in great respect – even awe – each at the top of their craft.
The first, of course, is Madam Nur Jehan (Noor Jahan). Whatever the word might mean to others elsewhere, for Pakistanis 'Madam' refers only to Nur Jehan; and one need not say anything more (except, maybe, that her real name was Allah Wasai).
(You can also view and hear a pictorial tribute to her here).
Because it is so difficult to even begin writing about Madam, I want to just refer you to the words of a second person I have been meaning to write about: the indomitable Khalid Hasan; erstwhile compatriot and Press Secretary to Zulfiqar Ali Bhutto and journalist par excellence.
Whether you agree with Khalid Hasan or not (and I don't just about as often as I do), one has to agree that as a journalist – especially as a columnist (as opposed to just an opinion-monger) – he is at the top of his craft; the standard for all others to follow. How can you not be enamoured by a journalist whose website opens with the following line from Chiragh Hasan Hasrat:
No one should take journalists too seriously, especially journalists themselves because what they write in the morning, is used to wrap fish in the same evening.
Like so many Pakistanis, Khalid Hasan followed Nur Jehan's career in intimate detail. Unlike most, he knew her well and have written about her with a palpable depth of affection. For example:
When Nur Jehan first suffered a heart ailment, I remember saying, "But of course it had to be the heart, considering how many claimants it has had and how often it has fluttered for those on whom she has chosen to smile, even if fleetingly and on a mild summer evening."
This post came about because I recently stumbled upon this wonderful clip from the 1958 movie Anarkali, produced and directed by Anwar Kamal, music from Rashid Attre, starring Noor Jahan in the lead role with Sudhir as Prince Salim, and also with Shamim Ara in the cast.
Click on arrow at center, or view it directly here:
Of course, there are many other movie and song versions of Anarkali, and ATP has written about them before (here and here). But this one reminds me not only of the glory days of Pakistani cinema but also of the magic that was Noor Jahan. Most people thought that both she and Sudhir were ill-cast in this movie, yet the sheer brilliance of her songs took it to Silver Jubillee hieights. (Apart from this song, another memorable song in the movie was: "Sadaa houN appne pyar ki").
As soon as I first saw this one of my first instincts was to go back to re-read a long piece that Khalid sahib had done on Madam; a piece whose substance captured the essence of Nur Jehan, and whose style captured the essence of Khalid Hasan:
Her music lives as it has lived from that distant time over sixty years ago when her nightingale voice was first heard in the music halls of Lahore and the smaller town of Punjab. It was an electrifying voice, never false on pitch, never striking an untrue note, but something perfect God had fashioned on a good day. She did not fritter away her gift. She worked hard, unceasingly, devotedly, indefatigably, uncomplaining, all the time honing and polishing this abundance of genius she had been invested with. She worked hard to become great. She was an extraordinary woman who lived on her own terms. She went through good times and bad, marriages, divorces, heartbreaks, casual and serious love affairs, fame, fortune, loneliness and, in the last years of her life, unremitting ill health. She bore it all with quiet confidence and much grace. She never felt sorry for herself, never looked for pity.
In typical Khalid Hasan style, the piece is full of insightful and juicy details, including on Madam's varied love life and fabled antics. I will leave it to the reader to explore these — especially the detailed account of how debonair cricketer Nazar Mohammad was lost to Pakistan cricket because of his amorous affair with Madam — in Khalid Sahibs essay. But here is a particularly memorable bit:
Madam's liaisons were part of her legend. Did someone ever directly ask her about them? One person whom I can name who did indeed ask her was Raja Tajammul Hussain. "All half truths," she had told him. "Then let's have some half truths," he ventured, "the serious half truths, that is." She was in one of her throwaway moods and she said, "All right then," and began to pull out names from her photographic memory. After a few minutes, she asked Tajammul, "And how many do you have?" "Sixteen so far," Tajammul replied with a straight face. Her response in Punjabi remains a Nur Jehan classic. "Hai Allah! Na na kardian wi solan ho gai nain!"
If you have not already gone over to read the full article, here is a final teaser that should have you rushing to Khalid Hasan's website (he is describing how he got his first meeting with her in 1967):
I phoned the number several times but found it either engaged or unresponsive. But I persisted and was at last rewarded when Madam answered it herself. "Hello," she said and I knew it was her. That hello was like music to my ears. When I told her who I was and why I had called, she said, "You people never write the truth." "Try me," I replied quickly, "What you say, will be printed exactly as you say it." When she asked what paper I was from and I told her, she sounded reassured. The Pakistan Times had a great deal of prestige, the National Press Trust notwithstanding. But I wasn't home and dry yet because the next thing she said was, "But that is an English newspaper and I can't give you an interview in English." Then she laughed, a teasing, flirtatious laugh, very Nur Jehan. "But you know I am not an anparh. I can do a bit of gitter-mitter." She also told me I had an honest voice and would I come that afternoon. She also asked me if I knew where she lived. "Yes, Madam, I indeed do. The entire world knows where you live. Bang in front of the United Christian Hospital, the big white house with the black steel gate." The Liberty Market was still somewhere in the future.