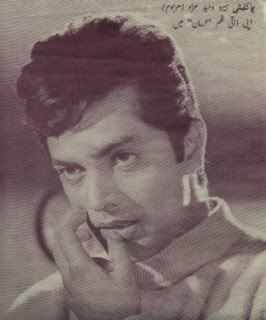 Adil Najam
Was Waheed Murad was the very first 'heart throb' and 'super star' of Pakistan?
Cricketers Fazal Mahmood and Merry Max (Maqsood Ahmad) certainly had their groupies well before Waheed Murad, but they were 'niche stars'.
The phenomenon called Waheed Murad took the country by storm – across class and across locations – and I would venture to say that certainly no film-star in Pakistan has had the sway over the public imagination that he had at his peak; for many, the myth reigns still.
The one movie star who was greater-than-life in somewhat similar dimensions (and more literally) was Sultan Rahi, but he too was defined by a niche constrained by language (Punjabi in his case), and to a large extent class.
These, of course, are subjective judgements. Do you think there were other 'heart throbs' of this stature before him? After him?
To me, the image of Waheed Murad is forever linked to such classic songs as 'ko-ko-korina' and 'aakailey na jaana' … or just about anything from the magic team of Waheed Murad and Ahmad Rushdi. Here is a little taste of vintage Waheed Murad, from the movie Ladla. The print quality is not very good and this is certainly not the best of Waheed Murad. However, it is representative of the Waheed-Rushdi genre.
Plus, I like the song, and I find the quaint 'twist' dance routine amusing. Indeed, the whole ambiance of the song is worth thinking about in terms of what was. Enjoy, 'socha tha piyar na karain gay'.
As an added treat, here is another video clip of an old song. This is really much more about
Madam
(
Noor Jahan
, of course, see
here
) and about
Shamim Ara
(who, by the way, may be the most phenomenal of women in Pakistani film, having reigned the screen first as a top heroine and then as a top Producer and Director). Movie buffs, note also the 'young'
Rangeela
.. and his antics with Waheed Murad, who here is portraying
his 'chocolate' mood: melow, sensitive, smooth, and silent
. To me, at least,
'abhi dhoond he rahi thi'
is a truly beautiful song; one from an era when Pakistani film music was at its best.
As you can see, I am a fan of
Waheed Murad
– he is someone who will certainly go into my 'Pakistaniat' capsule for the future!