Today is a good day to talk about 'Pakistaniat.'
The name of this blog is 'All Things Pakistan' or ATP. But the title in the URL is 'Pakistaniat' which would loosely translate as 'Pakistani-ness.' The blog is named thus because it was borne out of a conversation with a friend on what makes a Pakistani a Pakistani. The purpose of this blog is to continue and broaden that conversation, to make it ongoing, and to involve more people in it.
Of course, there are many way to talk about Pakistaniat. In fact, that is all we do on ATP, all the time, and in all sorts of ways. One way to do so is through poetry. We thought maybe we should ask you to share with us a favorite verse, a sheyr, a nazm, a line from a song, anything that conveys some sense of something you would consider Pakistaniat… poetry that tugs at you on this Independence Day… the canvas is wide, choose whatever you may.
To set the ball rolling, let me offer some of my favorites.
Let me start with one of my favorite national song (see here for my all time favorite national song). It used to be played a lot around 1970 (I think the poet is Asad Muhammad Khan and was sung by Shahnaz Begum). I always thought that the essential idea behind it was quite unlike most national songs:
mauj baRhay kay aanDhi aa-aye, diya jala-aye rakhna hai
ghar ki khatir sau dukh jhailaiN, ghar tou aakir appna hai
On a more profound note, heere is a Dua (prayer) from Faiz. I absolutely love the line about "himmat-e-qufr millay, juraat-e-tehqeeq milay" (read the line before this one for context). Ameen.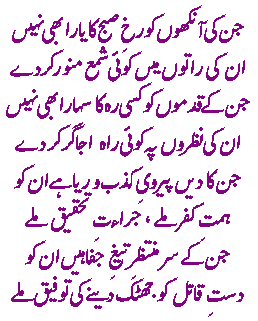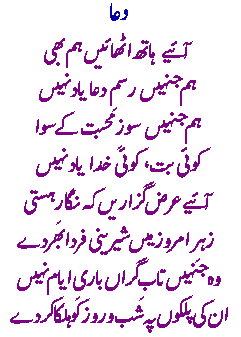 I found this English translation here but not sure by whom. My hunch is that it is not from Agha Shahid Ali (The Rebel's Shilloute), but I may be wrong:
Come, let us join our hands in prayer.
We, who can not remember the exact ritual
We, who, except the passion and fire of Love,
do not recall any god, remember no idol.

Let us beseech, that may the Divine Sketcher
mix a sweet future in the present's poison
For those who can't bear the burden of time,
the rolling of days on their souls, may He lighten

Those, whose eyes don't have in their fate, the rosy cheek of dawn
may He set for them some flame alight.
For those, whose steps know no path
may He show their eyes some way in the night.

May those whose faith is following falsehood and pomp
have the courage to deny, the boldness to discover.
May those whose heads wait for the oppressors sword
have the ability to push off the hand of the executioner.

This secret of Love, which has put the soul on fire,
may we express it today and the burning be gone.
This word of Truth that pricks in the core of the heart,
may we say it today and the itching be gone.
I apologize for posting this yet again, but this seems to be an appropriate place to revisit my video rendition of Faiz's hum daikhain gay. I have discussed this poem's importance to ATP's ethos here and the original and Maniza Naqvi's translation are available here.
Click on the arrow at the center of the image below
Main picture credit: Cricket spectator in Lahore (from Daily Times).