Owais Mughal
National Stadium Karachi saw its first International match played here on April 21, 1955. The dimension of time however, had to wait 29 more years before I first set foot here. My chance came on February 29, 1980 (leap year). I was 9 years old and Australia's cricket team was visiting Pakistan.
With my friends from the neighbor hood, all packed up in a Suzuki pick-up, and with an elder guy to keep an eye on us, we went to see the third day's game. The starting time for the day's play was 10:00 a.m. but in excitement of watching the test match we reached the stadium at 7:00 a.m.
National Stadium used to be very different in those days. Only VIP enclosure had a covered roof and it was also located on the Square-leg side. Pavilion also used to be under the VIP enclosure. We sat in the 'shamiana' (tent) covered Citizens enclosure which was next to the pavilion and it gave us the best view of the players. I still remember that the ticket price for our stand was Rupees 50 a day.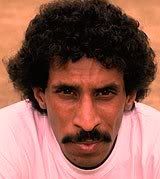 Pakistani team came out on the field around 8 a.m. to warm up. Zaheer Abbas was hitting the ball high in the air while the rest of the players were trying to catch it. Crowd started going wild with excitement just by looking at players doing practice. Pakistan's team had lots of superstars in the team. Javed Miandad was the captain. And it was the first ever match of Tauseef Ahmed. Four days earlier, he had come to bowl in Pakistani nets from Malir, and Javed Miandad picked him up for the National team. Tauseef Ahmed used to look like the famous singer Lionel Richie in those days. Look at the photos above and try to determine yourself who is Tauseef Ahmed and who is Lionel Richie.
Other players in the team were Taslim Arif, Haroon Rashid, Wasim Raja, Majid Khan, Mudassar Nazar, Imran Khan, Sarfraz Nawaz, and Iqbal Qasim. In the first two days of the match, Australia had scored 225 and Pakistan were 193 for 5. When third day's game started Majid Khan was batting at 80 and Mudassar Nazar at 20 something. Australian Spinner Ray Bright was a big 'hawwa' (ghost) against Pakistan in that series. Very soon he removed Majid Khan at 89. Imran Khan came to bat next. I still remember how the girls in our enclosure were going wild at seeing Imran Khan. I was in grade IVth and very innocent. I didn't understand what the excitement was all about. The girls were chanting at Imran Khan:
Tuk Tuk kar kay bore mut karo
chakka choka maar kar dil khush karo
(Don' bore us by defending every bowl.
Make us happy by hitting sixes and fours)
Ray Bright proved to be too good for Pakistani team and he removed Mudassar Nazar (29) and Sarfraz Nawaz (17) while from the other end Greg Chappell took the wicket of Imran Khan (9). Tauseef Ahmed batting in his first Test match got a Golden Duck. Bowler was none other than Mr. Ray Bright again. Pakistanis were all out at 292. Ray Bright finished with the figures of 7/87. Lunch break was declared as soon as innings finished.
Lunch boxes were sold in the crowd during lunch break. I still remember munching at Chicken Roast and some 'rayeta' (yogurt dressing) from my lunch box.
After lunch, Australian openers Bruce Laird and Garaham Yallop started the innings. Imran Khan was injured (pulled leg muscle) so of all the people, Mudassar Nazar started the bowling attack from Pakistan. Mudassar Nazar just bowled 2 overs and Javed Miandad replaced him with Iqbal Qasim while Sarfraz Nawaz was replaced by Tauseef Ahmed.
There was a group of some really funny boys sitting in the crowd. They kept teasing each other the whole day. One guy was getting the burnt of everyone and whenever he tried to say anything other boys would shut him up by saying:
"Yaar aap haiN kon? aap chup kareN"
(Who are you? Keep quiet)
This poor lad would then just keep quiet until the next exciting moment. This kept going for 3 to 4 hours. Late cricketer Wasim Raja was fielding right in front of our enclosure and he had shoulder length hair in those days, so this poor lad remarked:
"Oye Rajay, baal kaTwaa le"
(O Raja, get a hair-cut)
At this the other guys started teasing him again:
"acha to aap naai haiN"
(Oh, so you are barber)
This activity kept going on till the evening.
At the end of the day's play Australians were 90/6. Iqbal Qasim took 4 wickets and Tauseef Ahmed took 2. The big guys who got out were Greg Chappell (captain), Kim Hughes (vice captain) and Rodney Marsh (wicket keeper). Allan Border was not out at 40 something.
The day's game ended at 4:30 and all of us came back to our homes after packing up in the Suzuki Pick-up again. Pakistan later won the test match by 7 wickets. The complete score card of this match is available here.
Over the years I've seen numerous International and domestic matches at the National Stadium but the memories of that first match are still afresh. Since 1955, National Stadium has come a
long way. The World Cup of 1987 saw half of the stadium being covered and the World Cup of 1996 saw the whole stadium get covered accommodation.
Here is my photo from 1987 (I was 16 years old then) when in the excitement of World Cup matches being played in Karachi I went to see the progress on the stadium roof. Flood lights got installed in the stadium in early 2000s and the current capacity of the stadium is 33,500.
It is certainly not the largest, but in my view one of the most beautiful stadiums of Pakistan.
Photo Credits: National Stadium, Karachi photos have been shared from Cricinfo.org and flickr.com