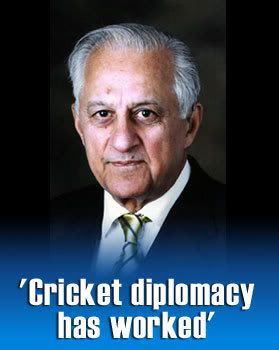 Bilal Zuberi
Pakistani cricket team is not done making waves yet.
The Darrell Hair controversy, which ATP reported on and you commented on (here, here, and here), was barely behind us that a series of resignations have sent additional shock waves reverberating through the system.
The background to new development is the search for a new captain while Inzamam sits out his 4 one-day game suspension. On Thursday, Younis Khan was appointed to take the lead role, but then in a rare show of anger, he abruptly walke dout of a Press Conference, stating that he did not want to be a "dummy captain". A visibly shocked and angered Sheheryar Khan was seen trying to calm things down for the press and media the same evening.
But now the bizarre turn of events inside the Pakistani cricket team has become bizarrer (if there was to be such a thing). Just one day after the Younis Khan episode, Sheheryar Khan, the Chairman of the Pakistan Cricket Board has abruptly resigned. This can be a serious blow to Pakistani cricket. Circket fans in Pakistan and abroad, I am sure, are watching in amazement as the drama gets played out. Explaining his decision, Sheheryar Khan is reported to have said:
"These two incidents [ATP: Hair controversy and Younis Khan resignation] were very upsetting for me and spoiled an otherwise productive period for me. My tenure was until December 2006 so I decided to go now… Since the World Cup is just five months away, I wanted to give time to the new chairman to adjust before the tournament."
Well, what else could he have said? It is surprising though that even a seasoned diplomat found it difficult to deal with the politics of the PCB.
Dr Naseem Ashraf, a member of the board's ad-hoc committee and an advisor to the President on human development issues, seems to have taken on the role for now. He is not a man without controversy himself, but this time around it seems others have already created enough media frenzy that he would be best advised to invoke some calming down period to a cricketing nation hanging in suspense.
This can potentially get quite interesting and we are anxiously watching the developments. Pakistan's coach, Woolmer, was hired by Sheheryar Khan after he fired Javed Miandad.
Would Woolmer stay on?
When did the PCB patron, President Musharraf, decide to axe Sheheryar Khan?

And what role did Dr. Nasim Ashraf have to play in this,given that he was also present at The Oval stadium during the match boycott debacle, and was seen negotiating with the players.
In the meantime, the team is off to the ICC Champions Trophy. We wish them good luck!