Owais Mughal
Eid festival is here. I have collected some Eid related poetry from the web which I will share below in my own hand writing. In these ashaar (poetic couplets) I have tried to capture different moods of Eid festival. Some have an obvious celebratory tone while others are humorous or serious. I will also try to translate these ashaar so that our English readership can also enjoy the thought that goes with them.
(1) The date of Eid festival is determined by sighting of a new month's moon. This moon sighting has a very important and festive value as it announces the arrival of Eid festival. The following sher by Saghar Siddiqui compares eye brows of ones beloved to the crescent shape of Eid moon.

Approximate translation goes like this:
The crescent moon is as sharp as her eye-brows
For a long while it remained hard to look at
(2) An important part of Eid festivities is the cooking of different types of desserts. In Pakistan, sweet vermicelli noodles called sewayiaN is the most common dessert cooked on day of Eid. In the following sher an anonymous poet; under the spell of great desserts cooked on Eid; is comparing his beloved's long tresses to sewayiaN.

Approximate translation goes like this:
It must be under the spell of great Eid food
That beloved's tresses also look like sewayiaN
(3) For those who think they are not treated fair by life, festivals in general bring a sad reminder of their grievances. Following sher from an anonymous poets depicts a similar situation.

Approximate translation goes like this:
When grievances filled to the brink in the pot of life
People in pain drank by dissolving the moon of Eid in it
(4) As written above, sighting of Eid moon brings happiness to people. It is also a moment where people in love try to steal glances. Appearence of girl's father in such situations however, works as a spoiler. It reminds me of famous writer Shafiq-ur-Rehman's book where he humorously describes a girl's father as the most important person in South Asia. According to him not even a leaf moves without permission from a girls father in South Asia.
Approximate translation goes like this:
Every one watches the Eid moon happily
It is just may fate that I got my bones broken
I was lost in staring at the beauty of my moon
Just that suddenly my moon's father dropped by
(5) Another tradition of eid festival is that families gather on roof tops for moon sighting. Sometimes the moon is sought across the roof tops instead of horizon. Describing one such situation poet Saghar Siddiqui has said following words.
Approximate translation goes like this:
While eyes kept looking for moon in the vastness of horizon
My heart found its moon nearby
(6) Following couplet is by Steve Almas. It is a prayer asking for sighting of ones beloved.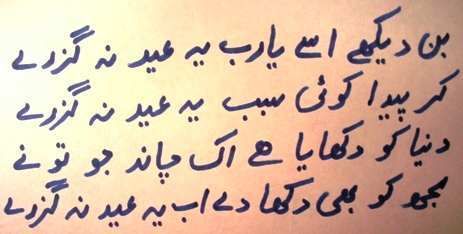 Approximate translation goes like this:
Without seeing my beloved I cannot celebrate this Eid
Create a possibility because I cannot celebrate this Eid
O God, You have shown whole world a shining moon
Now Show me my moon because I cannot celebrate this Eid
(7) Following sher has this homorous touch where it talks about men who are bald or on the edge of getting bald. The poet himself is a bald person and talks about how his shiny bald scalp was mistaken as Eid moon by the neighbors.

Approximate translation goes like this:
On 23rd of Ramzan I climbed up to the roof
And next day neighbors celebrated the Eid
(8) The following sher talks about feeling of people who are spending this eid away from the loved ones.
Approximate translation goes like this:
How many stars got trickled through eye lashes
How many short stories got created by the moon of Eid
(9) The word mubarak means blessings or happiness. The most common eid greeting in Pakistan is saying each other Eid Mubarak (Happy Eid)

Approximate translation goes like this:
Eid Mubarak to the one who now lives happily among strangers
Eid Mubarak to the one who now does not think about me
(10) Eid is also an occasion when people tend to forget their differences and become friends again. Following sher talks to this sentiment in a lighter tone where two lovers seem to be reconciling their differences on Eid.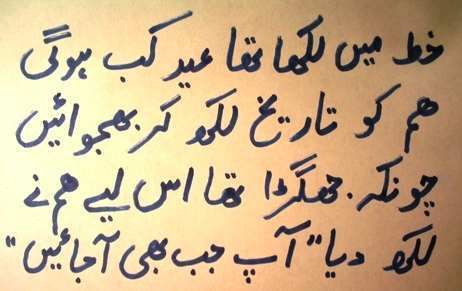 Approximate translation goes like this:
It was asked in the letter "when is Eid?"
"Please write down the exact date"
Since we've been fighting lately so I wrote
Eid will be the day when you come back to me