Adil Najam
The Chinese men's hockey team just recorded their first-ever victory against Pakistan. But what a victory it was; or, rather, what a defeat for Pakistan.
The Chinese team stunned everyone – not least the Pakistanis – by beating the seven-time champions 2-1 in the Asian Games semi-finals in Doha, Qatar. China will now face South Korea in the Final. The website of the Pakistan Hockey Federation has the motto 'urge to conquer'; the urge was not strong enough in this case!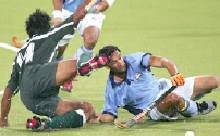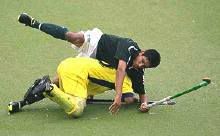 This means that for the first time in 48 years, there will be no South Asian team playing in the Asian Games finals. Maybe calling this the 'end of Pakistan hockey' is too dramatic. But, certainly, South Asia no longer 'owns' the game as it once did; East Asia now not only owns it, but dominates it at the continental level (the women's final will be between Japan and China).
According to an Associated Press report of the game:
Pakistan's players were left stunned as Lu Fenghui [who scored the golden goal on a penalty corner) was mobbed by his teammates after fashioning the biggest upset in Asian Games history…. "I have no words to describe this moment, I've just pinched myself to believe that I'm not dreaming," said Chinese captain Song Yi, speaking with the help of a translator and struggling to control his emotions.

China's South Korean coach Kim Song-ryul said his defenders played an outstanding game to thwart Pakistan's raids. "Pakistan's team is very experienced, but we were waiting for our chances. Modern hockey is different and every country is into it," Kim said. He said the Chinese men's team was fast improving and would give a formidable display when it makes is Olympic debut in 2008.

Pakistan captain Rehan Butt was angry at South Korean umpire Kim Hong-lae for awarding China the penalty corner that produced the golden goal. "He gave the penalty corner when the ball was outside the circle, from where it rose after hitting the stick of a Pakistani defender," Butt said. Butt said Pakistan missed a lot of chances, but China's defense was excellent. "It just wasn't our day. Our penalty corner shooter, Muhammad Imran was not able to convert even once, but this is a young team and can serve Pakistan well in future," he said.

Pakistan called the shots in the contest and was on the verge of victory before China equalized 10 seconds from the end on its first penalty corner. Skipper Butt put Pakistan ahead in the 20th minute on a square-pass from Shakeel Abbasi inside the striking circle, but the former Olympic and World Cup champion failed to capitalize on nine penalty corners it forced during the 70-minute regulation period and one more in extra-time.

… Pakistan has now failed to make the Asian Games final for the fourth consecutive time since winning the last of its seven gold medals in 1990.
It would be disingenuous to call this a mere upset. Even in the group matches Pakistan was saved by a goal-less draw against Japan to inch into the semi-finals. We have lamented before about the attention deficit for hockey; including our own. But maybe there is also a performance deficit. For those of us who still remember the grace and skill of Shahnaz, Sami, Islah and so many others, this is not just sad; it is tragic.
One can blame the change in hockey rules and surfaces for the decline of Pakistan hockey. But for how long? When conditions change, then so should you. We did not. And this is the consequence. No one defeat is ever all-important. There will, indeed, be more games to play; and, hopefully, to win. But this may be one defeat too many.