Guest Post by Awab Alvi (Teeth Maestro)
DAWN columnist Ardeshir Cowasjee (Feb 18, Feb. 25, Mar. 4) has recently taken up the very controversial issue of Kidney Hill, Karachi, in his recent columns and has been highlighting the battle for Kidney Hill, which has brought at odds the greed of land grabbing developers and money hungry local government and the citizens of Karachi.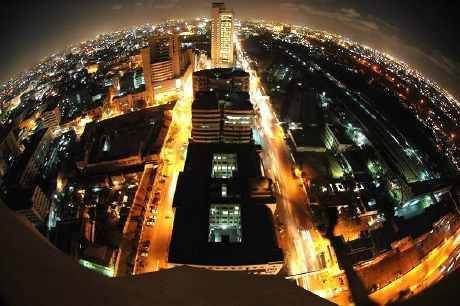 Kidney Hill is a 62-acre park between Karsaz Road and Shaheed-e-Millat. It is officially designated a park but has been within the cross hairs of the land developers for sometime including those individuals who will benefit by a healthy lubrication of wealth once this area becomes developable.The legal battle started with a number of petitioners, many of whom were local residents from the neighboring area but sadly over the few weeks these people were forced to withdraw their cases as they were being threatened form a number of sources, leaving the citizen group Shehri alone to fight the battle. Shehri is not a new name for Karachi and have to its credit fought a number of issues for Karachi against the greedy developers. What has really shocked me was the fact that the mafia was finally able to sneak under their skin as well and threatened them with dire circumstances. There is no doubt that Shehri has been over the many years must have taken its share of threatening phone calls from this ruthless mafia, but for them to finally succumb to a threatening phone call must indeed be of a grave concern. I quote Cowasjee as he writes about the issue today.
After the governor's meeting on Thursday, Amber Alibhai, Shehri's general secretary, again received a 'threatening' phone call. This time, the issuer of threats related all that had transpired at the governor's meeting, and told Amber that he could e-mail to her photographs of her children and tell her exactly what they did where and when. She was told to expect the 'worst' if the petition was not withdrawn from the court.

Thereupon the Shehri office-bearers hurriedly met and instructed their lawyer, Barrister Mohammad Gilbert Naimur Rahman, as follows:
"Re: Withdrawal of Kidney Hill Case, CP 160/2007. After much deliberation, we, the managing committee members, are instructing you to withdraw the above case. The reasons are threats of kidnapping and murder made to us and our families, involvement of false cases instituted on 22 February 2007 in the lower court, the day the threatening calls began. We have been advised by all our well-wishers that it is simply impossible to stop these threats from being carried out. Too much money is involved in this deal. We do not wish to jeopardize our families and their lives. Thank you for your continued support.�
It is signed by Mrs Amber Alibhai, Roland de Souza, chairperson, Dr Syed Raza Ali Gardezi, vice chairperson and Khatib Ahmed, member – all of Shehri-CBE.
It is simply shocking that from a city of 13 millions we can only find Shehri (Mrs Amber AliBhai and Roland de Souza, Dr. Syed Raza Gandezi & Khatib Ahmed) to stand up against this ruthless mafia, we should all be ashamed of ourselves, it is time to spread the word, come forth and lets defend our city. I truly believe we can be a voice to reckon with but we must stand up for our city.
Dr. Awab Alvi blogs as Teeth Maestro; this post is based on an original that appeared at Metroblog Karachi, where he also blogs. Versions of this post were originally posted on both those sites.