Pervaiz Munir Alvi
This is second in series of my memories of my dear friend Dildar Pervaiz Bhatti. If you missed reading the first part then it is here.
I don't know exactly when Dildar made his debut on Pakistan Television (PTV) but I do remember our 1973 meeting in which he had asked me if I would send few TV magazines from the USA. He wanted to see what was going on at American TV in those days. I carefully searched what ever material I could find to send to my friend. However it did not take him too long to find a niche for himself on TV as by our next meeting few years later he was already a household name. I believe at that time he was hosting a show called 'Mela', a precursor to his highly successful show 'Takra'. Dildar was a natural talent. To his fans and show business friends he might have been an overnight success, but I know it took years of hard work for him to polish his God given talent.
Dildar and I grew up together. Our families were friends and in those days used to live close to the railway station. From our respective homes we could practically hear the whistle of the steam engine. For me to visit him all I had to do was to go through the railway crossing and few hundred yards later I would be at his house. His family lived in a yellow-washed old colonial style house. Dildar's father and my father were two of the few Muslim boys from our area who had gone to college and on to professional colleges. I say Muslim boys because in pre-independence days that is how individuals were identified; you were Muslim, Hindu or Sikh first and any thing else later. His father Nisar Ahmad Bhatti was a well known lawyer and had played active civic and official role in the turbulent years proceeding to and after the independence of Pakistan.
Even though we lived in the same general area Dildar and I did not attend the same elementary school. Our schooling together started in the sixth grade and so did our public life. Encouraged by our parents, like so many other kids we both started to take active part in school 'Bazm-e-Adab' (Literary Circle). We will stand in front of our class and recite memorized short stories, jokes (latifay), and poems by Allama Iqbal. In seventh grade we both started taking part in school declaration contests. In an animated style we would deliver memorized speeches written by our parents. Thunderous applause and class recognition were our rewards.
Spotting some budding talents school provided us with our very first speech coach. Master Sibt-e-Hassan was a stiff gentleman who diligently coached us pronunciation, delivery and execution. Stand upright, look at the end of the room, use index finger of right hand to make a point, full palm to stress, and fist to hammer it down. Deliver all lines completely without loosing your voice at the end of the sentence. I could still hear Master Sahab's stern voice. In eighth grade at the end of the middle school we both were selected to represent our school in District Speech and Declaration Contest.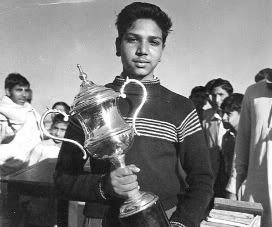 It was a complete success. We returned with individual and team trophies in 'prepared' as well as in 'extempore' categories. We were on our way!
Photo to the left is one of the trophies that Dildar and I won. The person in the photo is not Dildar.
In ninth grade Dildar and I formally joined the school debating club and regularly started taking part in district level student debates. By this time with some help of our coach we were writing our own speeches with original and borrowed thoughts. The topics were generally contemporary and included subjects such as women and society, religion and morality or social responsibilities etc. etc. The subjects were usually serious and selected by the judges. Teachers were always afraid that Dildar will ad-lib during the delivery and dilute the significance of the subject at hand. In his adult years Dildar would be known for his ability to ad-lib, his sharp wit and for a quick comeback.
Other than Master Sibt-e-Hassan the teacher who in my opinion profoundly affected us in our formidable years was Qazi Hidayatullah. His was a colorful personality. Qazi Sahab knew the entire Alf Laila (The Arabian Nights) by heart. Thursday was a story day. With little convincing and for a small collection from our pocket money Qazi Sahab would be ready to narrate one of our favorite dastaan (tale) right from the top of his head. So captivating was his style that we could literally see Margina dancing in front of Ali Baba and his Forty Thieves. Class room would transform into Ali Baba's den where we will sit mesmerized behind our desks listening to Qazi Sahab. School boys' imagination will do the rest. Years later when I saw Dildar live on stage captivating his audience with his jokes and story telling, I could easily see Qazi Sahab of our school years in him.
Tenth grade was a repetition of the ninth but had to slow down in our speech making to prepare for the secondary school board exam..
(To be continued).
A Video Glimpse of Dildar Pervaiz:
We tried very hard to find a video clip of Dildar Pervaiz Bhatti. The only one we found is below. It definitely does not do justice to Dildar's immense talents but it does provide a glimpse of him. First one minute of the clip shows Dildar as a compere.
Read Part III of this series Here