Today's post is dedicated to the Meter Gauge Railway located in Sindh province of Pakistan, which in its hey-day, had a network of 517 kilometers of track. Today 325 km of meter gauge track, a few locomotives and some workable coaches still remain; but it is just a matter of time before this National Heritage is completely lost to oblivion.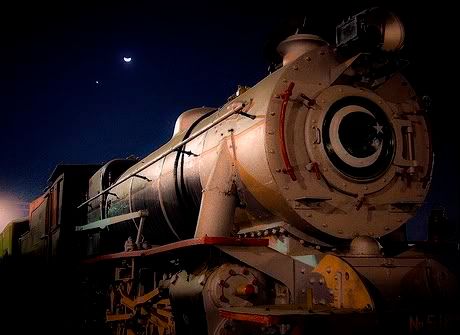 The photo above is courtesy of Agha Waseem Ahmed and shows a class YD 2-8-2 locomotive No 518, a veteran of meter-gauge railway, now at display as a monument at Sukkur's Pakistan Railway Museum.
I chose above photo as our title not only for its photographic quality but also for its symbolism. It shows the darkness creeping onto this once flourishing Steam Railway of Pakistan. At present, regular trains do not run on this netwrok, unless of-course some one is willing to pay for a special train charter and fuel. The rut had set in many years ago. Slow moving and aging steam trains were no match to the advent of diesel and road network. Our public and Governmet apathy did rest of the damage as maintenance was not carried out when it was due. The conversion of main Mirpur Khas – Khokhrapar route to Broad Gauge (which is progress- by the way) has however, proved to be the last nail in the coffin of steam operation here.
What is Meter Gauge?
The word 'gauge' of a track in Railway terminology means the distance between two parallel rails. The network of Pakistan Railway has three gauges viz., Broad Gauge (5′ 6″ wide), Narrow Gauge (2′ 6″ wide) and Meter Gauge (3′ 3 3/8″ or 1000mm wide).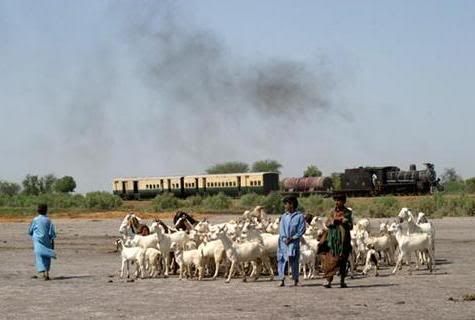 The photo above is courtesy of Neil Edwards. On the morning of January 6, 2005 it shows an SP 138 4-6-0 loco pulling MG-2 Down near Naoabad station. The train is enroute to Nawabshah Jn from Mirpur Khas Jn.
Route Map of Meter Gauge Railway
Following is the map of South-Eastern Sindh province and it should give you an idea of where the meter gauge railway network is located. The route shown in red is/was the meter-gauge netwrok.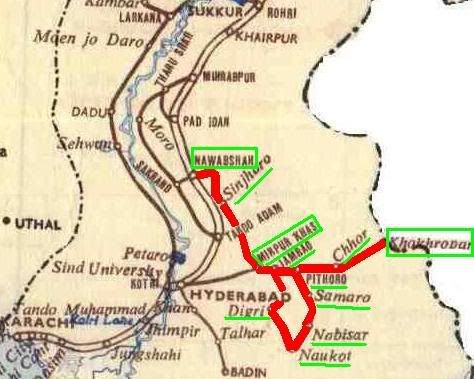 Schematic
Following is the schematic of whole Pakistan Railway Network. The sections in 'red' show the location of meter gauge railway.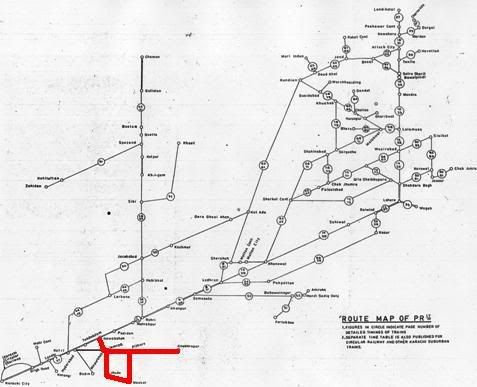 Why was this Railway Built?
Karachi Port has been functional since 1800s. It provided the closest land stop to India for all the sea freight coming from Britain, rest of Europe and the Middle East. There was however no direct rail-link between Karachi and Bombay area. Goods taken off at Karachi port had to be first transported 1200 km north to Lahore and then east ward to rest of the Indian states. In case of Gujrat, Maharashtra and Rajhastan, the goods had to go north, east and then back south. This placed Karachi port at a great dis-advantage to the port of Bombay. Unlike Karachi, from Bombay freight could be transported all over India with almost direct routes.
In 1890s, this situation evoked representations from the Karachi Chamber of Commerce and the local authorities, who pressed for the extension of current railway line east of Hyderabad (Sindh).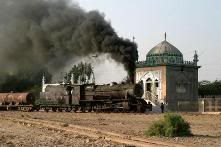 The photos above are courtesy of Neil Edwards.
While the Karachi Chamber of Commerce was pressing for the connection with Rajputana-Malwa system, Sir Bradford Leslie, once the Agent of the East Indian Railway, and some others came forward with the proposal of a broad gauge line from Kotri (lower Sindh) to Delhi (India) through Sindh, Gujrat and Rajhastan.
This was not accepted, but the British Government agreed to construct a line from Hyderabad to Shadipalli beyond Mirpur Khas, (Photos here and here) a distance of 89 km (55 miles), on the broad gauge, and this was opened on August 18, 1892.
In 1900 the the British Government constructed the meter gauge line eastwards from Shadipalli to Jodhpur (India).
The Government of Jodhpur state offered to provide a through meter gauge line westwards into Sindh province provided that the broad gauge was converted to meter gauge as far as Hyderabad to allow the whole line to be worked as one. This was accepted and Hyderabad to Shadipalli line was converted from Broad Gauge to Meter Gauge. The meter gauge line was opened on October 20, 1900.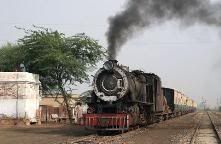 The photos above are courtesy of Neil Edwards.
From that date the management of the whole line was entrusted to the Jodhpur-Bikaner Railway.
On December 31, 1904 the capital cost of Sindh section, known as the Hyderabad-Jodhpur Railway, stood at Rs. 3,907,738 or Rs 31,800 per km. Hardly had the line been converted to Meter Gauge when a demand was made that it should be reconverted to Broad Gauge.
In 1909 the Mirpur Khas – Jhudo (80 km) section was constructed. In 1935 it was extended to Pithoro Jn (104 km). Khadro was linked to Mirpur Khas (80 km) in 1912 and with Nawabshah Jn (49 km) in 1939.
After independence (1947), the Hyderabad-Khokhrapar, Mirpur Khas-Nawabshah and Pithoro-Jamrao sections with a total length of 517 km (319 miles) came to Pakistan and were worked as a part of the North Western Railway. These sections are now part of Pakistan Railway and are the only meter gauge sections on it.
A branch line from Hyderabad to Badin, a distance of 100 km (61.75 miles), was opened on August 15, 1904. An extension of this line across or around the Rann of Kutch, to meet the Bombay-Baroda and Central India Railway and to afford through communications without break of gauge from Sindh to Bombay was considered, but never materialized.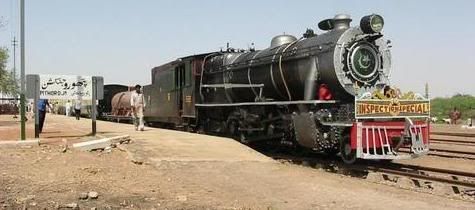 The photo above is courtesy of Mr. Iqbal Samad Khan and shows the Inspection Special train at Pithoro Jn in 2004.
There used to be a lot of freight traffic on the Meter Guage till the early sixties. Most of it was cotton, fresh vegetables and large quantities of red chillies – grown around Kunri on the Loop.
In mid 1960s 65 km track between Hyderabad Jn and Mirpur Khas Jn was converted to Broad Gauge again.
Until the Pakistan-India war of 1965, people could travel between the two countries through this railway. Pakistan Railway's time table provided fares to different India cities via both Lahore-Wagah-Atari route and via Mirpur Khas-Khokhrapar-Munabao route.
After the 1965 war, this border crossing via meter gauge railway was closed and 6 km track between Munabao (India) and Khokhrapar (Pakistan) was uprooted.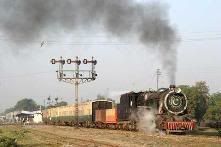 The photos above are courtesy of Neil Edwards.
The meter-gauge railway continured to operate through its slow pace and steady degradation for 40 years. In 2004, amidst strong public demand, Pakistan and India agreed to open their rail link again via Khokhrapar-Munabao border.
On Indian side the Jodhpur-Munabao section had already been converted to Broad Gauge where as Pakistan was still operating the meter-gauge. To provide a single gauge through journey from Karachi to India it was decided to convert Pakistani portion of track also to broad gauge.
The photo above is courtesy of Neil Edwards. On the evening of November 29, 2004, it shows MG-6 down passenger train approaching Pithoro Jn. The locomotive is a 2-8-2 YD Class # 519. Also note a water tanker with the train which is used to supply water to far flung stations in Thar desert.
Work started on re-gauging Mirpur Khas to Khokhrapar section to Broad Gauge on April 19, 2005. New track was laid between the Pakistani city of Khokhrapar and Indian city of Munabao. Pakistan also built a brand-new station called the 'Zero-Point' right at the border to provide immigration services.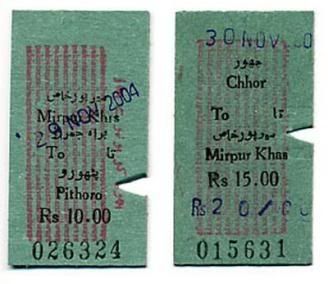 In December 2005, work on re-gauging of Mirpur Khas to Khokhrapar to broad gauge was completed and on Feb 17, 2006, first train from Pakistan crossed into India after a gap of 41+ years.
While this is all good news for this route and travel between the two countries, the old meter gauge netwrok continued to suffer. It is completely undrstandable that old steam operation is no match to modern development and diesel operation, the way the netwrok has been abandoned in Pakistan is a cause of great concern.
Photo to the left shows remains of Fazal Bhimbro Railway station which was built in 1935 and located on the loop near Naukot and Jhuddo. Photo is courtesy of dueenakh.
Funding from governement is an obvious issue. Running and maintaining old steam operation in Thar desert of Sindh is not the highest priority for those in Islamabad. For rail enthusiasts and quite a few foreign tourist who used to visit this remaining bastion of Steam in Pakistan, it is of great concern.
The Line-up in 2005:
The last steam tour which was conducted on this route, and that I heard of was in 2005. Don't know what is the current status of this Railway.
The photo below is courtesy of Neil Edwards. It shows 4 locomotives of Meter Gauge Railway in Mirpur Khas shed. Photo was taken on June 2, 2005. From left to right the line-up is YD 518 (VF 4401/1929), YD 519 (VF 4402/1929, SP 138 (KS 4120/1921) and YD 522 (Ajmer Works/1932)
2009 Situation?
Pakistan Railway which used to show time table of trains running on this route has stopped printing timings of regular trains on this section. The actual train service on ground hadstopped much earlier than that. We can safely assume this steam section is now all but dead. I would like to see a claim to the contrary from any of our learned readers. Does anyone know otherwise?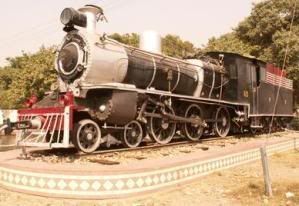 The photo to the right is courtesy of Mr. Thomas Kautzor . It was taken in December 2005. It shows one of the meter gauge locomotive now preserved as a monument in the car-parking of Karachi Cantt station. The serial number of this engine is M63. It was built in England in 1913 and is a veteran of 3737215 kilometers
Stations and Distances:
Following are the images from Pakistan Railway's Time Table of Summer 2000. It shows the stations as well as distances that are/were part of this network of Meter Gauge Railway
Mirpur Khas – Khokhrapar: 126 km
Mirpur Khas – Jamrao – Pithoro: 184 km Loop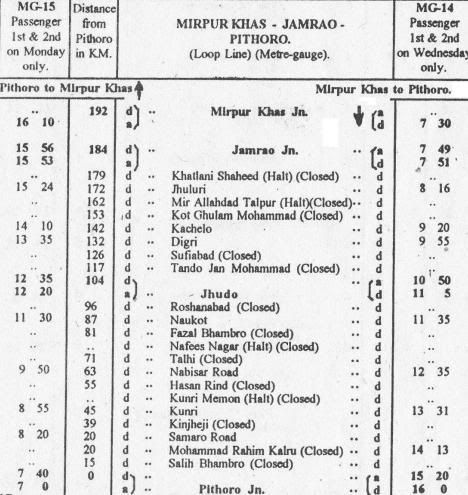 Mirpur Khas – Khadro – Nawabshah: 129 km
The Regal Saloon of Maharani of Jodhpur
At the time of Pakistan's independence in 1947, somehow the regal saloon of the Maharani of Jodhpur, which was made for Meter Gauge Railway landed in Mirpur Khas. There are different stories to how the saloon came to Pakistan.

The most common is that a driver based at Mirpur Khas brought it over during the chaos. The saloon is now at display at Pakistan Railway Heritage Museum in Golra Sharif (near Islamabad). I visited the museum in June 2005 and took these two photos. The photo to the left is an engraving that I found on Maharani's saloon. As you can see, it was built at Ajmere Works, India almost 130 years ago.
Length of Meter Gauge Railways in Sindh
Mirpur Khas Jn – Khokhropar: 126 km (converted to Broad Gauge since December 2005) – 13 km remain as both Meter Gauge and Broad gauge using three rails.
Mirpur Khas Jn – Nawabshah Jn: 129 km
Jamrao Jn – Pithoro Jn (via Loop): 184 km
Total Length of Meter Gauge: 439 km
Chronology of Sindh's Meter Gauge Railway:
August 18, 1892: 89 km (54.97 mi) long Hyderabad-Mirpur Khas-Jamrao-Shadipalli section was opened. This section was initially built as Broad Gauge.
1900: British Government constructed the meter gauge line eastwards from Shadipalli to Jodhpur (now in India).
October 20, 1900: The Government of Jodhpur State offered to provide a through meter gauge line westwards into Sindh provided that the Hyderabad-Mirpur Khas – Shadipalli section was converted to meter gauge to allow the whole line to be worked as one. This was accepted and it was converted and opened as meter gauge on this date.
December 31, 1904:On this date the capital cost of Sindh section, known as the Hyderabad-Jodhpur Railway, stood at Rs. 3,907,738
April 18, 1909: 80.93 km (49.96 mi) long Jamrao – Jhudo section was opened. This section is meter gauge.
January 1, 1912: 80 km (49.43 mi) long Mirpur Khas to Khadro section was opened as MG.
1928: Present Building of Mirpur Khas station is built.
June 1, 1935: 103.85 km (64.11 mi) long meter gauge section between Jhudo and Pithoro was opened.
November 20, 1939: 49.57 km (30.6 mi) long Khadro – Nawabshah meter gauge section was opened.
1960 to 1965: Hyderabad – Mirpur Khas section was re-gauged and opened as BG from the earlier MG.
September 1965: Following a war between India and Pakistan, the rail link between the two countries via Khokhrapar-Munabao is closed. The track on Pakistani side between Khokhrapar and the zero-mile border is later uprooted too.
1991: Some of the Sindh Meter Gauge coaches were refurbished and sold to Senegal. Photos here
April 19, 2005: Ground breaking ceremony takes place to convert the meter gauge track between Mirpur Khas Jn and Khokhrapar to Broad gauge.
December, 2005: Pakistan completes conversion of Mirpur Khas Jn (Pakistan) to Munabao (India) from Meter Gauge to Broad Gauge. Khokhrapar to Munabao portion of the track is laid brand new after it was uprooted in 1965
Feb 17, 2006: The Zero-Point-Munabao railway border between Pakistan and India officially open and the first train from Pakistan crosses into India.
March 14, 2006: The engine and a bogie of a meter gauge goods train derails
between Jam Saheb and Shafiabad railway stations on Mirpur Khas Jn – Nawabshah Jn route.
June 7, 2006: A new train called Marvi Express is inaugurated. Marvi Express has Mirpur Khas to Khokhrapar route and stops at all the stations in between.
VIDEOS of Meter Gauge Railway
Following videos are made by Kevin Moore on his trip in November 2004 and copyrights belong to Phantas Rail.
(1)

(2)

(3)

(4)

Why This Post?
The purpose of my post here is to create awareness about this dying heritage and present its history. While I know, the wheel of time cannot be moved backwards (to steam age) but may be we can preserve this railway as part of a large national park of history, heritage and tourism.
References and Credits:
1. Dr. Roland Ziegler's Visit to Pakistan 1996
2. James Waite's Gallery of Meter Gauge Railway, Pakistan
3. Pakistan Steam by S. Shankar
4. Terry Case's Gallery on North Western Railway
5. Khokhrapar Train Leaves with 200 Passengers
6. Tsuzuki Massato's collection on Pakistan Steam
7. Pakistan made Railway Coaches in Senegal
8. Kevin Moore's 4 VIDEOS of Pakistan Meter Gauge Railway.
9. The international Steam Pages
10. Iqbal Samad Khan
11. Agha Waseem Ahmed
12. Thomas Kautzor
13. Neil Edwards
ATP's Other Posts Related to Railways:
1. Khyber Pass Railway
2. Bolan Pass Railway
3. The Trans-Balochistan Railway
4. Changa Manga Forest Railway
5. Lansdowne Bridge, Sukkur
6. Railway Bridge on Indus at Attock
7. Khojak Tunnel
8. Chappar Rift
9. Karachi Circular Railway – Revival gets 1 step closer
10. Zhob Valley Railway (ZVR)
11. How the First Locomotive Reached Lahore
12. 3000hp Iron Horses of Pakistan
13. Karachi Tramway of Yesteryears
14. Lahore Rapid Mass Transit Rail Project
15. A Phoenix Rises From the Ashes of Bakhshapur
16. ek masla hai… A Railway Runs Through It
17. Ava Gardner in Lahore for Bhowani Junction
Pakistan Railway Discussion Group:
If you want to learn more about Pakistan Railways, then feel free to join the Pakistan Railway (PR) discussion group. Everything and anything related to PR is discussed here e.g. preserving of Pakistan's rail heritage, steam locomotives, sharing of photos and news, time tables etc. You can join the discussion group here.