When Pakistanis make up their mind to work for the betterment of society then there is no limit to what we can achieve. This is not just a patriotic statement that I came up with. Examples of such benevolence and welfare projects are all around us. As part of our 'Inspiration Pakistan' series today we will introduce a project where a group of dedicated people have built a whole new Welfare City in rural Sindh. With facilities spread over approximately 100 acres, this complex is called Rashidabad.
Rashidabad is located near Tando Allahyar in Sindh. Tando Allahyar itself is located between Hyderabad (37 km) and Mirpur Khas (32 km).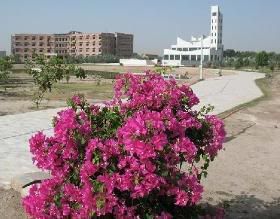 Rashidabad is a multi dimensional welfare project. It includes several schools, hospitals, housing and recreational facilities for the orphans and under-privileged of our society. It works on the true principles of Pakistaniat and serves the humanity irrespective of race, religion and ethnic background.
The quality services provided at Rashidabad are usually free of cost for the needy. The monthly expenses of the project are funded from the charity money and donations made by individuals, families and charitable institutions in Pakistan.
The project is a brain child of 1965 and 1971 war veteran, Air Commodore (Retd) Shabbir A. Khan. It is named after Flight Lieutenant Rashid A Khan, a student of PAF College Sargodha, who laid down his life for the nation. Work on the project started in December 13, 1998. At present the project is being run by Rashid Memorial Welfare Organization (RMWO).
RMWO is also running several other welfare projects in collaboration with Government and Non-Governmental Organizations (NGO)s. To give some examples of this partnership, the Citizens Foundation (TCF), an NGO has a school inside Rashidabad. Another NGO called Mustafa Benevolent Trust (MBT) has been involved in the construction and maintenance of the orphanage as well as the main water purification plant in Rashidabad.
Schools in Rashidabad:
Rashidabad complex already has three schools built and functioning. These include the Yaqub Khawaja (YK) Academy, The Citizens Foundation (TCF) School and the Sargodhian Spirit Trust (SST) Public School. Collectively, these schools now have an enrollment of 1200 students.
The SST Public School has a strength of around 400 students with twenty percent of them studying free. Similarly the YK Academy has twenty five percent students who study free. The TCF High School has a monthly fee of only Rs. 100 and provides books and uniforms also within it. Poor students pay only Rs. 25 with the same privileges. Such students constitute over 35 percent of this school's enrollment.
The Orphanage at Rashidabad: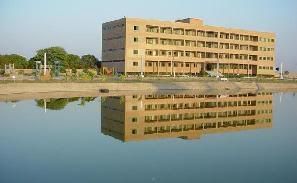 The orphanage is named Amzi home after the Donors Abdullah Mustafa and Zainab Ishaq from Bahrain. It is a five-storey building that can accommodate nearly 288 people, including 32 senior citizens. The building has been completed at a cost of more than $1 million.
Elevators run on all floors. This eases the mobility for the senior citizens. Each room at the Amzi home can accommodate up to 12 children.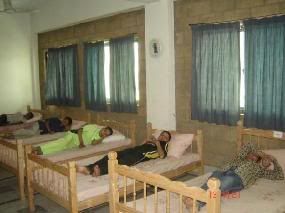 The orphans (presently 86) who are at Rashidabad come from all over the country and belong to different cultures and backgrounds. Mr. Iqbal Samad Khan, the Chief Volunteer of Rashidabad project proudly calls it 'Our Mini Pakistan.'
Foster mothers are also on staff at the orphanage to provide best attention to kids as young as few years old. At present the youngest pupil is from a village in Dadu and is only 3 and a half year old. Rashidabad Complex also provided host facilities to the orphans of Kashmir Earthquake of 2005.
Main Hospital at Rashidabad
The main hospital of Rahidabad is run by Shehnaz A. Ghani Trust for the day to day operation and maintenance. The hospital plans to include state-of-the-art medical facilities. Two complete floors of the Hospital are planned to be handed over to the SIUT of Karachi to work as its satellite for Rural Sindh.
Eye Hospital at Rashidabad
With active assistance and participation from Layton Rahimtoola Benevolent Trust (LRBT) an eye hospital has also been set up at Rashidabad. It was inaugurated on June 28, 2008. The eye hospital has a capacity of giving medical treatment to about 300 patients a day. An average of 50 operations are conducted from Monday through Friday. All this is being done mostly free of cost to the needy patients.
Other School Projects Around Rashidabad area:
In addition to three schools witihn Rashidabad, RMWO also runs twenty Non Formal Schools within a 20 kilometer radius around Rashidabad.
These schools function for two hours a day in remote areas with an average of 25 students. They are taught the Jugnoo Course here which enables the students (grand mothers, mothers, girls and boys) to learn basic Urdu and Maths – much more than the definition of literacy in Pakistan.
Railway Station at Rashidabad
Rashidabad Welfare City has its own Railway Station. Seen in the photo below is a train from Karachi approaching Rashidabad Station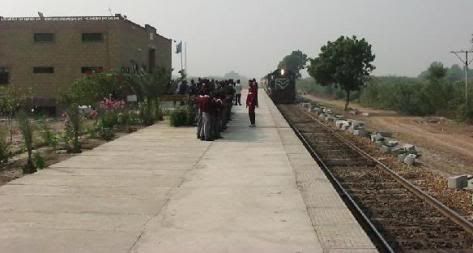 Why this Post?
I have personally not visited Rashidabad project yet but I've been closely following its development for the past few years. I also know first hand the commitment of its volunteers and how much dedicated they are to make this an exemplary welfare project. This is the reason that we have chosen to feature this Project on the pages of Pakistaniat. It makes us proud.
References and Credits:
1. Mr Iqbal Samad Khan, ex GM Pakistan Railway and Chief Volunteer at Rashidabad.
2. Rashid Memorial Welfare Organization
3. Rashidabad at Pakistan Economist
3. Rashidabad – Begining Charity at Home by Mehroz Sadruddin
4. Rashid-abad by Unaiza Naseem
5. SST Public School at Rashidabad
6. The Citizens Foundation