Owais Mughal and Adil Najam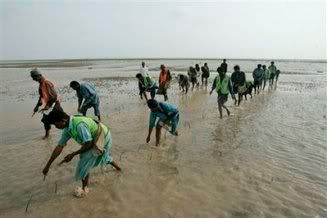 Not all world records are created equal.
Being in the Guinness Book of World Records is as often a sign of being just weird as of having done something truly of import. Having the world's longest nails or being the world's fattest person is intriguing but not really consequential.
Sometimes, however, the record created is truly consequential. On July 15, 2009, one just truly consequential record was created when a team of 300 volunteers in Pakistan planted 5,41,176 mangrove tree saplings in the back waters of Arabian Sea near Keti Bandar.
This is consequential not because it is a 'world record' but because it is truly important for the world. In the midst of environmental degradation and rising sea levels the coastal Mangroves in Pakistan are natures defense against all sorts of environmental calamities, and this defense has been progressively disappearing. Bolstering the Mangroves can make a real difference not only to Pakistan's environment, but to the world's.
This was done as part of Pakistan's "Year of the Environment," a brain-child of Pakistan's environment Minister, Hamidullah Jan Afridi. One of us has been closely involved in these discussions with the Minister and in advancing the idea that something big and bold needs to be done to capture public attention. This is certainly big and bold. And it has certainly captured public attention. For that the Ministry and the Minister needs to be congratulated. The real test, however, will be in what is maintained of this plantation and how it survives and thrives over time. That will require the same type of government resolve that has gone into setting this "world record."
More details from a BBC news report:
A team of volunteers in Pakistan has set a new world record by planting more than half a million trees in one day. Guinness World Records confirmed that 541,176 trees had been planted in the southern province of Sindh on 15 July.

Some 300 volunteers, working in groups, planted mangrove saplings in the 750 acres of the Indus river delta region. They beat the previous team record for tree planting which was set in India just last month when 447,874 saplings were planted in Assam state.

Pakistan's tree-planting marathon was witnessed by representatives of Guinness World Records and the International Union for the Conservation of Nature. Each group was issued saplings by a panel of experts which also monitored the planting process to ensure that standards set by Guinness World Records were met.

Aadil Ahmed, the Guinness representative, told the BBC he was there to ensure that no old plants were included in the count. Pakistan's environment minister, Hamidullah Jan Afridi, said the event was part of a series of events being held to observe the national year of the environment.

"The government has set aside one billion rupees over a three-year period to protect these plants and help them survive," Mr Afridi said. Mangroves grow in delta regions where the fresh waters of the river mix with sea water. Experts say the new saplings will have difficulty surviving because of diminishing river water in the region.