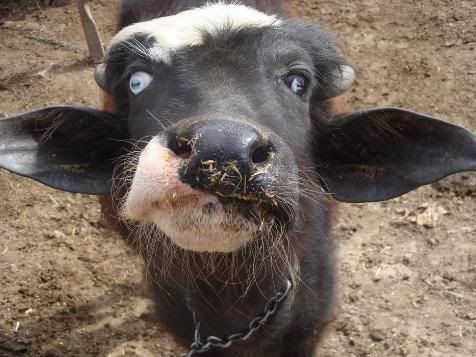 This closeup portrait of a young buffalo is from Okara, Pakistan.
The photographer seems to have the full attention of his subject. Also note a wooden stick in left background. It is called khonta in Urdu and killa in Punjabi. One day when this buffalo will grow up, it may become powerful enough to run away with this 'killa'.
I draw your attention to this scenario because I wanted to share this sher, which others might also recall:
bheNs cudd ke laay gayee killa
laa hol wala quwwat illa billa
Well I wanted to present this image as our 'photo of the day' but as usual my mind and typed words have gone away from Okara, killa to a runaway buffalo. So I will stop here. Enjoy the priceless expressions above.
Photo Credits: With many thanks to Mr. Farhan Bhatti who generously shared this photo with us.
ATP's Related Post: The leaping oxen of Kanjwani