Adil Najam
As the fourth part of our series on the events of 1971, we are reposting this post which was first published at ATP on December 16, 2006. We are reposting it with all the original comments since they, as a whole, are very much part of the conversation we all need to have with ourselves. The previous three parts of the series can be read here, here and here.
Today is December 16.
Today Bangladesh will mark its 35th 'Victory Day.'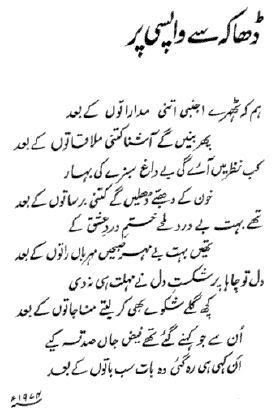 Most Pakistanis will go about their lives, not remembering or not wanting to remember. We should remember – and learn – from the significance of this date.
Not because it marks a 'defeat' but because it marks the end of a dream, 24 years of mistakes, horrible bloodshed, traumatic agony, and shameful atrocities. The constructed mythologies of what happened, why, and who is to be blamed need to be questioned. Tough questions have to be asked. And unpleasant answers have to be braced for. We need to honestly confront our own history, for our own sake.
But right now, the goal of this post is different. We at ATP just wish to extend a hand of friendship to our Bangladeshi friends. May the memories we make in our future be very different (and more pleasant) than the scars we carry from our past.
There is much – too much – that I wish to say; but cannot find words for. So let me do what I always do when I am at a loss of words. Let me quote Faiz Ahmad Faiz, who in his memorable 1974 poem 'Dhaka say wapsi par' (On Return from Dhaka) expressed what I wish to say so much better than I ever could.
We share with you here the original poem in Urdu, a version in 'Roman Urdu,' a wonderful English translation of the poem by the late Agha Shahid Ali in his book The Rebel's Silhouette
, and a video of Nayarra Noor singing the verses with the passion and feeling that they deserve.
ham ke Thehre ajnabi itni mulaaqaatoN ke baad
phir baneiN ge aashna kitni madaaraatoN ke baad

kab nazar meiN aaye gi be daaGh sabze ki bahaar
khoon ke dhabe dhuleiN ge kitni barsaatoN ke baad

the bahut bedard lamhe khat'm-e-dard-e-ishq ke
theiN bahut bemeh'r subheiN meh'rbaaN raatoN ke baad

dil to chaaha par shikast-e-dil ne moh'lat hi na di
kuchh gile shikwe bhi kar lete manaajaatoN ke baad

un se jo kehne gaye the "Faiz" jaaN sadqe kiye
an kahi hi reh gayi woh baat sab baatoN ke baad
Agha Shahid Ali's Translation:

After those many encounters, that easy intimacy,
. we are strangers now —
After how many meetings will we be that close again?

When will we again see a spring of unstained green?
After how many monsoons will the blood be washed
. from the branches?

So relentless was the end of love, so heartless —
After the nights of tenderness, the dawns were pitiless,
. so pitiless.

And so crushed was the heart that though it wished
. it found no chance —
after the entreaties, after the despair — for us to
. quarrel once again as old friends.

Faiz, what you'd gone to say, ready to offer everything,
. even your life —
those healing words remained unspoken after all else had
. been said.