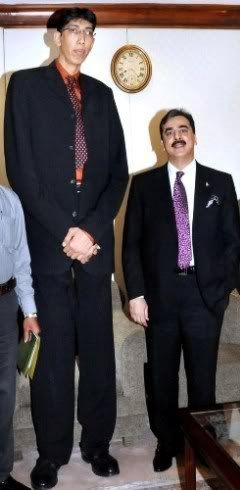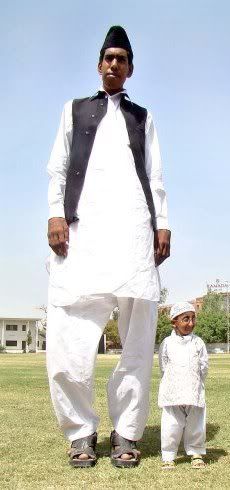 Pakistan has been home to several people of extra ordinary heights. While we celebrate and note some of them here we also want to bring to limelight the difficulties these extraordinary men and women have to face in the society, where by people sometimes treat them as objects of amusement.
Ajaz Ahmed: 7 feet 10 inches
At 7 feet 10 inches, Ajaz Ahmed is the current tallest man in Pakistan. He claims to be 8 feet 4 inches tall but it is not confirmed yet. His photo can be seen below.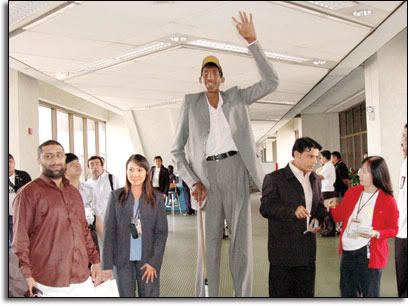 Ajaz was born in 1976. He hails from Bhakkar – Darya Khan area of Pakistan.
Naseer Soomro: 7 feet 8 inches
Naseer is featured in the left title photo of this post. He is seen there with Prime Minister of Pakistan Mr. Yousuf Raza Gilani when he was invited to the PM House on March 15, 2010. The photo is a cropped version of a larger group photo which can be seen here. Naseer is currently the second tallest man in Pakistan. He hails from Shikarpur Pakistan.
In 1999 Naseer Soomro was sent to UK by Government of Pakistan, as an unofficial ambassador of Pakistan to watch matches of Cricket World Cup. Naseer has been quoted to say that he has instructions from police in both Shikarpur and Karachi to not to go out on weekend because they have difficulty in controlling crowds that gather to see him.
This fact also brings to limelight the difficulties these men have to face in our society, where people sometimes may treat them as objects of amusement.
(late) Haji Muhammad Alam Channa: 7 feet 8 inches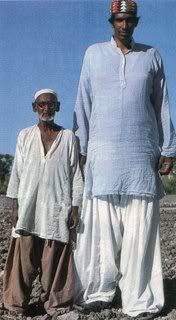 I guess many of us will remember another 7 ft 8 inch tall Pakistani by the name of Alam Channa who hailed from Sehwan. Photo is to the left. He was born in 1953 and passed away in 1998. He worked at the shrine of Lal Shahbaz Qalandar in Sehwan. Alam Channa married a lady named Naseem in 1989. I remember that he used to drive a Suzuki FX which was especially retrofitted for him by removing the driving seat. He used to sit on the back seat and drive. I found this web page which shows 13 photos of Alam Channa (see here). In 1998, owing to deteriorating health he was sent to US by the Government of Pakistan for medical treatment. He passed away in New York on July 4, 1998.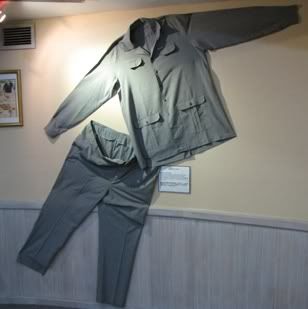 The photo to the right shows Alam Channa's clothes on display in Ripley's 'Believe it or Not' museum in Genting, Malaysia. The caption for the clothes reads as
A Giant's Clothes: This suit once belonged to Mohammad Channa who measured 7'8″ tall and weighed over 400 pounds. Channa was born in Pakistan in 1953 of normal parents. One of 8 children. Channa's 7 other siblings were all normal size
This photo was taken in 2009 and photo credits belong to Sajid Ali Khan.
Haq Nawaz: 7 feet 7 inches
The title photo to the right shows 7 feet 7 inch tall Haq Nawaz of Bahawalpur in MCC Ground Multan on March 30, 2010. Some websites note his height as 7'5″. So while we cannot confirm his height for sure, with +/- 2 inches, he is still the third tallest man in Pakistan. Seen next to him in this photo is a 16 year old boy named Tayyab. See the larger uncropped photo here. I also want to reference this website here which shows 16 photos and 9 videos of Naseer. See here.
Naseer Soomro and Haq Nawaz appeared together in Good Morning Pakistan. That video can be seen below.
Aurangzeb Khan: 7 feet 6 inches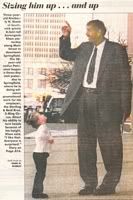 Currently in the US, Aurangzeb originally hails from Bahawalpur, Pakistan. At 7 feet 6 inches height he also makes up to our list here. One report put his weight at 400lb and a shoe size of 20. His brief bio and several photos can be seen here. One of the NBC reports on him claims that he is now the tallest man in America. People lovingly call him 'gentle giant'.
Azad Khan Masood: 7 feet 5 inches
Azad Khan is Pakistan's fourth tallest man. He hails from Sararogha near Dera Ismail Khan in Pakistan's NWFP province. Some source claim that he is married to the tallest woman of Pakistan, Zainab Bibi – but this claim is unconfirmed. Photo to the left shows Azad Khan Masood with Zainab Bibi. We will introduce Zainab Bibi in a bit as the tallest lady from Pakistan. For a while Azad Khan was employed as a sports officer in PIA. Azad is the second eldest among three sisters and three brothers. He is the only person with extraordinary height in his family.
Muhammad Riaz: 7 feet 3 inches
At 7 feet 3 inches tall, Muhammad Riaz's rank comes as 5th among the tallest Pakistanis. In the photo below he is shown to the right. The tall person on the left is Azad Khan Masood.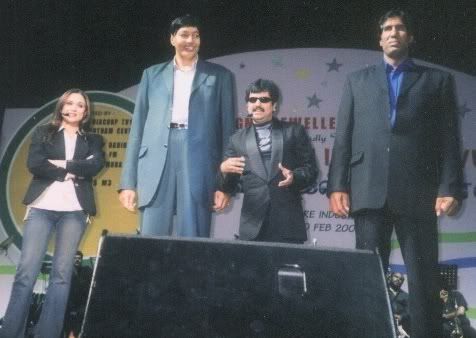 Zainab Bibi: 7 feet 2 inches
Pakistan was also home to one of the tallest woman in the world. Her name is Zainab Bibi. We had an earlier post dedicated to her. See here. Her height has also been quoted at different websites from 6 feet 10 inches to 7 feet 2 inches. Still, she is the tallest woman from Pakistan.
Muhammad Irfan: 7 feet and 1 inch
Mohammad Irfan (photo to the right) is currently the tallest first-class cricketer in Pakistan. He was born in Guggu Mandi – Punjab in 1982. He represented KRL and Multan Tigers cricket teams in Pakistan's 2009-10 domestic season. There is some controversy to his height. PCB has measured him anywhere from 6'8″, 6'10" to 7'1″. He himself claims to be at 7'2″. I also want to mention that previous tallest first class cricketers in the world were Joel Garner (WI) and Bruce Reid (Aus) both with 6'8″ height.
Muhammad Irfan's cricket record can be seen here.
References and Photo Credits: thetallestmen.com and APP