Clicking on most of the photos in this article will take you to their source websites and larger image sizes.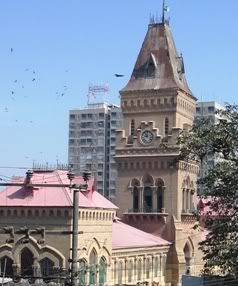 On my recent trip to Pakistan, I tried to re-live some of the fondest memories of my early youth. One of them was daily travel in public buses during my college days. In order to relive that experience, I decided to take a trip to Empress Market by bus.
Photo to the left shows Empress Market. I took this photo from the overhead pedestrain bridge on the morning of Jan 11, 2007.
At Karaimabad market bus stop, I made a hand gesture to an approaching route 5C bus. The bus driver made eye contact with me and acknowledged by slowing down. The norm in Karachi is that a bus never comes to a full halt for a single 'sawari' (passenger) because monetary profits from a single passenger fare is not worth breaking the engine motion.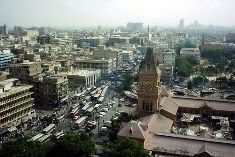 Therefore when bus slowed down to a speed of approximately 5 kmph, I quickly jumped in by grabbing on to the hand rail. It was a proud moment for me to realize that after all these years I have not forgotten the art of climbing onto a moving bus. I looked around the bus with the face of a conquerer but no one paid any attention to me so I meekly sat down at the first available seat.
Photo to the above right shows birds eye view of Empress Market. This photo is courtesy of Ali Zasami.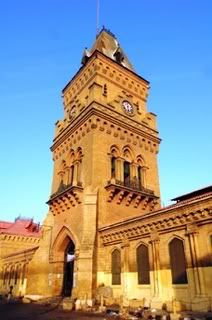 5C bus dropped me at the Preedy Street stop near Empress Market. Empress Market is named in commemoration of the jubilee of Queen of England who at the time of construction of this building (1884-1889) was also the 'Empress' of India.
Photo to the left shows the southern entrance of Empress Market.
My plan today was to walk to the Rainbow Center and buy some music CDs. There was all kinds of business going on in and around Empress Market. It was a scene of total chaos and still everyone knew what they were doing. First I passed through a series of road-side dentists. Some of them had Chinese sounding names. Chinese dentist have a reputation of being best in the trade and Empress Market area boasts a large concentration of Chinese dentists. Some of these dentists had strategically placed their salesmen out on the sidewalk from where they were luring in customers. I was offered a full set of dentures for Rs 1000 without even looking at my teeth.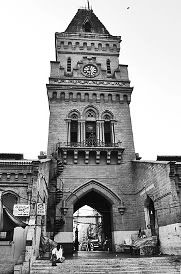 I also saw a super human size set of dentures on display which was so big that it could've easily fit in a horse jaw.
Photo to the right is the Empress Market Clock Tower facade in gray scale.
Before I go further with my account of Empress market trip I want to mention a 'sher' which has suddenly come to my mind while writing these lines:
kal jin daaNtoN se huNstay the khil khil

aaj wohi dard se rulaatay haiN hil hil

(yesterday the teeth which made me laugh as hee hee

today make me cry with pain as hoo hoo)
After I survived the dentists alley with all my teeth intact, I entered the historic Empress Market. Despite the traffic congestion in this area, the imposing structure of Empress Market is hard to ignore.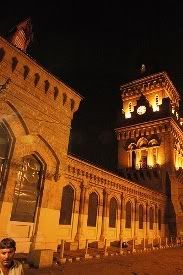 It was designed by the Karachi municipal engineer, James Strachan in neo-Gothic, Victorian-Gothic or what is now called as Indo-Gothic style and is one of the best known landmarks of Karachi.
Photo to the left shows a night shot of Empress Market lit in monumental lighting.
The foundation stone of the building was laid on November 10, 1884 by Sir James Fergusson, the then Governer of Bombay. Foundation work of the building was done by the contracting firm of Mr. J.S. Attfield of Lahore and the superstructure was built by Messrs. Wali Mahomed Jiwun and Dulloo Khejo of Karachi. Empress Market was inaugurated on March 21, 1889. At the time of inauguration, Empress market had accommodation for 280 shops. The day I visited, there was 'hamara Karachi' festival going on and as part of the festivities, Pakistan Rangers had brought out their official pipe band to play merry tunes infront of the Empress Market Clock Tower. This clock tower is 140 feet high with a large chiming clock, and skeleton iron dials placed on all four sides.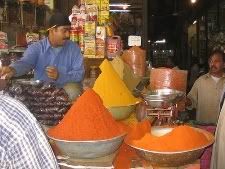 When I looked up, I was happy to see that clock was not olny working but also showing the correct time. For record keeping purposes, this was at 11:50 a.m. on the morning of January 11, 2007. Proof lies in the top most photo of this article.
Photo to the right shows a spice sellar inside Empress Market
Across the road, thirty or so school children were sitting under a make-shift tent. They were also put on display as part of hamara Karachi festivities. I don't know why were they sitting there and what was their aim for the day.
For those who are interested in knowing Karachi's role in Nationalist movements of India, Empress Market is located on the site where native sepoys were strapped to the mouth of cannons and blown to pieces as punishment for their involvement in the first war of independence in 1857.
Photo to the left shows herb oils for sale in wine bottles in Empress Market. The equipment to produce herb oil (e.g. crushed almond oil) is also visible in this photo.
After I crossed the Empress Market proper, I reached the 'neelam gali' (bidding alley). Here all the shop keepers had megaphones in their hands and were selling small and petty items to highest bidders. A large number of simpletons had gathered around these shops and were buying things as if there was no tomorrow. While I was walking by, many shopekeepers tried to lure me into buying stuff by offering wrist watches for as low as Rs 20.
Infront of bidding alley there was a group of quacks selling cure for all worldly and heavenly problems. They had a solution for all kinds of diseases ranging from minor head-aches, to dwindling democracy in the country, to fixing 'zalim mahboob' (unkind beloveds) to curing AIDS. Somebody was also selling aphrodisiacs extracted from snakes.
Photo to the right is from Dawn, and shows a snake medicine stall in Empress Market area.
I was totally over whelmed by so much action going on around me. But this was not the end of it. As I turned the corner from Preedy Street to Mansfield Street (now called Syedna Burhanuddin Road),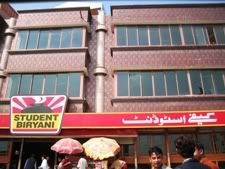 I saw a big anti-encroachment police operation going on against the Inter-city bus terminals. City government was trying to move these bus companies out of the city and there was resistance. But just 300 yards away where I was standing, life was as normal and serene as could be. I carelessly walked into the Rainbow Center. Time was around noon but still only couple of shops were open. I quickly bought the music CDs I was looking for and walked out towards the famous Student Biryani restaurant (shown in photo to the left). This famous restaurant is located at a walking distance behind the Rainbow Center.
From here I walked to the Bohri bazaar, made a big walking circle and came back to the bus stand at Frere Street (now called Dr. Daudpota Road). This time I took a Route 4L bus (shown in the photo to the right) and reached home after paying a one-way fare of Rs 7. During my college days in 1987-89, this fare used to be Rs 0.30 (with student ID). Another number that I want to throw out there is that construction project of the whole Empress Market cost Rs 1,20,000 in 1884-1889. Now one can probably build only 1 or 2 shops with such money. Inflation is on the rise guys.
One last history lesson, before I key-off is that Mr. Pitchard, the then commissioner, at the opening ceremony of Empress Market pointed out that only one market in whole British Presidency surpasses Empress Market in beauty and grace. This was a big tribute to Empress Market at that time.
Trivia: The only other market which according to Mr. Pitchard surpassed Empress Market of 1889 in architecture and facilities was Crawford Market of Mumbai.
A 1960s Photo of the Empress Market
This photo is courtesy of Dr. Ghulam Nabi Kazi.
Views of Empress Market
through History