Adil Najam
The situation in Karachi remains bad. Violence over power-shortages continues as do killing of cops. This city deserves better. This is the violence bred out of abject neglect and lack of resources. The situation needs to be tackled and tackled quickly before it gets (even more) out of hand. Reportedly, the President has sought a report "from Federal Minister for Water and Power Liaquat Ali Jatoi and Sindh Governor Dr Ishrat-ul-Ibad on loadshedding and deteriorating law and order situation in Karachi on Wednesday night and directed them to resolve the issue at the earliest."
Asking for a report is good, but not enough. Action is needed and needed immediately.
I try to follow the news on Karachi, but I also follow the discussion on the Karachi Metroblog. It can give you a more authentic feel for what is happening. Indeed, one of my everyday reading staple are the 'Metroblogs' from Pakistan–Karachi, Lahore, Islamabad; makes me feel like I am at least a little in touch with what is happening on the ground.
The type of 'authentic smells and feels' of Pakistan that keep me going back there include this post in Karachi Metroblog, by blogger Xill-e-Ilahi whose own blog–Samandar-e-Bemaina: Abbasnam–is always full of insightful discussion.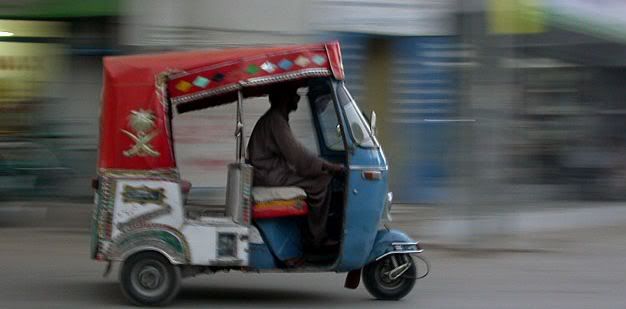 Xill-e-Ilahi reports of a discussion he had with rickshaw driver Raees Shah on what needs to be done to resolve Karachi's problems.
raees shah is 43, illiterate and drives his rickshaw from ten in the moring to midnight. he displays a political acumen, or siyasi shaoor as he would like to put it, beyond what i could ever have imagined. he has a formula for karachi. its simple yet sophisticated, possible yet impractical. this is his way of getting things to work
The 5-point political manifesto presented by Raees Shah, as reported by Xill-e-Ilahi, is intriguing; to say the least. So, let me quote it verbatim:
take the strategic institutions in your own hands. this he says is easy. if all of karachi were to stop paying their utility bills for just one month, the utility companies would pack up and leave. the people can then enter the abandoned offices and take control.
take over civil defense. slightly harder. but he feels that the "mob" effect will be able to achieve this. poora mohalla thanay key samnay khara ho jaye, tullay khud shehar chhor key bhaag jaaein gay he gets a bit vague at this point but i think he said that the running of the police stations should be handed over to the principal of the ilaqay ka kaalij (college).
ban all political parties. no meetings. no rallies. no speeches. no campaigning. sirf qaum ka paisa lutatay hain @@##$%!!
keep the maulvi in the mosque and madrassa. he's very clear on this point. pehlay khud ko sahi kerein, phir shariat nafiz kernay ki baat karein. he feels that the people of this city aren't yet ready for iran jaisa inquilab. koi rehbar abhi is qabil nahi hai ke hamein us tarah se aagay le jaye.
make education free and mandatory. everybody should study. everybody should study free.
All of you who keep wondering what ordinary Pakistanis think; this is it. Authentic and from the heart.
Keep an eye out for Raees; Xill-e-Ilahi has already announced that he would vote for him!