Owais Mughal
ATP has been talking about Pinglish in its various varieties (here, here, here and here). This is not about Pinglish, but about something quite close to it.
Last time I was in Pakistan, I noticed a few public notices which made me smile. Even though I've grown up seeing these all my life, they somehow felt funnier this time. For those readers who think we point out more negatives than positives, I must say that following is not necessarliy a negative writing but something that I observed and enjoyed. Following are the few examples:
(1) ghaas pe chalna "sakht" mana hai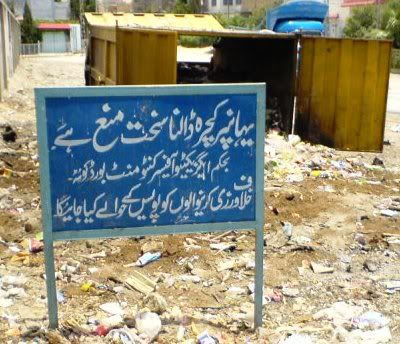 (Walking on grass is strictly prohibited)
I mean, what is the difference between prohibited (mana) and strictly prohibited (sakht mana)? Who is enforcing the strictness (sakhti) here? It will be interesting to survey how many (if any) extra people refrain from walking on the grass with a notice saying strictly forbidden as compared to simply forbidden.
For our English readership the board on the photo reads: "Throwing trash here is strictly prohibited. By the orders of Executive Officer Cantonment Board Quetta. Culprits will be handed over to the police"
A friend of mine tells me that just behind Karachi University, in Bhayani Heights Apartments there is list of instructions written at the notice board. One of them reads:
University Ground may kachra phenkna sakht mana hai.
Rangers ground ki nigraani kar rahay haiN.
khilaaf warzi karnay waalay ko pooray ground ki safaai karni paray gi

(Throwing trash in the University grounds is prohibited. Rangers are watching. Culprits will have to clean the whole ground)
It reminds me of this famous 'sher'.
hum pe ye sakhti ki nazar, hum haiN faqeer-e-raah-guzar
raasta kabhi rokaa tera? daaman kabhi thaama tera?
(2) No admission without Permission
This is usually written on government officers' doors. It indeed conveys a negative message that one is not welcome. I guess a positive sounding message could be: Admission with Permission.
(3) 'udhaar mohabbat ki qenchi hai'
(Credit cuts love like scissors)
This notice is written on our neighborhood grocery store discouraging customers from asking for store credit.
(4) yehaN ujrat roz milti hai
(Workers are paid daily here)
This notice is written inside our local barber shop. The words of the notice are crying out loud that master barber has no long-term plans for his business. He is hiring daily labor only. Don't ask for any benefits either.
(5) khatra 440V (Danger 440V)
This danger sign is usually accompanied by a visual display of danger in the form of a human skull and crossbones. This notice is usually found on electric utility companies' transformers.
(6) Once I also saw a completely damaged car put on a pedestal display in the middle of a traffic circle (roundabout) by a city's traffic department with a message:
tez raftaari ka anjaam..minjaanib Traffic Department
(The result of over speeding by Traffic Department)
(7) Bachelors ki rehaaish mamnoo hai
(Bachelors accommodation is not allowed)
This notice forbids unmarried people from renting in a certain family oriented community. I think it is a very discriminatory notice.
Please feel free to share if you know any such public notices
Credits:
(1) To my friend Abdul Nasir who pointed out atleast two notices included in the list above. To my friend Umar Shah who pointed out to me the hilarity of the phrase 'no admission without permission'. The colored photo above is from trekearth.com