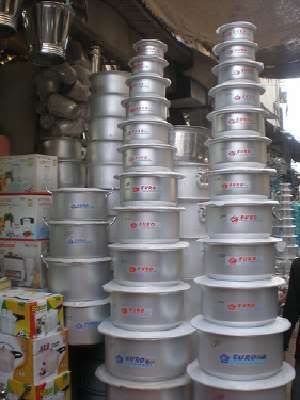 Owais Mughal
This photograph is from a pots and pans vendor in Jodia Bazar Karachi.
Jodia Bazar is a whole sale market where one can buy anything imaginable under the sky. I however, could never imagine that a consumer today has so much choice of sizes available while selecting a 'pateeli' (pot). I guess, all the better for food-lovers like us.
Looking at this photo a couplet comes to my mind which goes like this:
katoray pe katora;
beta baap se bhi gora
Photo copyrights Mr. Iqbal Khatri. Reproduced here with his permission. You can view more photos from Iqbal Khatri here.