Owais Mughal
(1) Sher Shah Suri, the Second is here!
The following Urdu news appears in Jang local for Faisalabad. A provincial Minister has gone so far ahead in 'ibn-ul-waqt' (sycophant) behavior that he is calling his boss, the CM as Sher Shah Suri 'Sani' (the second). Sher Shah Suri, the first and the real (1472-1545) is credited for building a large network of roads. One road ran from Attock to Cacca, second ran from Agra to Burhanpur, third from Agra to Chittor and fourth between Lahore and Multan. Present day Grand Trunk Road in Pakistan and India was also built by Sher Shah Suri.
Now it may be true that current CM is indeed building a network of roads but to call him Sher Shah Suri the second seems sycophancy to me.
(2) Two Uniforms – No Problem – bring it on :)
A general complaint of people is that President of a country should not hold two offices, say, he cannot be both President as well as wear uniform of Military at the same time. right or wrong, I do not make any judgement on this issue but when news like following appears it shows a very sycophant thinking. Mr Chaudhry Wajahat is telling Jang local of Lahore that even if President wears two uniforms instead on one, it is fine by him.

(3) 1000 in and 100000 out
Following is a Karachi local from Jang. A person who tried to use a counterfeit note of Rs 1000 got caught and the judge set bail for him at Rs 100000. This is what we call in Urdu 'lenay ke denay paR gayay' (to give instead of take). I am not familiar with the case but from the news it looks like justice was served.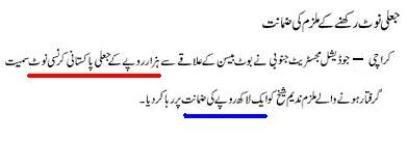 (5) 'Bhikari' (Beggars) Act
The following is an Islamabad local from Jang. Superintendent Police Islamabad has come up with a solution to the burgeoning problem of beggary. If a beggar is found in an area then the police station of that area will be held responsibe and departmental action will be taken against that police station. This year 276 beggars have been booked under the 'bhikari' (Beggar) act in Islamabad.
6) New Map is hereby unfolded!
In this Rawalpindi local from Jang, advisor to CM is claiming that after spending multiples of 1,000,000,000 rupees on development work, the area map has been redrawn. He further said that government is almost done on 13 big Mega projects started last year. The word big Mega is probably Jang newspaper's creation. It made me smile anyways :)