Probably all readers of ATP know about the ban from cricket on Shoab Akhtar and Mohammad Asif, the two leading attack bowlers from Pakistan after failed drug tests during last month's Championship Trophy. One would have thought this was an isolated incident, and that others sportsmen in Pakistan, especially those competing at national, and especially international sports, would learn a lesson. But I guess not.
Daily Times reported today that two of the leading boxers in the Pakistan delegation to the SAF games in Colombo, Sri Lanka (held in Aug 2006) tested positive for the use of Cannabis. Not only were they disqualified, but they also lost the gold medals that they had earned for Pakistan. According to the report:
Pakistan's two leading boxers – Meherullah Lassi and Faisal Kareem – have been banned for six months after testing positive for cannabis, a Pakistan Sports Board (PSB) official told Daily Times here on Thursday. PSB Dr Waqar Ahmad said that both boxers tested positive during the South Asian Federation (SAF) Games in Colombo, Sri Lanka in August this year. It is pertinent to mention that both pugilists won gold medals during the SAF Games in Sri Lanka. "The SAF Games committee has said that their gold medals have been withdrawn,� he said. Dr Waqar said it was a bad news for Pakistan. "Their absence will definitely hit Pakistan's chances in the Doha Asian Games next month. They were kept in the Asian Games squad in the hope that they would be cleared but now they have been banned, the Pakistan Boxing Federation will replace them with other boxers,� he added.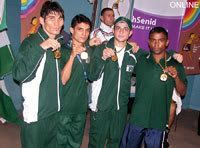 It is interesting to note though that this is not the first time that at least one of these boxers has tested positive. How shameful that he still did not learn!
Meherullah won a gold medal in the 2002 Asian Games at Busan, South Korea, and a silver medal in the Commonwealth Games in Melbourne this year. This is Meherullah second offence after he escaped punishment following a failed test in the SAF Games in Islamabad in 2004.
This sad incident reminds me of boxer Hussain Shah Syed, who won the bronze medal in 1988 in Seoul Olympics for Pakistan. His was Pakistan's solitary medal in the Olympics though Pakistani boxers have been participating in the Olympic Games since 1948. Back then, he became an icon for Pakistani athletes despite coming from a sport not particularly appreciated in the mainstream press. One is hardpressed to give any credit to Pakistan Boxing Federation that has been quagmired in internal politics and has done much beyond complaining about a lack of funds.
PBF's internal governance seems to be a mess and appears to have been in that state for quite some time now. Former Olympian boxer Ibrar Shah has lashed out against PBF and its leadership, alleging nepotism and corruption. According to him "the whole show is run by Professor Anwar Chowdry and his son in law Shakeel Durrani. They have made the boxing federation their home federation".
It is unclear to me what the sports federations in Pakistan are doing about the issue of drugs use/abuse, which seems to have suddenly emerged as a major problems for Pakistani atheletes. Is this just a lack of education or lack of rehabs like inpatient rehab at Muse and information among athletes on the prohibition from use of stimulants and drugs, a lack of discipline and management in those training, representing, and managing our atheletes outside the country, or blunt dismissal of rules and regulations by the athletes themselves?
Regardless, this brings such shame to Pakistan and Pakistanis.