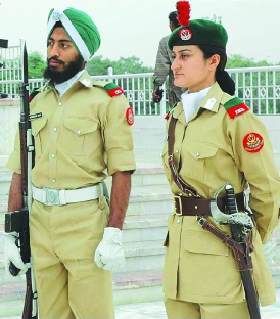 By Adil Najam
It has been a tradition for as long as I can recall that on the 25th of December a contingent of cadets from the Pakistan Military Academy (PMA), Kakul, takes over as the ceremonial honor guards at the mausoleum of the Quaid, Muhammad Ali Jinnah. This year, Jinnah's 130th birth anniversary, was special because the PMA honor guard contingent included eight female cadets and one Sikh cadet.
The two pictures here are from Dawn and Daily Times. Indicative of the importance is the fact that the two newspapers use the titles 'Winds of Change' and 'New Beginning' to headline the pictures, respectively.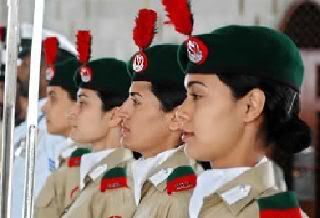 According to an Associated Press report in the Daily Times (27 December, 2006):
Eight female cadets from the Pakistan Army's elite training academy on Monday became the first female honour guards at the mausoleum of Pakistan's founder, Quaid-e-Azam Muhammad Ali Jinnah. State-run television showed the female contingent, clad in khaki cadet slacks, some wielding swords and others holding guns, marching to military tunes with their male colleagues in a ceremony at the mausoleum of Mr Jinnah, the Father of the Nation, in Karachi. In November, for the first time in the history of Pakistan, the Pakistan Military Academy Kakul opened its doors to women. In March, women also broke into the all-male air force when it inducted four women pilots.

Forty-one females joined the army academy to undergo a rigorous six months of military training along with men before being inducted as officers in various branches of the army. President Gen Pervez Musharraf, who attended ceremonies in Karachi marking the 130th birthday of Mr Jinnah, laid flowers at the mausoleum and praised the female cadets who are to graduate next April. "I am really impressed by the girls,� Musharraf said. "This is the future of Pakistan.� Previously, women had only served in the army's medical corps without being trained at the academy. But the 41 female cadets at PMA will join the army as non-combat officers in the communication, engineering, legal and education branches.
Comments on this issue have already been flowing elsewhere on ATP but I thought these pictures were worth sharing and highlighting here. Readers would remember that earlier this year Aviation Cadet Saira Amin had won the coveted Sword of Honour for best all-round performance at the Air Force Academy in Risalpur and became the first woman pilot to have won the Sword of Honour in any defense academy of Pakistan. I should confess that a few days ago when I had contemplated naming an 'ATP Pakistani of the Year' she was one of the people I thought would make a great candidate as a symbol of women breaking into traditionally male-dominated professions.