Adil Najam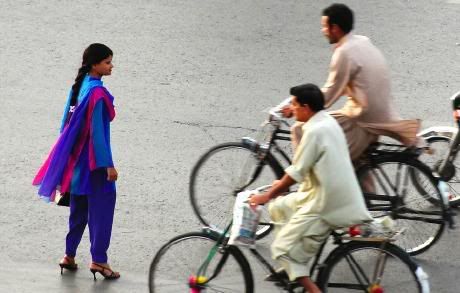 As a rule, we try not to repeat posts too often. Sometimes, we feel that the message is either pertinent again or that the original may not have been seen by a new crop of readership. I am reposting this picture and this post, originally posted on this date last year, because the message is even more pertinent today than it was a year ago, and because I feel like I need to say it again.
For Pakistan, this has again been a year of struggles as well as achievements for women. It marked the assassination of Benazir Bhutto – clearly the best known Pakistani woman, whatever you think of her politics. It marked also an election that saw more women win on general seats than ever before in Pakistan. But there was more, much more, to the daily struggles and achievements of Pakistan's 70 million women that we need to celebrate. Today, and everyday.
In the metaphor of the original post, the message is that we all are (not just women, but men too) crossing the road to better gender relations, but we ain't there just yet. Not by a long shot. Read on, please, even if you have read it before. What follows is my original post from last year.


Today is March 8 – International Women's Day. Today we wish to celebrate women in the fullness of what it means to be a woman in Pakistan. To celebrate their achievements (also here, here, here, here, here, here and here). And to celebrate their struggles (also here, here, here here, here, here and here).
I have thought much about how best to capture the meaning of this day. It seems to me that in many very important ways, this picture above does.
I have admired this picture by Jawad Zakariya (whose work we have featured before here and here) from the moment I first saw it at Flickr. I had been waiting, however, for the right time and the right context in which to use it. Today, I feel, IS that right time and right context.
There is both dignity and determination in the posture of this young woman as she tries to cross the road (Jail Road, Lahore). As in any good photograph, there are a thousand stories embedded in this one. The metaphor of 'crossing the road' is itself so very pertinent for today. So full of meaning.
For me, here is a woman who is not waiting for someone to 'help' her cross the road. She is not demanding any special treatment. Not waiting for assistance. Not invoking the chuvinism of the men around her. She is ready, prepared, even eager, to overcome whatever hurdles come in her way. She just wants to cross the road on her own; for people (mostly men) to get out of her way. That, ultimately, is what this day is about. It is not about seeking special treatment, special dispensations, special laws. It is about ensuring that women have what we men have always had. The ability to realize their own potentials. To rise to their own aspirations. To be able to cross the roads they wish to cross… on their own.