Adil Najam
November 5 marks the 25th anniversary of the creation of the Women's Action Forum (WAF) in Pakistan.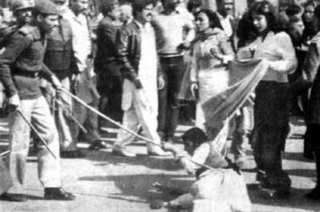 For all of us who lived through the Zia era, the scars of those memories run deep into our psyche. This is not the time or place to talk about the pain that was inflicted on our national ethos by those years. But this I do know: very few demonstrated the courage of conviction and stood up to the Zia regime, its KoRas, and its brutality with the resolute steadfastness and graceful persistence that WAF and its membership demonstrated.
While too many of us stood quietly in the corner and sulked, they stood up for what they believed in and confronted the laathis of the police. In doing so, they made us feel proud of that which they did while also ashamed of that which we did not do. No matter what you think about the issues that the WAF has stood for and pushed over these 25 years, for that demonstration of courage alone it deserves our respect.
According to a Dawn report about the WAF silver jubilee:
All three chapters of the WAF, Karachi, Lahore and Islamabad, have gathered [in Lahore] to celebrate 25 years of the founding of the forum, the women's rights organisation working in close collaboration with other civil society and democratic forces to defend the rights of women and all oppressed and marginalised sections of society…. These and hundreds of other, anonymous, women pioneers representing the struggle by civil society against the forces of obscurantism broke the ice at a time when chilly winds blew across the country, freezing even the few men who dared to speak up in their tracks, as efforts were being made by Gen Zia's dictatorial regime to further gag the women, the minorities and the democratic voices.

The defunct student and trade unions and the harassed political activists later joined the struggle led by the show of courage that these brave women put up against what they saw as distortion of the social order and dreams of an emancipated society that Pakistanis from all religious, ethnic and economic backgrounds had long cherished. The Women's Action Forum emerged on the scene as a vanguard of a movement that defied General Zia's martial law and its torturous tactics. On Feb 12, 1983, the WAF along with the Pakistan Women Lawyers' Association took out a public rally against the Law of Evidence on The Mall, Lahore, which came under brutal police attack. The late poet Habib Jalib was prevailed upon to rally the women demonstrators with his rebel-rousing poetry before being beaten by the police. This was a turning point in the gathering of democratic forces against military dictatorship.
Related posts on: Rape Laws in Pakstan and ATP Poll on Women's Rights Action.