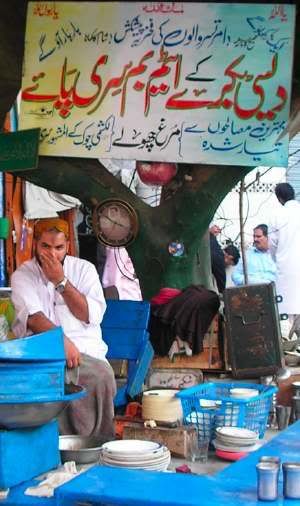 Adil Najam
Sometimes a picture says itself all that needs to be said.
This one does so on the billboard at the back of the guy in this traditional Siri Paye (should we say, 'Head and Hooves'; someone please help me with the proper English term for this!) shop in Lakshmi Chowk, Lahore. Here is what the board says:
Main Text:
Desi bakray kay atum bumm Sri Paaye.
Other Text:
Aik baar khao gay, baar baar aoo gay!
Behtareen masaalouN say tayar shodda!
Amritsar waalouN ki fakhriya peshkash!
So, you have a Pakistani bill board, mentioning Atom Bombs, Amritsar, and the heads and hooves of a severed animal! The results, one might guess, must be 'Politically Delicious!'
Is comparing food to Atom Bombs really the best way to attract customers?
Yes we want an explosion of taste; but how big an explosion! From the look of things in this picture, however, its a sales pitch that seems to work. I guess national pride, culinary passions, and that whiff of nostalgia added by the Amritsar mention are a winning formula. Plus, nothing like food to get us Lahoris excited.
As with our earlier post about Nihari in Karachi, I will refrain from explaining exactly what Siri Paye is, but maybe some reader will. Thanks to reader Asma for telling me about this wonderful picture, which is posted on Flickr by Edge of Space, but taken by ~Fursid. There is very interesting, very Pakistani, banter between them there. Our thanks to all for the wonderful memories this picture brings back.