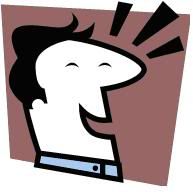 Life is usually a mixed bag. While there are moments of sadness; they are invariably interjected with moments of joy. I believe the real life moments of joy are much more fun to read than fictional jokes. I'll share with you some of mine and we hope to hear about yours too. After compiling some funny moments of my life below, I now realize that most of them are from my students days or teenage days. Is life more fun and full of laughter when we are younger? It sure seems that way.
(1) Where is abba jaan?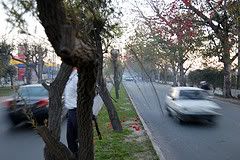 I have some family in Lahore. One of my cousins there used to give ride to his father (my uncle) daily to his office. It was a very set routine. Every morning, my cousin would be waiting at driver's seat and then my uncle used to come to the car, open the back door, throw his brief case in and then sit in the back seat.

One morning, my uncle opened the back car door as usual, threw his brief case in and then remembered to get something back from home. So he closed the car door and went back into the house. My cousin who was at the driving seat, didn't even look back. He heard the door closing and thought his father was in and drove away. He reached all the way to his father's office and then said:
"abba jaan! utariye" (Get off dad).
When he looked back, only briefcase was lying on the back seat.
Earlier on, my uncle after seeing his son leaving without him, came back in the house and told my aunt :
"begum, wo gadha meray bagher hi gaaRi le kar chala gaya hai"
To this day, this remains the number one joke in our family.
(2) To See Cricket:
For few years I played cricket for Federal Cricket Club in Karachi. Competition was tough and boys had to wait to make their place in the playing XI. One such boy remained on waiting list for more than a month. He used to come to our every match in the hope of playing but only found himself sitting on the sidelines. One day he was again the 12th man in a match. Somebody from opposing team came to our pavillion and asked this boy:
kia tum bhi Federal ki taraf se kheltay ho? (Do you play for Federal Club).
To this the boy replied:
nahiN..meiN Federal ki taraf se sirf dekhta hooN (No I only watch from Federal Club).
This sentence was so spontaneous that all of us laughed. The captain of Federal Club was also present there. He either became very happy or very ashamed and gave chance to this aspiring boy in next match. This boy later played for many years for Federal Club.
(3) Logic Design in Pushto:
We were learning logic tables in a Digital Design Class when our teacher described to us the "Don't Care" condition.
An Abdalian friend of mine, who used to punctuate Urdu with Pushto expressions asked the teacher:
Madam! can we also call it 'parwa maka wa' condition?
And the whole class became kasht-i-gul-o-zafraan. I believe 'parwa maka wa' in Pushto means 'No worries'. (correction needed from readers, if I am wrong here)
(4) Guard Wires: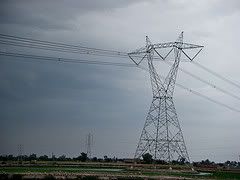 In electrical transmission lines, current runs through several cables which are placed on electrical towers. The top most cable on these towers is called the 'Guard Wire'. It is called Guard Wire because it protects the high voltage electrical cables underneath it from thunderbolts (aasmaani bijli). The angle of protection is up to 120 degrees under the guard wire.
During one of our lectures on Electrical Design, the teacher asked us whether any of us knew what a 'guard wire' was. This was the beginner's course in EE and no one in our class knew about Guard wires. After teacher repeated his question several times, one of my class fellows got bored and answered:
Sir, there are guards with 'bandooq' who protect these electrical towers, that is why the wires on these towers are called 'Guard(ed) Wires.
Hearing this everybody laughed like crazy. The teacher didn't enjoy the answer much though.
(5) Coal's Sulphur Content:
I was in the third year of University when this news made headlines that World's largest coal reserves have been discovered in Tharparkar, Sindh. Not a day went by when PPP's government of that time didn't boast about this great find. A high profile industry expert visited our University in those days and gave a lecture to our class. Somebody in our class commented to this expert:
Sir! now that Pakistan has discovered world's largest coal reserves in Sindh, shouldn't all our Power Generation worries go away?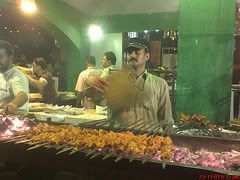 The expert replied that coal found in Sindh was not of very high quality. It had very high sulphur content so it was not suitable for power generation at good efficiency. Hearing this another 'dil-jala' class fellow remarked:
We should then use it to make chicken tikka – It can easily be utilized in our kabaab industry
It was a sarcastic comment but made us laugh. For all its merits and demerits, I still remember this comment.
(6) jaan dekho:
I was extremely thin during my teen years. Cricket was my passion and I used to bowl fast. During 'mohalla' cricket matches, whenever I came to bowl, there was a usual chant that opposing teams used to do against me.
'allah ki shaan dekho – tinkay mein jaan dekho'
Following photo is from my teen years. This was my School Cricket Team. Year was 1986. Venue is Aga Khan Gymkhana , Karachi. To find me in this 23 year old photo, you can use the clue given above i.e. allah ki shan… tinkay mein jaan :) Knowing how I look now, I need to use the same clue to find myself in this photo. These days I look more like Inzamamul Haq.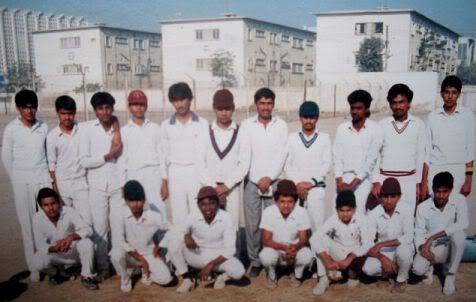 (7) Turruth Table:
One of college English teachers used to put extra effort on our English pronunciation. One day he spent almost 20 minutes fixing whole class' pronunciation of the word 'truth'. He tried all kinds of tricks. He used to say:
touch your tongue to upper teeth and softly say the word t.r.u.t.h
I think we all got it after repeating it atleast 50 times.
After english class was over, the very next class was of mathematics where the math teacher was teaching us a chapter on Truth Tables. Now this math teacher used to speak English in Urdu phoenitics. e.g. calculator was pronounced as kaal-kool-ator. Well, while teaching 'Truth' tables he completely destroyed the hardwork done by the English teacher just a class before him. His sentences went like this;
'dekho aaj hum banaayen ge 'TURRUTH Table'. tum bhi banaao 'TURRUTH Table….aaj ka sabaq hai TURRUTH Table..'
and so on.

Whenever few college mates of my batch meet, we still laugh about this 'truthful' episode.
(8) Whats in a name?
Once there was this Chemistry lecture going on in Karachi University. The teacher explained a chemical reaction which resulted in some main chemical product and two by-products. the teacher was trying to put emphasis on the main product so she asked the students to forget about the by-products and said that it was not even important what they should call them. She said:
You can name the two by-products any name.

To this a student remarked:
"madam, in ka naam "pappoo" aur "guddoo" rakh deN"
Every one in the class laughed like crazy.
Other Suggested Posts on Joyous Moments of Life:
1. Of Mad Dogs and Yamaha 100
2. In the land of Kunhar
3. Ziarat ke zaair
4. Motorcycle Safari to Goth Allah Binno
5. Rawalpindi to Sialkot by Bus, Truck and Tonga
Photo Credits:
1. Nauman Khwaja at flickr.com
2. Syed Noman Naqvi at flickr.com
3. Ansar Iqbal at flickr.com
4. bronnygee at flickr.com
5. Abhiroop at flickr.com