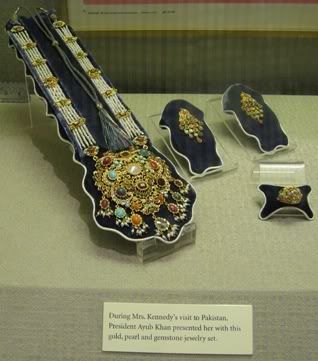 Few days ago we presented this photo as an ATP photo quiz. Quite a few of our readers guessed it right. This jewellery set was presented to US' First Lady Jackie Kennedy by then President of Pakistan, Ayub Khan on her visit to Pakistan in March 1962.
This jewellery set is nowadays at display in John F. Kennedy Presidential Library and Museum in Boston Massachussets. Following is the enlarged view of the sign describing this set.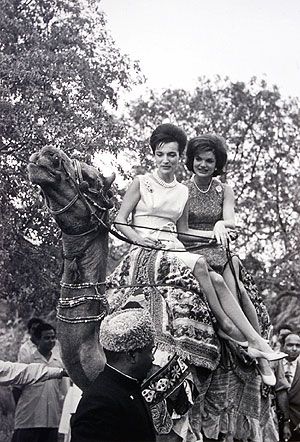 Back in June 2006, one of the first ATP Quiz's was also related to Jackie Kennedy's memorable trip to Pakistan in 1962. The photograph we had used then is reproduced here.
That visit was, in fact, quite a diplomatic event for both the US and certainly for Pakistan.
Maybe, given all of President Obama's interest in Pakistan, it is time for Michelle Obama to visit Pakistan now!