Pakistan is in drought. Rivers are flowing with 30% less water than what they normally do in January. For a country whose econnomy depends on agriculture and irrigation water, drought couldn't have come at a worst time.
The photo above shows dry bed of river Indus on March 14, 2009 downstream of Kotri barrage at Jamshoro. Indus by the way is supposed to collect water from all major rivers of Pakistan. This photo shows the reality of Pakistan's supposedly all-year flowing river.
An excerpt from today's Dawn news reads:
The Pakistan Meteorological Department has said that the country had already crossed two stages of drought, meteorological and hydrological drought, and was now entering the emerging agricultural drought stages, resulting in crop failures in arid areas and drought conditions in irrigated plains.
Following is another photo of dry bed of Indus downstream of Hyderabad in November 2009.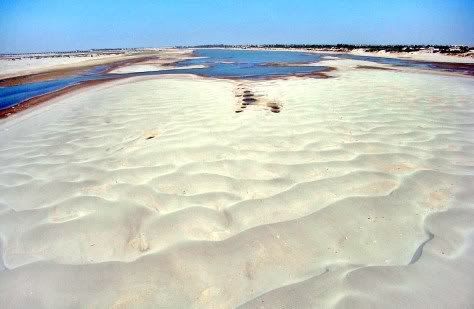 Officials of the Indus River System Authority (IRSA) which manages water resources have said on Jan 25, 2010 that the rate of water flow in country's four major rivers had fallen from 47,000 cubic feet per second last year to 37,000 cubic feet per second this year.
The total water stored in the Tarbela and Mangla reservoirs dropped by 34 percent over the year — down from nearly 2.26 million acre-feet in January 2009 to nearly 1.5 million acre-feet in January 2010. According to a Jan 16, 2010 news item water level in Tarbela reservoir was 131 feet below maximum and in Mangla it was 128 feet below maximum.
As water resources deplete, the general fear is that Pakistan's political and regional conflicts will emerge stronger. While the problem is not confined to any one province but when water resources get stressed the strain shows in the form of allegations and polarization of people into groups. Regional tonga parties which otherwise don't get any support can suddenly exploit thousands to support their slogans of 'mazloomiat' (being exploited).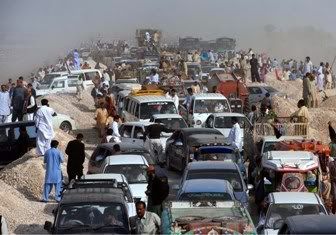 Therefore it was not very surprising to see the unanimous support 'Indus River Day' received in Sindh province on Jan 24, 2009. It was not covered widely by the National Press but few photographs that I've seen from the event showed the passion with which people in Sindh consider this to be an issue which is very close to them.
The photo to the left above shows traffic jam on Khairpur-Larkana bridge on River Indus as large number of people throng to the river banks to mark the 'Indus Day'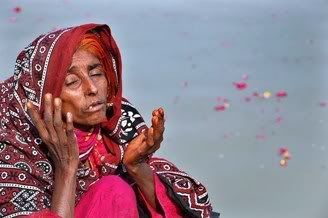 The photo to the right shows an old timer praying at the banks of Indus in Larkana on the occasion of Indus River day.
While regional parties of Sindh made it a point to bring their supporters in large numbers to the banks of Indus and throw tonnes of rose petals into the river, one of the larger political parties of the country – which does business at National level – also offered 'namaz-e-istasqa' (prayer for rains) in their Karachi offices.
The photo to the left shows rose petals being thrown into Indus waters as a gesture of thanks and prayers to the river water which supports life and economy of many here.
I believe it is indeed a national problem which needs a national solution.
For the past many years, somebody keeps coming up with an idea of melting glaciers to fill up our dams. This idea appears in National Press every now and then. Does it hold any serious merit? To me it seems like killing the goose that lays golden eggs to get all the eggs now. Bad idea. For a qucik reward we shouldn't mess with the nature more than we already have. I am sure these glaciers don't form overnight or every year. They have been in Pakistan probably since the last ice age.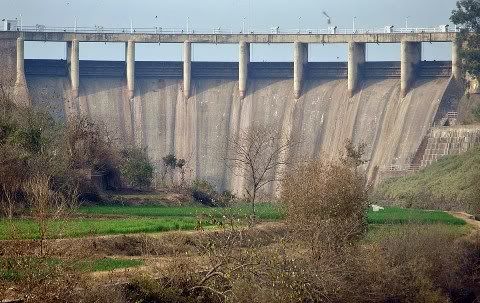 The photo above shows dry spill ways of Rawal Dam on last sunday (Jan 24, 2010). The water has gone down below dead level here.
Whether making one large Kalabagh dam is the solution, I don't know for sure. I'll let our readers judge and comment on the merits of larger versus smaller dams. I do tend to think that conservation at regional levels by small dams is better. They will have smaller environmental impact. While drought cannot be tamed, its effects can be reduced by recycling of domestic water and channelled (or even covered) water ways with concrete lining. 'magar is meiN parti hai mehnat ziyaada'. Where will the funds come from for such infrastructure improvement? Do we have a collective insight to channel funds towards water conservation. These days all the countries want to donate something to Pakistan – may be its time to ask them and our own ashaab-e-ikhtiaar (decision makers) to invest in Pakistan's Water Resources for the stability of the country and the region.
I want to end this post with following astonishing photo where people are seen walking at leisure on dry Indus bed at Jamshoro on June 29, 2009.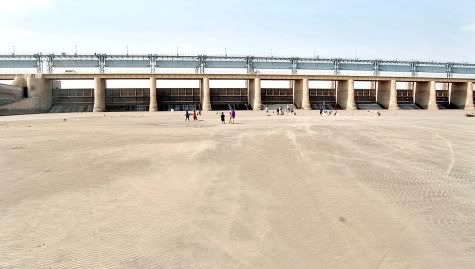 Photo Credits: Nadeem Akhtar, Akram Ali and Saeed-ul-Mulk at APP