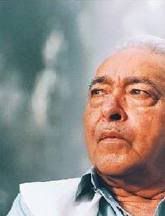 Adil Najam
I have spent much of today reading, remembering and listening to the poetry of Munir Niazi, who died yesterday.
This is probably the best way to celebrate the life and work of a poet. The celebration of his work has gone on on this blog from a while (here, here, here and here) and, as I said yesterday, will no doubt continue.
I wanted to share two things with you that I have been listening to all day.
The first is this delectable ghazal sung delectably by Ghulam Ali (listen here):
bechain bohat phirna, ghabrai hooway rehna
Ik aag si jazbouN ki dehkai hooway rehna


Aadat hi bana li hai, tum nay to Muneer Apni
Jis shehr meiN bhi rehna, uktai hooway rehna
Also, by way of homage to Muneer Niazi is this video clip of his memorable film song "Uss Bewafa ka Shehr," from the movie Shaheed, the singer is Nasim Begum, the actress is a young Mussarrat Nazir, and the music is by Rasheed Attre.