Owais Mughal
Clicking on the photos in this article will take you to their enlarged images
Over the past few years, Chinese and Japanese characters have increasingly appeared on Pakistani public transport as decorations. On my recent visits to Pakistan, I've been constantly amused by these decorations and took some photos. I've been fortunate to have a Chinese language expert at home as my wife so we enjoy reading a lot of these decorative instructuction markings, which at times do not even make sense. Few examples are given below:
(1) I took following photo on Jan 10, 2007 in Federal-B-Area, Karachi. It shows a school van and I am very happy to announce that Japanese characters on the front also say the same. Somebody did the research beofore buying this sticker. It roughly means 'Automobile for School'.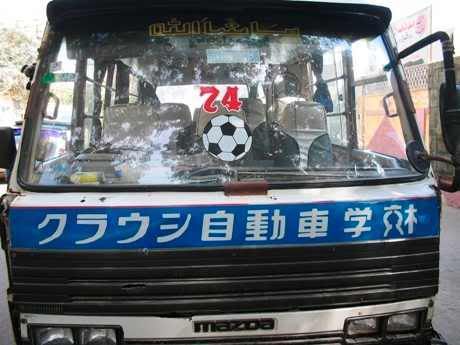 (2) Following photo is from Marston Road, Karachi and was taken in June of 2005. The Chinese characters used as decorations on this van do not make a meaningful sentence. The characters from left to right mean;
Green Color, Certain time of the year or day, Tea, Korea and Come Inside.
Looks like somebody has selected some characters from a Chinese text purely on the basis of what they liked and then mass-marketed all across Pakistan as decorative stickers. Put together the characters do not make sense. Also note the stickers on van's pillars are the same as the one on the body except in different size and orientation.
(3) Following photo was taken on Lahore-Islamabad motorway in May 2005. Please note that the Chinese characters in this photo are exactly the same as shown on a Karachi van above.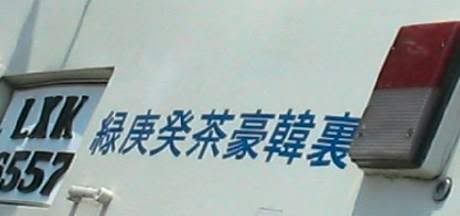 Some of the more hilarious writings that we have observed, and unfortunately couldn't take photos, included Chinese characters instructing the public to 'use the back door' when there was no back door on the vehicle. Another sticker called for 'contact a lawyer immediately' written on front door of a van.
I beleive things like such makes life in Pakistan so colorful, entertaining and lively.