Adil Najam
This very entertaining photograph is of a warning sign posted in the basement of the Summit Minar in Lahore.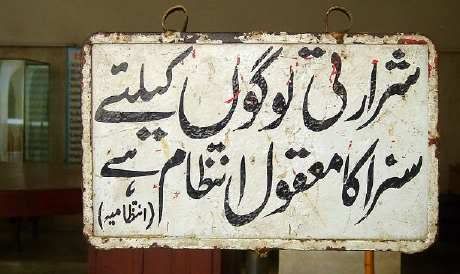 Shararti logouN kay leeaye saza ka maaqool intizaam hai.
(Appropriate punishment arrangements are available for the mischevous.)
I wonder what the "saza ka maqool intizaam" actually entails.
A part of me wishes we could institute a similar sign and system for all our ATP friends who regularly and repeatedly ignore this blogs' comment policies. Maybe we will!
I must confess, their childish antics do sometimes get to me. The blatant disregard for stated policies and the obvious disrespect for others bugs me. But what really bothers me is how much time and energy it saps from those of us who run this site and from the readership. Cleaning up the mess after these displays of shooda baazi, leaves us exhausted. But then, as one reader recently wrote to me, "the urge to act smart and 'beat the system' may itself be a component of Pakistaniat."
Note: I found the photograph at Flickr via MicroPakistan; photo and translation credit to mafimushkala.