Adil Najam
One of the earliest posts I did on ATP was called 'Tangay Walla Khair Mangda.' It was a Picture of the Day post and used the tanga/tonga picture that we now often use on the masthead.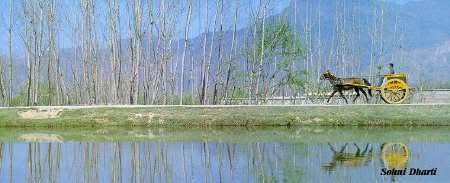 The song by that name is a particular favorite of mine, both for its music and for its message. As I was listening to it today, I was reminded of that post and how far this blog has come since then. We now have more readers than I had ever imagined having, a bursting set of discussions, and a whole host of new friends who we have never seen but meet each day.I am thankful for all of this. But I must confess that sometimes – especially as I sometimes sift through needless sarcasm, provocations, and anger in the comments section – I miss the old days.
Much like I sometimes miss going to school on a tanga, even as I conference-hop across the globe on huge impersonal jetliners. There is something more personal, more civil, more familiar, more human about small communities. In a tanga, even a communal one, you get to know everyone. You share your ganderis with everyone when you are in a tanga. In a jetliner you sit next to someone for 22 straight hours and often do not share a single word; and when you do it is more likely to be a nasty look because they pushed back their seat too far or something!
As you can see, I am in a rather pensive mood today. I apologize. That is why I was listening to this song. It always cheers me up.
I must confess, I still see my own role on ATP as that of the tangay wallah. I cannot take people where they do not wish to go. Its their journey and their destination. But like actor Lala Sudhir and singer Masood Rana in Baba G.A. Chishti's immortal song, I too see, as the song says, 'banda rang rang da' and I too sing the song of 'Khair' (I guess here it means something like 'goodness' and 'friendship') for everyone. That, I guess, is the best that one can ever do.
So, dear friends, here is a video of the song – from the 1964 movie Daachi. The video quality is really bad, but the sound quality is descent. Do watch it if you can. It is really quite wonderful once you get past the picture quality. Note, for example, the shaadi band, the train, the guy on the bicycle and much more. But if you can, focus on the words. I hope even non-Punjabi speakers will get the gist: peace and friendship to all!