Joint Post by Syed Ahsan Ali and Owais Mughal
Oops! The blue-eyed boy of Pakistan's cricket team has done it again. This time hitting his team-mate by a cricket bat. Who said that we are an intolerant nation. It is utterly wrong. Look how oblivious we are of Mr. Shoaib Akhtar's failings. He misbehaved; we said he is a match-winner. He accused former greats for overshadowing his success; we said he is a match-winner. He tried to disrupt Inzamam's discipline over the team; we said he is a match-winner. He was caught using performance-enhancing drugs while whole world was saying him cheat and druggie; we said he is a match-winner. And now he hit his colleague on the thigh with a bat, disgracing the game, name of the country and fellow-colleagues, what would we do now? We hope this incident would get us out of our slumber and decide whether he is a menace or necessity for the team.
Today, Pakistan Cricket Board has decided to send him back from the Twenty20 World Cup and handed him an indefinite ban pending a hearing, which will take place after the team returns from South Africa.
A press release issued on Friday by team manager Talat Ali in Johannesburg said:
"The decision [to send him home] has been taken on an incident that took place yesterday [6th September] afternoon at the Centurion Park after the practice session of the Pakistan team. It was reported to us by Asif that Shoaib had hit him on his leg with a bat and abused him."
According to Dawn news, PCB chief executive officer Shafqat Naghmi said:.
"Shoaib Akhtar will be returning by the first available flight….(the) decision was taken on complaints of discipline violation."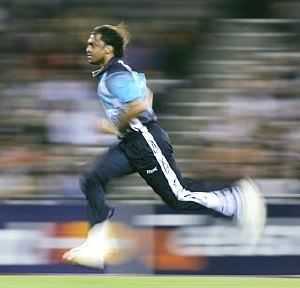 To his defense Shoaib akhtar's statements appears at the website Cricinfo where he says that he made a mistake "in the heat of the moment".
"I'm human and made a mistake in the heat of the moment…Asif said something to me that made me lose my temper. I apologised to him, but I was very upset."
He asked the media not to paint him as a villain and said,
"I'm feeling bad that two minutes of temper have ruined my comeback. Sometimes you do things in a fit of temper. I will explain the situation to everyone and apologise. I will address a press conference and apologise for my actions. I will try and make it back for the series against South Africa next month."
PCB Chairman Naseem Ashraf's statement also appears in electronic media today where he has said something to the tune that Shoaib won't be back even if Pakistan gets to play more than 5 matches in the tournament.
In the past we have covered Shoaib Akhtar quite a few times at ATP e.g. Here, Here and Here. Just like all other cricket fans, our sweet-bitter relationship with him seems to continue with this post. Shoaib now seems to be transgressing again and again. Some say this is because he gets away with it after facing media trial and paying heavy bucks. Few years back, famous broadcaster Harsha Bhogle wrote in an article that Shane Warne is a great cricketer but he is not a nice role-model to idolize for young cricketers. Now it appears that the case may not be too different with Shoaib Akhtar.
Credits: Title photo of this article is from www.cricinfo.com