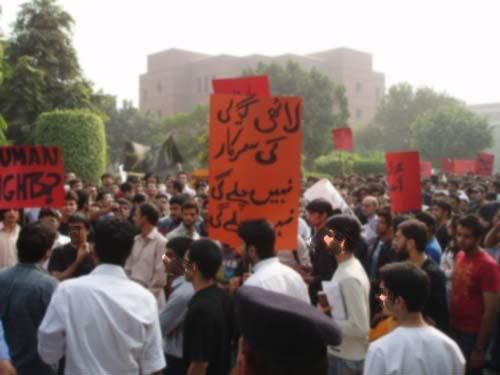 Its been more than four days since Martial Law and we are going through most difficult times of our history. Nobody knows how many more days and weeks and months this situation will continue.
Like most of the concerned Pakistanis, I felt so depressed and hopeless about the future of my beloved country specially during the first two days. Since the declaration of Martial Law (and please STOP calling it emergency!) on that Black Saturday Evening, like many other things we have also been deprived of basic human right of access to information which is most frustrating because we don't know what is going on.
Not many Pakistanis living abroad understand what exactly it means to have no access to information. A vast majority of Pakistanis have been forced to see the government control PTV news which keeps on showing a bunch of Robots saying things which only they can understand. I must have watched PTV news after many many years and unfortunately, its still the same old PTV. Many people I know had to call their relatives abroad to get some information about the situation in Pakistan. However, a small percentage of Pakistanis now have the access to Geo, ARY and Dawn, thanks to the internet. Although we are now facing some problems in internet services too in some parts of Lahore.
Lack of access to information has caused a great deal of confusion and left people speculating about the situation. Organized rumours were circulating in Pakistan on Monday about the arrest of Musharraf which caused Karachi Stock Market to go down 634 points. Whoever was behind this planned rumour (and fingers are being pointed at some people in very high places), made billions of rupees in just few hours.
So, as Adil Bhai asks in his post too, what is it that we can do and should do? Some segments of our society have already answered this question to a large extent and set an example for the rest of us to follow. Let me explain how. I have been writing about the growing indifference in our society and the initial one or two days were extremely depressing and disappointing as only lawyers and journalists staged notable protests but generally public has remained quiet. But the defiance shown by a large number of SC, High Court judges and the lawyer community has once again given us new hope.
We must salute judiciary and take it as a big positive that never before such large number of judges had refused to take oath under PCO. Lawyers across Pakistan continue to boycott courts and protest despite the brutal beatings by police. Politicians are still nowhere to be seen even after four days since Martial Law. All they have done is passing statements and that we are planning but NO ACTION. I know Benzair Bhutto has just given a very strong statement demanding Musharraf to restore constitution, hold elections, take off uniform and release detained judges and lawyers OR face protests and long march. Personally, I still think there are talks going on behind the scenes and this is just a pressure building tactics to gain more and more. We should not expect much from them as they are likely to end up in a deal again. I pray that I am wrong in my assessment.
Since yesterday, we have now started to see very passionate Students Protests by various universities in Lahore and Islamabad. Yesterday hundreds of Quaid-I-Azam University students, professors staged a largest protest against Gen. Musharraf in the history of university. Today students of LUMS, FAST Lahore, Punjab University and some other colleges have also joined the protest against martial law. The students of FAST Lahore were also protesting against the detention of LUMS students and teachers yesterday. You can find dozens of videos of students protest on youtube.com.
On Wednesday, there was another large protest by students of Quaid-I-Azam university, Hamdard University, Lawyers and civil society in district court Islamabad. Despite all the threats from police officials, the number of students protesting is growing. Clearly disappointed from politicians, civil society and university students are now coming out on streets to protest against the actions of Gen. Musharraf. Imran Khan, who is in hiding, is trying to organize students to come out on streets. He gave this video message for Pakistanis and I think it has a very good plan of action and answers Adil Bhai's question too:
Meanwhile, according to Dawn, Chief Justice Iftikhar Muhammad Chaudhary has also urged people to act. Inaction at this time would be a great tragedy and we must do everything we can to support the restoration of constitution and reinstate judges.
Deposed Chief Justice Iftikhar Muhammad Chaudhry urged the nation on Tuesday to rise up for the restoration of the Constitution. He dismissed the proclamation of emergency as illegal. The Constitution has been ripped to shreds, he said while addressing a rally of lawyers by telephone from his besieged residence where he has been detained. The lawyers were protesting against the imposition of emergency and removal of the chief justice and several other judges of the superior judiciary through the Provisional Constitutional Order.

Justice Iftikhar asked the lawyers to spread his message to the people all over the country: The time has come for sacrifice and for rising up for the supremacy of the Constitution. He declared that he was determined to launch another phase of struggle for the independence of judiciary, rule of law and the Constitution. He said he would speak to the legal fraternity once restrictions on his movement were relaxed. I am under arrest now, but soon I will join you in your struggle, he said.

Justice Iftikhar said he was confident the day would come when the country would see the supremacy of the Constitution and that there would be no dictatorship. He described as unfounded President General Pervez Musharraf's allegation that the judiciary was going soft on terrorists. He pointed out that the court had provided relief to the people and restored their faith in the judicial system. Before Justice Iftikhar could complete his address, the line that he was speaking over was cut and mobile phones in some parts of Islamabad went dead.

Hundreds of lawyers protested inside the city court complex after listening to Justice Iftikhar. They made no attempt to break through the police cordon deployed to prevent them from holding street protests. The lawyers condemned the imposition of emergency which they said was an attempt by General Musharraf to prolong his rule. After chanting anti-Musharraf slogans for about half an hour, the demonstrators dispersed peacefully.
ATP readers can check out the videos of student protests at FAST-NU and LUMS here and here respectively.
May Allah have mercy on Pakistan and give its leaders wisdom to make right decisions. Ameen.
Campus Updates* Friday's Protest by Students @ FAST – NU, Pakistan – 9th November
posted by Opee – Omer Pervaiz at 3:59 PM on November 09, 2007
15:39hrs: Peaceful Protest by 500 – 600 students held after Juma Prayers.
15:44hrs: Some early photos aired showing students wearing Black Arm Bands gathered peacefully for an effective protest.
15:52hrs: Media came for coverage but was not allowed by the organizers to shoot the videos and photos.
Details:
[09/09/07 – 15:39hrs]
A peaceful protest was held today at FAST-NU (National University of Emerging Sciences, Lahore, Pakistan aka FAST – NUCES or formerly, SAHICS). Around 500-600 students gathered backstage after Jumma Prayers for a Peaceful protest. All the students were Wearing Black Arm Bands as a sign of protest. Few faculty members also addressed the student gathering.
More details and updates about the protest.. coming up!
[09/09/07 – 15:44hrs]
Some early photos aired showing students wearing Black Arm Bands gathered peacefully for an effective protest. Students and some faculty members gathered at the backstage of the campus after Jumma prayer.
[09/09/07 – 15:52hrs]
Media did come for coverage but they were not allowed to take any pictures or videos. Videos and pictures were taken by FAST-NU students themselves and will be published later.