This is the fourth part of our series on best planned neighborhoods of Pakistan. We have so far covered Eight bazaars of Faisalabad, North Nazimabad, Karachi and Model Town, Lahore in this series. Today we are going back to Karachi and will give you an introduction of Federal-B-Area which is definitely among the best planned localities of Pakistan.


Brief History
The town planning of Federal-B-Area dates back to 1950s when Karachi was still the capital of Pakistan and many new neighborhoods were getting built up to house the employees of the Federal Governemnt. The present day neighborhoods of North Nazimabad, Federal Capital (FC) Area and Federal-B-Area were all part of this vision to give Karachi a well planned capital city infrastructure. While North Nazimabad was laid out by Italian town planners, I am unable to research who did the planning for Federal-B-Area. Reader's help is sought here.

Federal-B-Area, Mansoora and Gulberg Town
Over the years Federal-B-Area has changed a few names depending on which local government is in power but the original name of Federal-B-Area still thrives. In 1983 after a religious party's victory in local body elections, Federal-B-Area was renamed as 'Mansoora' and North Nazimabad was renamed as 'Taimuria'. These names however, didn't become very popular. Today the name 'Mansoora' has become relegated to a cricket ground only in Federal-B-Area's block 10 where as 'Taimuria' has been relegated to the name of North Nazimabad's police station only.
During Pervaiz Musharraf's tenure, Federal-B-Area neighborhood was renamed again and it became Gulberg Town, but the orginial name still remains popular and is still written as the de-facto address on postal mail.
Following is Federal-B-Area's map taken from Karachi City Government's website where it is shown as Gulberg Town and divided into 8 Union Councils.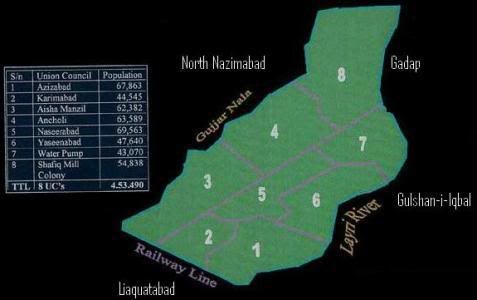 I recently came across an article by Osman Samiuddin at cricinfo.com where he has written about Federal-B-Area in following words:
Federal B Area – was originally designed for those entrusted with the running of Pakistan, in the days when Karachi was the capital. The country is not run from here anymore, but the roads are wide, the houses old, and here a neighbourhood is still a neighbourhood, not a random collection of houses. It is one of Karachi's many beating hearts.
If you drive through Federal-B-Area today, you may not be very impressed at first sight. It is a locality which has seen its glory days. The locality is now on its way to what is called 'Urban Decay' in the town planning terms. Houses and apartments built 30 years ago are crumbling. Many apartment buildings are in dire needs of repairs. During monsoon months of strong sea-breeze the situation is like this sher:
itna na tez chal ke hil jaayen bam-o-dar
ae sar-phiri hawa mein 'kiraaye' ke ghar mein hooN
Federal-B-Area is not a posh locality either and street crime is no less than other areas of the city "BUT" all these signs of 'Urban Decay' are our collective failure of civics and the society as a whole.
The reason we have chosen Federal-B-Area to be featured here is because of its well-planned infrastructure and town planning for which one has to see beyond the immediate first impression of an old locality to appreciate it.
The post below is a bit heavy on satellite images but I found it was the best way to highlight the features of town planning, symmetry and geometry that has gone behind the layout of Federal-B-Area.
Boundaries of Federal-B-Area:
Following image shows the whole Federal-B-Area locality roughly enclosed in the green polygon that I've drawn. North of Federal-B-Area is the locality of North Nazimabad with 'Gujjar Nullah' separating the two. Western boundary of Federal-B-Area is formed by the Railway Track of Karachi Circular Railway . East of Federal-B-Area is Gadap Town and South of Federal-B-Area is the locality of Gulshan-i-Iqbal with Lyari Expressway and Lyari river separating the two.
Before we go further I want to point out the ratio of free space to residential areas in the above image. There are more than 40 free spaces or grounds within 10 square kilometer area of Federal-B-Area. This feature makes Federal-B-Area the candidate of best planned localities.
Sub-Divisions in Federal-B-Area:
Federal-B-Area is divided into 21 blocks (sub-zones). These are numbered 1 through 21, unlike North Nazimabad where blocks are numbered alphabetically from A through T. The 21 blocks of Federal-B-Area are divided into plots of various sizes wihch have following categories:
R – 120 sq yards,
A – 240 sq yards
B – 400 sq yards,
C – 600 sq yards,
D – 1000 sq yards
North Nazimabad, Karachi also follows the above plot categories with an additional category of F – 2000 sq yds plots.
Twenty of federal-B-Area blocks are residential and one is Industrial. However, with the passage of time, just as it has happened to many other once grand localities of the city, people have started turning residential plots into more and more commercial enterprises. I've noticed that as cities grow older, people tend to move to outer suburbs and older localities start turning into commercial zones, godowns or high rises.
Shahrah-i-Pakistan through Federal-B-Area:
Another aspect of Federal-B-Area's geography is that Shahrah-i-Pakistan runs through it. This main artery of the city roughly bisects Federal-B-Area into two zones. The importance of Shahrah-i-Pakistan cannot be over looked. It is the same road which runs from Karachi Port to all the way to Landi Kotal in NWFP.
Following photo shows Shahrah-i-Pakistan in 2008 after it was relaid and recarpeted. Photo is taken at the ramp of Liaquat flyover looking towards Aisha Manzil.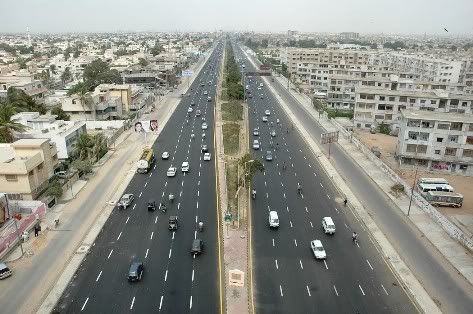 Here is another photo of Shahrah-i-Pakistan as it passes through Block 4 and Block 3. The photo was taken on February 5, 2010 and it appeared in the daily Jang newspaper.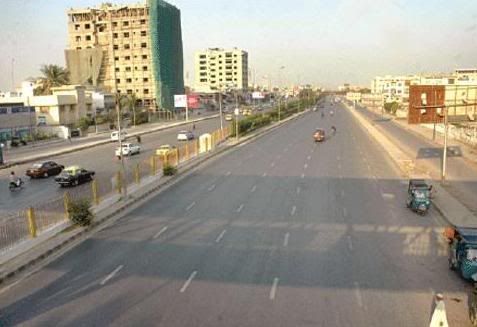 North of Federal-B-Area (at Sohrab Goth chowrangi), Shahrah-e-Pakistan becomes the super highway which is scheduled to be upgraded as a 6 -lane Motorway (M9). At Hyderabad bypass, Super Highway meets the trans-Pakistan highway N5. Before Karachi Northern bypass (M10) was built, Shahrah-i-Pakistan through Federal-B-Area used to carry more than 75% of Pakistan's road cargo from Karachi port to upcountry.
Following photo shows Sohrab-Goth interchange on Shahrah-i-Pakistan which forms the Eastern boundary of Federal-B-Area.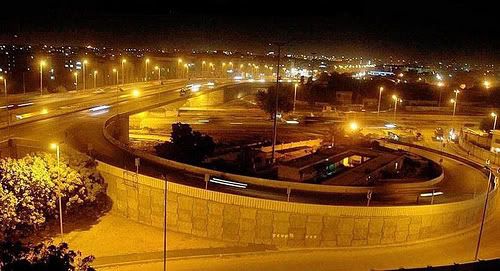 Personal Note:
By the way guys, I've spent 70% of my life in Federal-B-Area, therefore there is a natural bias in telling all the good stories about it. For me federal-B-area is like:
teray koochay is bahaane mujhe din se raat karna
kabhi is se baat karna kabhi os se baat karna
However, I want to keep this post authentic therefore I'll separate my personal views from facts and figures and wirte them under separate headings below.
Federal-B-Area Block by Block:
Lets visit all the individual blocks of Federal-B-Area
Blocks 1 and 2:
Both blocks are located on the south side of Shahrah-i-Pakistan. These blocks border the Liaquatabad area and are separated from it by the Karachi Circular Railway Track.
Bazaar-e-Faisal is the main commercial center of Block 2. Karachi's famous Government Delhi Boys Science College is also located in block 2.
Block 3:
It is also located on the South side of Shahrah-i-Pakistan. This is a very diverse area. Several languages are spoken here. Aga Khan community has a big presence in Block 3 besides Bantwa Memons, Okhai Memons, Katchi Memons, people with roots from Junagarh state etc. Meena bazaar is the main commercial center of Block 3.
Following photo shows Meena bazaar facade in Block 3. I took this photo on December 22, 2009.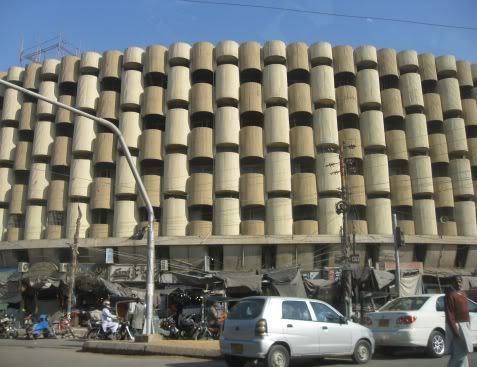 Personal: I have played lots of cricket on the grounds of Block 3. The famous Miandad Sports shop is also located here. One can find Pakistan's ex-first class Cricketer Anwar Miandad selling cricket gear here. In early days of this shop Javed Miandad also used to come here once in a while and used to cause traffic jam in the area.
Besides Miandad Sports, another place to frequent in Block 3 is 'United Bakery' which makes the best gulab-jaman in Pakistan (note: this sentence appears under my personal views section)
Block 4:
Block 4 is located on north side of Shahrah-i-Pakistan. A lot of residential plots in Block 4 are fast changing into commercial businesses like schools and hospitals. Look at the satellite image of Block 4 below and one can appreciate the symmetry as well as the ratio of free space to residential space.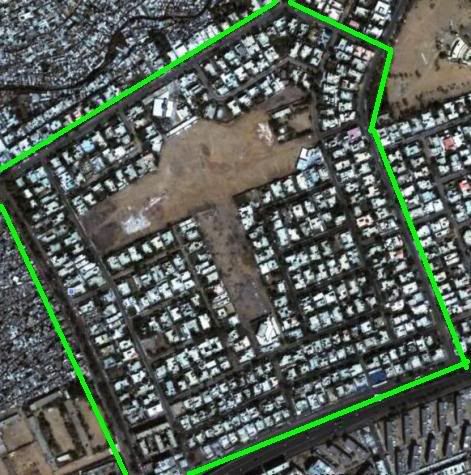 Personal: A good part of my life has been spent playing cricket in the ground and the streets shown in the satellite image above. This famous event of my life also happened on this very same ground located in Block 4. I have also written about several other events on these pages which happened in Block 4. (See here, here and here)
Blocks 5 and 6:
Both of these blocks are located North of Shahrah-i-Pakistan. Block 5 borders North Nazimabad with 'Gujjar nullah' in between.
Block 6 used to have a famous cricket ground by the name of 'Gulfishan'. It is under the occupation of Pakistan Rangers for the past 17 years now. Just like Block 4, it is also fast changing into a commercial zone. The photo below shows the satellite image of Block 6.
Blocks 4, 5 and 6 combined make up one union council of Gulberg town called Aisha Manzil Union Council.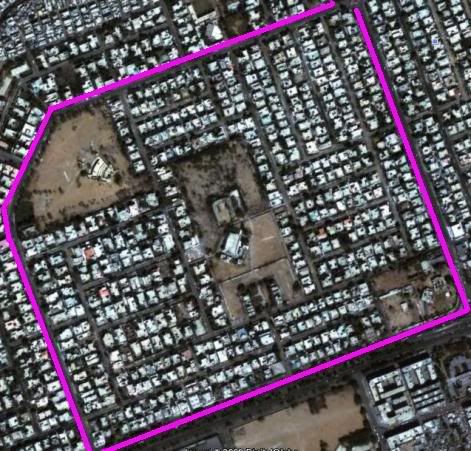 Block 7:
It is located on South side of Shahrah-i-Pakistan. Block 7 is famous for Sultan Mohammad Shah Aga Khan school and college as well as the tableeghi jamaat's Madani Masjid.
Personal: The photo below shows the image of Sultan Mohammad Shah Aga Khan school located in Block 7. Spread across 21 acres, it is also the largest school of karachi. It houses a Cricket ground, a soccer ground and a hockey ground besides several shaded areas. This is also the school where I spent 10 years of my life. As with all other blocks of Federal-B-Area, a good part of my school days and hot summer afternoons from Grade V to Grade X were spent in the sports grounds of my school shown in the photo below. A cement cricket pitch is visible in the image below. It was built when I was in Grade X – 1987. It was a historic moment for our school otherwise we used to play on a turf wicket which we had to roll daily using a hand-roller pulled and pushed by atleast 5 guys together.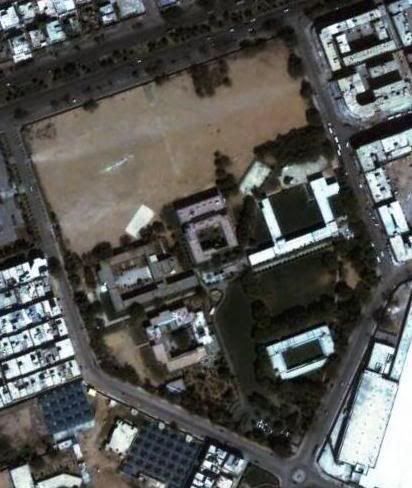 Block 8:
It is located on South side of Shahrah-i-Pakistan. It is famous for Jinnah ground. Karachi City government has plans to build a 140 ft tall fountain in Jinnah ground which is also close to the HQ of ruling part in Karachi in Block 8 of Federal-B-Area.
Following photo is one of the famous landmarks of Federal-B-Area called 'mukka chowk' located at the interestion of Block 8 and Block 9.
Mukka chowk got remodelled in October 2009. Following is a night shot of this rondabout from November 3, 2009.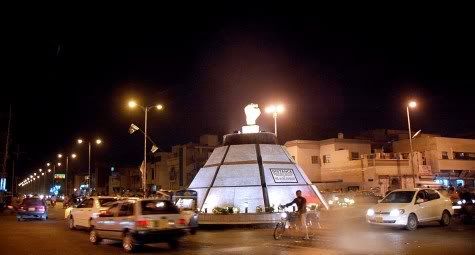 Block 9:
Block 9 is famous for Dastagir Housing Society. It is located on south side of Shahrah-i-Pakistan. Some of us may remember the famous PTV ad of 80s calling for "gas ka ilaaj—Farzana Dawakhana Dastagir # 9". Yes, Farzana Dawakhan is located here.
Sangam Sports Cricket ground is located in Block 9. The ground is named after a cricket club called Sangam Sports which used to play here years ago.
Federal-B-Area's main post office (Postal Code 75950) is located in Block 9.
Block 10, 11, 12 and 13:
All these blocks are located on north side of Shahrah-i-Pakistan. Famous landmark in Block 10 is Mansoora Cricket Ground.
and Shadab Soccer Ground in Block 11. Shadab used to be a cricket ground but lately it has been turned into a soccer ground.
Block 13 has Federal-B-Area's police station called 'Gulberg Police Station'.
Blocks 11, 12 and 13 combined are also called Gulberg.
Before moving to Lahore, Javed Miandad had a residence in Block 12. Following image shows the views of Blocks 10, 11, 12 and 13.
Blocks 14 and 15
All these blocks are located on East side of Shahrah-i-Pakistan. Main landmarks in Block 15 are the famous T-Ground as well as the UBL Sports Complex. The cricket ground of UBL Sports complex is a first class Cricket venue. The comples and also includes an astro-turf hockey Ground and a track-and-Field arena as seen in the image below.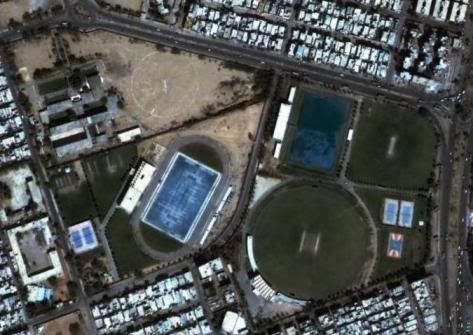 Following photos show block 14 and 15.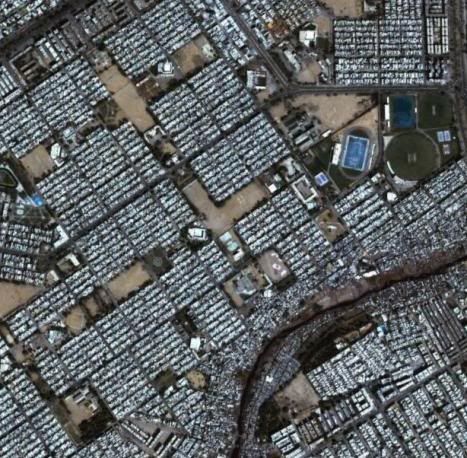 Personal: Block 14 is famous for a business called 'Javed nihari' – makes the best nihari in town, in my opinion. During school days I've spent several study nights eating nihari and drinking coke at Javed's nihari joint. Block 14 also has several 'sheermaal' and 'taftaan' stores along the main road. I love eating 'sheermaal' instead of 'paraatha'. After I got my motorcycle license, I used to frequent these places whenever hungry and used to eat 1 or 2 'sheermaal' while riding the motorcylce.
Block 16:
Block 16 is famous for Karachi Medical and Dental College. Block 16 has several aparmtent blocks especially along the main roads. One of them called Yousuf Plaza located in Block 16, is one of the largest apartment complexes in Pakistan.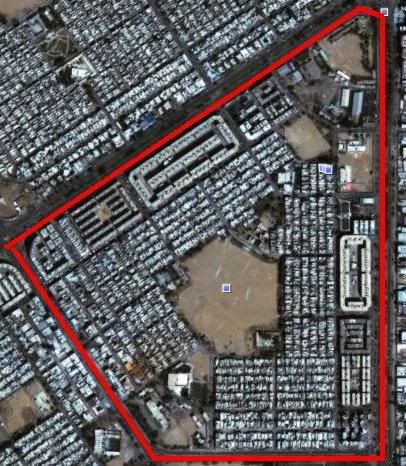 Personal: My parents first home in Karachi was in Block 16. We moved out when I was 5 (1976). I have faint memories of Block 16 from that early age. I do remember the vast expanse of the ground shown in the image below. It appeared even larger in my childhood memories. I also have a memory of seeing a 4-story building crash in 1975-76. It was later rebuilt. It is the first structure at bottom right, just above the red polygon corner of image below.
Blocks 17 and 18:
All these blocks are located on north side of Shahrah-i-Pakistan. Block 17 is also called 'Samanabad'. It is famous for Pak-Flag Hockey Ground located here. Block 18 area is also called 'Ancholi'.
Personal: For couple of years in my teenage I got attracted to playing hockey and played at club level. Pak Flag hockey Ground in block 17 used to be one of best Hockey Grounds in the area. I got to play in one game at Pak Flag and I remember being very proud to be able to play at this ground.
teray koochay mein yooN khaRa hooN
jaisay hockey ka goal-keeper hooN
by Zameer jafri
Blocks 19 and 20:
Block 19 and portions of Block 20 are called 'Al Noor' society and both blocks are located north of Shahrah-i-Pakistan.
Personal: Once again I played lots of cricket on Alnoor Gymkhana ground. In block 20, there used to be a 'Zafar Library' next to the cricket ground. Every now and then a sixer used to land on Zafar Library's roof and it was hard to retrieve ball from there. Whenever a batsman used to miss hitting a short-pitch ball, we used to say 'he missed a 'Zafar library waali ball' which means he missed a golden opportunity to hit a six. – just a random thought that came to my mind from block 20. Sometimes batsmen used to try to hit balls in certain homes. Why? A hint should come from this sher of Nazeer Akbarabadi
muddat se ho raha hai jin ka makaaN puraana
uth ke hai un ko meenay mein har aan chat par jaana
Following image shows Blocks 17, 18, 19 and 20.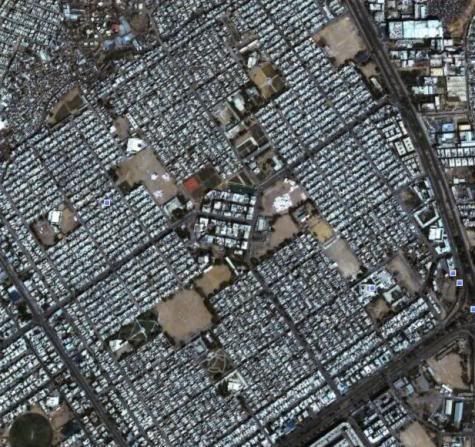 Following is a view of Sohrab goth flyover located at the corner of block 20, 16 and 21 during the night.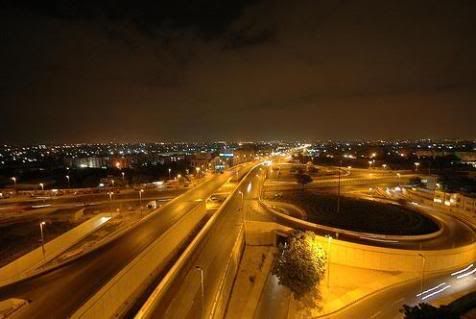 Block 21:
This is the industrial zone of Federal-B-Area with several industrial units and a now defunct Movie Studio located here. Some of the industries located in Federal-B-Area include Textiles and
Packaged Food.
Following is a satellite image showing portions of block 20 and 21 of Federal-B-Area. Sohrab Goth Flyover and Lyari Expressway's interchange on Highway N5 is visible in this image. Sohrab Goth flyover is also the zero-point on Karachi-Peshawar-Torkham highway N5.
Federal-B-Area's Postal Code: 75950
Following photo is a night shot of Aisha Manzil intersection with 4 corners forming the boundaries of Block 6, 7, 9 and 10 of Federal-B-Area.
Population: According to 1998 census, the population of Federal-B-Area was 453490.
Karachi Mass Transit Plan and Federal-B-Area
Karachi's Mass transit Plan (KMTP) had an elevated light train planned for Federal-B-Area which was to run from Sohrab Goth to Merewether Tower with Sohrab Goth-Karimabad portion falling in Federal-B-Area.
My personal sense is that KMTP is now practically dead as current City Government has come up with their own Karachi 2020 Vision and they are concentrating on several Signal Free Corridors (2 East-West Corridors are built and 1 North-South corridor is under construction).
Federal-B-Area has also gained on all this infrastructure development and is within reach of atleast 2 Signal Free corridors and Lyari Expressway.
Telephone Exchange: Federal-B-Area has a dedicated land line Digital Telephone Exchange under PTCL. The telephone area code for Federal-B-Area exchange (called Azizabad Exchange) is 636.
Closing Remarks:
I'll put Federal-B-Area as second to only North Nazimabad in town planning features in Karachi. On Pakistan level, I'll place it several localities down the line behind Islamabad sectors, Lahore's Model Town and a few cantonments. In a big picture, it is definitely in one of the top town planning examples of Pakistan.
ATP's Other Posts on Best Planned Localities of Pakistan, Series:
1. The Best Planned Localities of Pakistan: Model Town, Lahore
2. The Best Planned Localities of Pakistan: North Nazimabad, Karachi
3. The Best Planned Localities of Pakistan: Eight bazaars of Faisalabad
Federal-B-Area Related Posts on ATP:
All of the Following posts have some or many events that took place in Federal-B-Area, Karachi.
1. The Zip Code Man knows 75950
2. Humayun and Ramzan Cricket
3. Remembering Tikanjoo
4. Khandan XI
5. Curry in a Hurry
6. A Crow on a Pakistani Street
Credits:
1. Satellite images from Google Earth