Raju Jamil
That cloudy day of June-1961 gave a weary look due to a mild heat spell which was telling on the faces of the scores of Government officials and diplomats lined up along side President of Pakistan General Mohammad Ayub Khan at Karachi International Airport.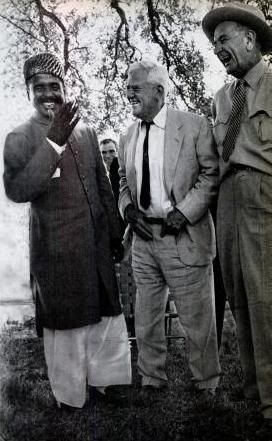 All these people were there to receive Lyndon Baines Johnson, Vice President of the United States Of America who was due to land any moment in Pakistan. LBJ was on a good will tour and his itinerary included a tour of our then capital city, Karachi followed by Lahore and Peshawar.
The Pan American Clipper Jet Boeing 707 landed smoothly and the well decorated tarmac of Karachi Airport saw VP LBJ and MAK take slaute as National Anthems of both countries were played by a band of Pakistan Navy. There were 12 cars in the motorcade that left the airport later. There was a black cadillac driven by Presidential driver Ishaq. It had LBJ and MAK in it with front seat next to the driver occupied by Brig. Nawazish Ali Khan, the Millitary Secreatry to MAK and the American Ambassador in Pakistan followed by a convertible Chevrolet Impala-1959 with DIG-Police Mian Bashir Ahmed. This was followed by an Austin-of-England re-shaped into a Rolls Royce car in which my father Jamiluddin Aali, the then Personal Staff Officer to Ayub Khan and Shaikh Habibur Rahman the Protocol Officer were sitting.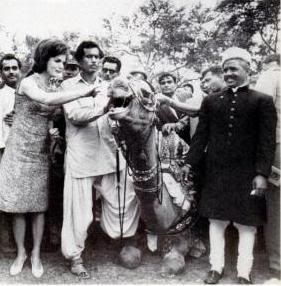 Then of course there were cars like Dodge Dart and Chevy Bel-Air carrying Govt and U.S.Embassy officials. The whole motorcade took route of main Drigh Road (now Shahrah-e-Faisal) for the President's House (now Sindh Governor House — we lived in the President's Estate adjacent to the President's House and Shaikh Habibur Rahman Uncle was our wall-to-wall neighbor in that 1912 one story buyilding which now houses Surveyor General of Pakistan's Office).
With Police Motorbikes speeding in line and blowing whistles and siren occassionally ahead of the motorcade…the journey progressed smoothly till something happened !!! Driver Ishaq applied brakes smoothly–good enough not to make the car behind hit the Presidential Car. All the followers literally ran towards the Presidential Cadillac fearing that something awful has happened to either of the two VVVIPs in that car when out came Vice President Johnson with President Ayub. They slowly walked towards the site left of Drigh Road at the exact spot where currently stands the Finance and Trade Centre (FTC). On that day however, a 38 year old camel cart owner (Sar'eban) Bashir Ahmed was standing there. He was cladfed in shalwar kameez full of dust and stood shivering next to his camel cart with DIG police Mian Bashir Ahmed (he had the same name as the camel man Bashir Ahmed) consoling him to remain calm.
Vice President of the United States Of America Lyndon Baines Johnson alongside his host President Ayub and many others–including my father—-casually walked towards Camel Cart owner Bashir—shook hands with him and said:
"Hello, I am LBJ from USA and I wanna be your friend!"
to which Bashir was translated the address–and he replied as:
"Salam Sahab, khosee huee aap se mil ke!"
Then 6 and a half minutes of invigilated exchange took place between Bashir and VP USA LBJ. The conversation ended with LBJ taking out a PARKER'61 fountain pen from his shirt pocket—handing it to Bashir saying:
"We are friends now and friends must meet again—so I am inviting you to USA as my guest–please accept?".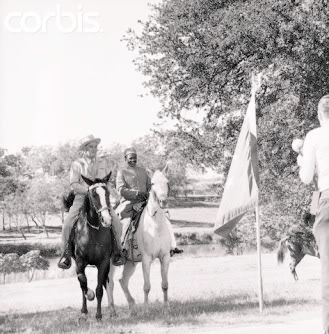 Ten days later, two officials from the U.S.Embassy and two officials from the President of Pakistan's Secretariat visited Bashir Ahmed at his residence in Lyari (Bashir was a Makrani) for arranging his passport and U.S.Visa. Government of Pakistan got him three sets of sherwanis, a white shalwar-kameez and Jinnah caps from Jalal Din & Sons in Saddar and Rahman Hat Villa near Paradise Cinema with some Onyx products as gift from Bashir to LBJ. Within a week this Pakistani Camel Cart owner from Lyari, Karachi flew to New York by Pan American Clipper Jet Boeing 707 where he was received by LBJ aide. The next 12 days of Bashir were spent in New York, Washington DC and Dallas at the personal ranch of LBJ where his daughter Tricia and Ladybird Johnson held Bar-B-Q party, luncheon and breakfast gathering in honor of Vice President of United States of America Lyndon Baines Johnson's Pakistani friend Camel Cart owner (Sar'eban) Bashir Ahmed. Later Bashir returned home blessed with some worthwhile gifts which included a Mack Truck and a American bicycle for his son and some financial package to start a more elevated business.
From that day and date of June-1961 till late 60's the Bashir Magic was the talk of the country and of the State of Texas in USA.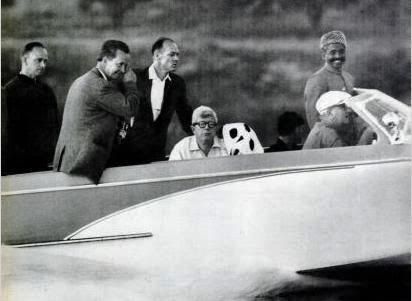 Kismet Konnected Bashir Ahmed became a businessmen over weeks and stayed indebted to LBJ by continuing his correspondence through some Govt Officials assistance via U.S Embassy which ended with the advent of Vietnam War close by to JFK's assasination in 1963.
EPILOGUE:
In 1972-73 when Zia Moheyuddin started his famous Zia Show by recording it before a live audience at the Fleet Club-Karachi auditorium near Lucky Star-Saddar, I was attached with Zia Bhai as his unaccredited Manager. I was then a young banker at HBL Nursery Branch, PECHS and I took pride in marketing the prize account of Zia Moheyuddin and provided home-service for his banking transactions like picking up his PTV cheques and arranging statements etc. At time I also acted as a chapperone to him at several shows he recorded there.
In one of his shows Zia Bhai invited Sar'eban Bashir Ahmed and after a good inter-action Zia Bhai, mildly pulling Bashir's leg posed a question on him;
"YE AAP NE UMREEKA SE WAPIS AANAY KE BAAD OONT GAARI KIYON CHALANA BU'NDD KAR DEE?"
and i remember it as clear as a day that Bashir sort of went quiet and suddenly with a spark in his eyes came back sharply saying;
"WOH….JAANSUNN NE MUJH SE KAHA THA KE PAKISTAN WAPIS JAA KE MERI 'POOSEE'SUNN' (position) KA KHAYAAL RAKHNA!"
Bashir Ahmed died sometimes in the late 70's and the news of his death was widely covered by almost all the Pakistani Newspapers of that time.
If I look at this whole episode closely I think this strange friendship could be the ONLY one of its kind in the World! unless we also name KISMET KONNECTED to the interesting incidence with that lady in Memphis who was staring at a car in showroom when Elvis Presley walked by and asked her if she likes the car and on her shy and smiling reply as "who doesn't" Elvis gifted that car to her!! I dont know how far this is true but I do remember having read about it somewhere!)
The story told above comes from a key person who has, long time back, told me all of what I have fine tuned above—and he is none other than my father Jamiluddin Aali who is 85 now and Masha'Allah, good on his past days memory but quiet weak on the current. I was discussing this with him just yesterday—and he was quite surprised that I remembered the entire incidence. I was a school student and this incidence or happening—was too exciting and spell binding for us then)
References:
(1) Nation: Rabaiyat of Bashir Ahmad: Time Magazine
(2) NY news Clippings on Bashir Ahmed
(3) Dr. G.N.Kazi's flickr page