Dr Ghulam Nabi Kazi
Allama I. I. Kazi died in 1968 and therefore people of my generation have had little or no direct contact with him. My paternal grandfather Dr. Ali Ahmed Kazi was a nephew of Allama Sahib while my maternal grandfather Khan Bahadur Ghulam Nabi Kazi was a first cousin and brother-in-law of his.
In the wake of defeat in Afghanistan, Sir Charles Napier annexed Sindh in 1843 after the Battle of Miani fought without any provocation and sent Queen Victoria the meaningful and cryptic one-word message 'Peccavi' meaning:
I have Sin(ne)d
In their search for efficient, educated and honest persons with good antecedents, the eyes of the British fell on the Ansari family of Paat in Dadu district. Kazi Imam Ali Ansari was appointed City Magistrate and Municipal Commissioner at Hyderabad. Imdad Ali Imam Ali Kazi was the second son of the second wife of Kazi Imam Ali, and was born at Hyderabad on April 9, 1886.
He grew amidst luxurious surroundings but was not spoilt. Under the tutorship of Akhund Abdul Aziz, he mastered Persian, Arabic, Sindhi and Urdu, in addition to study of the Holy Quran. Furthermore, he was fascinated by sanyasis who renounced the world and lived in quest of the truth, at a tender age affecting his future life a great deal.
The young Imdad passed the vernacular final exam in the year 1904 with a distinction in Persian and the matriculation exam in 1905 from the University of Bombay. He was disappointed by Aligarh and left for London along with his cousin Seth Hafiz in 1907. In England he got admission in Lincoln's Inn for the Bar. He also joined the London School of Economics and studied Psychology, Sociology, Physics, Biology, German, English Literature and Arabic; some of these courses were taken privately. Throughout this period, he also studied the Holy Quran in depth. In England, Mr. I. I. Kazi was a contemporary of the Quaid-i-Azam Mohammad Ali Jinnah and Allama Iqbal.
Arriving late at an underground tube-station one day, he caught the train just in time and boarded a compartment. The compartment had a lady passenger Gertrude Loesch who requested him to sit down. Allama Sahib was, however, very shy and bashful, which interested the lady more. She developed a liking for this man, followed him to his lodgings and then commenced a life long relationship of intellectual friendship and love. Elsa (Gertrude Loesch) was the daughter of a famous German composer, who was a disciple of Mozart. She was most talented and was a philosopher, writer and poet of a high caliber. The two were married in 1910 in Germany.
After being called to the Bar in 1911, Mr. Kazi Sahib returned home with his bride to a royal welcome by his parents. Subsequently they left for London the next year and remained there until World War I was over. Returning to in India in 1919, Allama Sahib had to cope with the death of his father and searched for a suitable appointment. The British offered the young Barrister the post of Civil Judge Tando Mohammad Khan. He was later sent as District and Sessions Judge Khairpur. He was appointed Home Member of the State also, but not happy with the British policy towards the States, he left Khairpur and took up the post of Public Prosecutor Tharparkar. He proceeded on leave and resigned that post too from London in 1931.
The couple returned to India in 1935 at the persistent requests of His Highness the Mir of Khairpur. The Anjuman Tabligh Islam nominated him as their President but upset over the quarreling amongst the Ulema or religious scholars, the couple left again for England in October 1935.
After returning home in 1938, Allama Sahib regularly delivered Friday prayer sermons at Sir Leslie Wilson Muslim Hostel, now known as Jinnah Courts opposite the Dayaram Jethmal (DJ) Science College Karachi. Amongst his listeners were students who later rose to be government ministers, judges of the superior judiciary, renowned scholars and civil servants. Incidentally, Maulana Abul Kalam Azad also attended some of his sermons.
In an effort to earn his livelihood or rizq-e-halaal, Allama Sahib experimented with a poultry farm and a dairy farm but both failed. The British Government meanwhile entrusted to his care wards from jagirdar or major land-owning families such as Sardar Akbar Bugti and Mir Sunder Khan Sunderani who had the good fortune of receiving schooling and training directly from Allama Sahib.
Allama Sahib left for England in 1947 but returned to take up the job of Vice Chancellor of the Sindh University in 1951. Till that time the university, which had been in existence since April 1947 was serving as an examining body only. Upon the appointment of Prof. A B A Haleem as Vice Chancellor of the Karachi University, Allama Sahib was requested to take over the Sindh University. He accepted the position more in his keenness to disseminate education in Sindh, and went about his work with great zeal.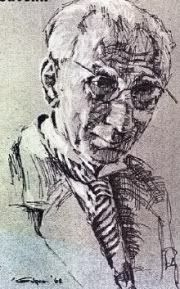 …Image to the right is Allama I.I Kazi's sketch drawn by Gulgee in 1968...
At that time only five colleges and thirty-four high schools were affiliated with Sindh University. Karachi having become the Capital territory, the headquarters of Sindh were shifted to Hyderabad. Very soon the university was converted into a full-fledged center for higher education that was awarding Masters and Doctoral degrees in its various faculties and disciplines. The first teaching faculty of Education started working as early as September 1951. Within four years, the grant of the University was increased from Rs. 100,000 to Rs. 500,000 upon Allama Sahib's insistence with the then Governor, Justice Din Muhammad in 1955.
Allama Sahib continued his practice of Friday sermons to the staff and students of his beloved university. He conducted the utmost economy where university funds were involved, donated half his salary to the institution and induced other teachers to follow suit. Instead of a car, he engaged a victoria cart for his conveyance and often went to England at personal expense to buy the apparatus and equipment for the Sindh University.
Mr. Kazi was also a stickler for all matters concerning protocol. Those were the days when true educationists were assigned the task of heading institutions, and Vice-Chancellors were not hired or fired to suit the personal whims of provincial education secretaries. At some time after the creation of One Unit in 1955, whereby all provinces in the present Pakistan were lumped into a single province, the then Governor of West Pakistan Nawab Mushtaq Ahmed Gurmani was visiting Hyderabad and all high officials were requested to meet him at Circuit House. On reaching Circuit House, Allama Sahib found that there were no individual interviews arranged with the Governor, so he came back. On receiving the news, Nawab Sahib completed his work for the day and drove to 37 Civil Lines where Mr. Kazi resided. On reaching there the servant told him that Mr. Kazi rested from 2 p.m. onwards and could not be disturbed. Nawab Sahib therefore went back and returned at 5 p.m. for a chat with Allama Sahib. Later when the Senate was considering the extension of Allama Sahib's tenure, Allama Sahib left the Hall. Nawab Gurmani immensely praised the Vice Chancellor and there was an overwhelming vote for his extension.
After the imposition of the first Martial Law in the country in October 1958, certain Army officers came to the Registrar and made certain inquiries of him. On receiving the report of this external interference in university affairs, Allama Sahib promptly tendered his resignation on 25 May 1959 and never took up a government assignment again.
As Vice-Chancellor of Sindh University, Allama Sahib took only that much salary that sufficed for his necessary expenses, and after retirement he effected further economy in his day-to-day expenses. Once Mrs. A. K. Brohi presented Mrs. Elsa Kazi with a jewelry set on the occasion of her daughter's wedding. Mother Elsa, as she was popularly called, went red in the face and expressed that she had never worn such jewelry, and told Mrs. Brohi that even after years of association she had failed to understand her. At this point, Allama Sahib asked her to accept the gift without further argument. The next day Mr. (later Justice) Hamza Khan M. Kureshi visited Mr. Brohi and returned the jewelry set to him with a message from Allama Sahib:
Do you want that after our death any gold or jewelry should be found in our belongings? Can we bear such a thing to happen?
Mrs. Elsa Kazi passed away on 28 May 1967 after a brief but painful fight against a kidney problem. Left all alone, Allama Sahib was completely heart-broken and would join her within the year.
At a convocation of the University of Sindh around this time, Allama I. I. Kazi was conferred with the degree of Doctorate of Literature honoris causa. The other recipient who received the same degree in the same convocation was the late Mr. Zulfikar Ali Bhutto. Both the recipients delivered brilliant speeches on the occasion, making it the finest hour of the university.
Towards his end, Allama Sahib would pray to God like Shah Abdul Latif Bhitai:
On what account am I still in this world when I should revert to my Creator
He expressed his sentiments thus:
When you have no need of life you will go smiling out saying like Jami, Hafiz and other great poets that I have known that my home was not here. I am going home where I shall live. I am a bird of some other world thrown in this cage. The sooner I go out the better. They have all said that when we have done our task, why need we be here?
On the night between 12-13 April 1968, Allama Sahib engaged in a long prayer followed by muraqba or contemplation. By the early morning time, he had a vision in which he perceived the Creator. It was a very beautiful sight. He woke up and recorded his experience; the last paper that he ever wrote.
After lunch that Allama Sahib hardly ate on the 13th April, he retired for a while. Then dressing himself in his most elegant suit and felt hat, he asked his servant to get any conveyance that he could. Not finding a taxi, the servant brought a motor rickshaw. This was the first time Allama Sahib had ever sat in a rickshaw but he did not complain. Paying the driver in advance he told him to take him to One Tree Bunder, a bank off the Indus, which was his favorite spot since a long time.
On reaching the bank, Allama Sahib reached the embankment slope opposite the bunyan tree. He took of his hat and tried to descend down the slope. His foot slipped and he fell on the stones and rolled down up to the water's edge. The fall had killed him and his soul had departed. Not a drop of water had entered his stomach or even touched his mouth. Thus ended the life of one of the greatest persons produced by Sindh.
Incidentally, the then President of India Dr Zakir Hussain was a great admirer of Allama Sahib. Before President Ayub Khan's condolence message could be broadcast on Radio Pakistan, in which he directed the Commissioner Hyderabad to convey his condolences to the bereaved family, All India Radio broke the news with condolences from President Zakir Hussain. It was only left for the people across both sides of the border to mourn the great loss.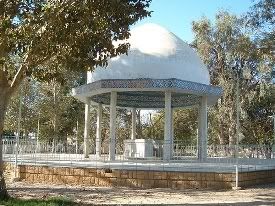 Photo to the right above are the side by side final resting places of Allama I.I. Kazi and Mrs Elsa Kazi located in Sindh University Campus at Jamshoro, Sindh.
About the Author: Dr Ghulam Nabi Kazi works with World Health Organization in Islamabad.