Owais Mughal
I can relate to the ATP Picture of the Day (8 July, 2006) with school kids and also the earlier ATP discussion on dress rules (and facial hair, 20 June, 2006).
All during my primary school our uniform used to be shorts and shirt. Long pants were allowed in winter only. The school was quite adamant that our uniform should only be made from Tusser fabric. That fabric was only available from a single vendor named Rasheed Sons. Those who grew up in Karachi may know 'Rasheed Sons' as they were (and maybe they still are) the biggest uniform suppliers in the city. I remember neatly starched tusser uniforms and white PT shoes made us look very smart.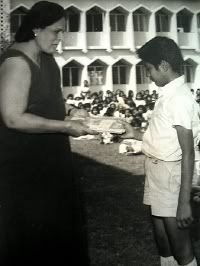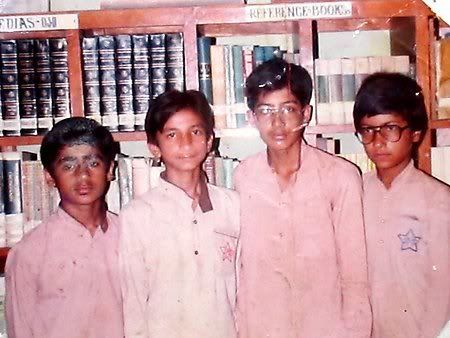 All was good until 1982 when a government directive suddenly changed our uniform to a yellow color shalwar. Apparently it was all done to force people to follow the religious interpretation of the government in power. One should ask what does shalwar. It was not even the national dress. All smart looking boys suddenly changed to sloppy and floppy looking balloons. I represented my class cricket team and we used to practice daily. I remember it was a struggle to do fast bowling with a non-aerodynamic fluttering shalwar, especially if the wind was blowing from the front.
Once I was bowling on the street in front of my school. My shoes got tangled up in the shalwar and I went rolling down the asphalt pitch myself instead of the ball I was supposed to bowl. Besides getting bruises on my elbows and knees, my brand new uniform got an inch long hole on the 'qameez' part. I was too scared to walk like this in front of my parents who had just bought the uniform for me a day ago. So I used a back-door entry to our house, changed the clothes and quietly sent my uniform for 'raffoo' (don't know the English word). 'Raffoo' is a process where a tailor uses threads from the same dress and mends the gaping holes etc. Luckily the uniform got 'raffoo' in a day and my parents never found out that I had ruined the brand new uniform
My secondary school also offered technical courses. I chose 'Metal Works' and it meant that I had to work in a metal shop with lathe machines. Our loose shalwar because any part of it could get caught in the moving parts of machine. Finally our school allowed us to wear aprons like housewives which could tie our shalwar
Luckily President Zia Sahib gave way to Mr. Junejo Sahib in 1985 and things eased up a little bit. Our trouser-shirt uniform came back in 1986 and my fast bowling improved dramatically. So much so that I got selected for the school team to play in the Karachi Inter-Schools tournament.
(The four pictures above are me in 1975, in 1977, in 1983 and in 1987; the first two before the shalwar qameez direction, the third after the shalwar-qameez directive, and the last after the shalwar-qameez directive got withdrawn).
Owais Mughal grew up in Karachi and is an Electrical Engineer living in St. Louis, Missouri.