Adil Najam
With Bilal Zuberi writing about the donkey cart race in Karachi and Shirazi mentioning the horse and cattle shows in his last post about the Potohar, I was reminded of the wonderful photographic art of Umair Ghani which I have been meaning to feature on ATP for some time.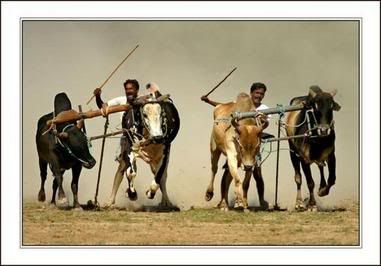 This set of photographs depicts scenes from oxen races, one of the many staples of local horse and cattle shows (melas) in rural Punjab. Pairs of oxen (or jooRis) race against each other in a fast-paced, high-drama, heart-pounding racing event that is an absolute spectacle that would rival any Nascar race.
Much like the donkey cart race, this is an event that pushes the animals as well and the drivers literally to the edge of of their physical prowess and demands amazing control, concentration, and courage. It is, quite simply, a sight to behold and an experience that gets your adrenalin rushing as fast as that of the men and beasts on center stage.
I am, in fact, always amazed at the amazing work being done by Pakistani photographers and have a whole long list of photographers I want to feature. Umair's work is particularly poignant – especially in capturing the essence and grandeur of rural Pakistan (something that urban Pakistan has always often ignored and sometimes undermined; more on this later). Umair has won gold medals in Asia's biggest photo contest, Asahi Shimbun international Saloon of Photography (2005 & 2006), and many other awards and has been published internationally. [I also plan to feature other photographs from Umair Ghani – including some spectacular tent-pegging ones – soon.]