My first memory of a bike ride is from when I just started primary school. My school was only a few blocks away from our home in Karachi, and with my dad working in the Middle East, my parents had to find some help to take us kids to school and back.
A loving, frail, old man by the name of Ali Baba, real name Muhammad Ali, would come every single day to our house, have a cup of chai with the family, and then take us kids to our school on his Sohrab bicycle. I would sit in front, near the handle bar, and my brother would sit behind him, clutching tightly to hold on during the ride. We took the same ride every single day, twice a day, for many many years.
Well, I am reminded today once again of Ali Baba and his bicycle. He rode a trusted old Sohrab, much like most Pakistanis who ride bicycles even to this day. Years ago, when I wanted to buy my own bicycle, I thought I had a choice between an expensive hip-looking BMX or a cheaper not-so-sporty Sohrab. Despite my vehement protests to parents, I ended up with a Sohrab bicycle that cost only Rs1100/- in the mid 80's (It is currently priced at ~Rs 3250/-). I remember being upset then because I thought I looked like a Doodhwala (In Karachi milk was often delivered by men who rode Sohrab bicycles). Today, I find myself longingly taking photographs of Sohrab cycles loaded with milk canisters to remind myself of yester years.
Sohrab bicycle (simply called cycle in Pakistan) probably deserves a spot in the national museums, along with the Tanga, Bael gaari, decorated busses, and the Rickshaw. Its name is synonymous with bicycle in Pakistan. This bicycle is built from a sturdy metal frame (sometimes too heavy for casual riding), is often painted black, and has a metal flat plate at the back that has been used over time for all kinds of purposes: from carrying children to giving a ride to your spouse, from lunch tiffin boxes to laundry and milk-containers, or a variety of other things. Oh yes, and Pakistan and India regularly compete in bicycle polo matches as well!
Sohrab is ubiquitous in both urban and rural centers in Pakistan. I have seen the Sohrab bicycles decorated with flowers, neon lights, loudspeakers, advertisements and all shapes and colors of reflectors. The ingenuity used by some Sohrab enthusiasts to oufit their vehicles easily shames the Harley Davidson owners in the USA. You only have to see the bicycle of the Chowkidar (night watchman) in our mohalla to believe it. He proudly rides it all night, blowing a shrill whistle to remind us that he is keeping a careful eye out.
Here is a little bit I could find about the history of bicycle industry in Pakistan. However, I would love to hear your stories of owning, decorating, riding, or simply watching others enjoy their Sohrabs:
At that time of Independence in 1947, there was no bicycle factory in Pakistan. Imported bikes were made available and Nila Gumbad market in Lahore became a hub for bicycle sales. (It is today the main tire and auto parts market).
Shortage of foreign exchange reserves in 1952 prompted a serious look into domestic production, and a remarkable idea was conceived: 22 shop owners of the Nila Gumbad area drafted a plan to establish a bicycle manufacturing factory within the country on cooperative basis.
On 8th September, 1953, the Pakistan Cycle Industrial Cooperative Society was formally registered under Section 9 of Cooperative Societies Act II of 1912. It has been controlled by an elected body ever since.
The Cycle Co-operative Society has seen significant growth since its inception. It now accounts for the production of 80+% of all bicycles sold in Pakistan, and provides spare parts across the country . The Co-operative Society now has over 225 members, a 25-acre Rustam and Sohrab cycle factory with 2100 workers and a capacity of producing nearly 2000 bicyles daily.
In addition to Sohrab, there are 6 other OEMs producing bicycles in Pakistan.
As with any OEM (original equipment manufacturing) business, the bicycle industry has created support industries which employ thousands of people.
According to different published sources, there are 300 bicycle vendors in Pakistan,employing 3000 workers. These vendors buy raw material worth Rs49 million and after value addition sell it on to the manufacturers for Rs98 million. The 300 vendors supply to 7 big Original Equipment Manufacturers (OEMs) and 20 unorganized OEMs (small firms). OEMs employ a total of 5000 workers. The OEMs supply a further of Rs1.32 billion worth of new bicycles and Rs100 million worth replacement parts of bicycles to the retail assemblers/dealers/puncture shops. The retailers are supplied spare parts (including tires and tubes) through some 175 component manufacturer, employing 4000 workers in a market worth Rs230 million as new parts and Rs1.62 billion as the replacement market bicycles. There are some 3000 retailers/assemblers, employing 9000 people and cater to the Rs1.71 billion new bicycles demand and Rs2.78 billion replacement bicycle market. (Source: GC University, Lahore)
The Co-operative society is now also producing several other bicycle models besides the good 'ol Sohrab. From ladies' bikes and three-wheelers to BMX Sohrab, multi-speed mountain bikes, street race bikes, and even motorized bikes with 4-stroke engines.
According to a recent study, a total 629,695 number of bicycles were produced in 2002-03 and 681,448 were produced in 2003-04 thus showing the growth rate of 8.22%.
Despite my nostalgia associated with the Sohrab, Pakistani bicycle industry is under serious threat from regional competition, and is surviving thanks to the protection provided by import duties on bicycles (~30% import tariff). India and China, for example, are exporters of high quality, cheap bikes whereas Pakistani industry is barely able to meet local demands. As free trade develops in the region, both the government and producers stand to lose, while it is expected that the consumers would gain significantly.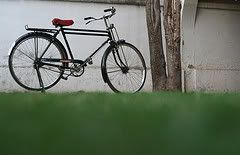 As I see the old-fashioned Sohrab bicycles around me, I wonder how this industry is preparing to meet the challenges of the 21st century. A Sohrab can still have the nostalgic shape and look, but has it evolved over the past few decades to incorporate the innovations in design, ergonomics, durability and efficiency? Will it be able to morph into the bicycle variety of Qingxi, a local innovation that is competing well with imported products?
Bicycling is becoming more than just a hobby or a simple mode of transport in many parts of the world. It has also become a serious sport that has seen rapid technological innovations. From the use of continuously variable transmissions in place of hub and spoke gear sets, to the use of ultra light weight materials, the bikes of today are remarkably improved over the last generation of bikes. It could even provide part of the answer to our traffic problems (here and here).
Is Sohrab going to be able to make the transition at a fast enough pace, or are we nearing the end of the golden era of Pakistani bicycles? Sohrab is not just a cultural icon, but livelihoods of many people depend on their access to it. In a country where income is low and pollution generated by automobiles is high, I for one would be ecstatic to see a rejuvenation of the bike culture in Pakistan.