The Karachi Municipal Corporation (KMC) Building is one of the many old buildings located at MA Jinnah road and has evolved an iconic status as one of the landmark structures of Karachi.
Next year (2007) marks the 75th Anniversary of the inauguration of the building and the city plans to celebrate the occasion in style. That is good news.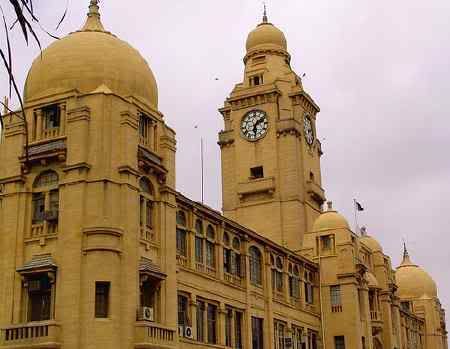 The foundation stone for the KMC Building was laid in 1895, construction was completed in 1930, followed by the inauguration in 1932.To mark the building's platinum jubilee, programs would be organized in all towns of Karachi on the topic of "Our Karachiâ€Â?.
These programs would be organized from January 7 to 20. Moreover, a central three-day celebration would be held on the premises of the old KMC building. According to Daily Times:
Various competitions would be held among students of government schools from November 13 to December 13, while debate competitions would be organized for students of private schools from November 20 to 25. Moreover, a quiz competition will be held from November 27 to December 2, and a poetry competition will be organized from December 4 to 9. A poster-painting competition will also be held from December 11 to 16. Successful candidates would be given a chance to participate in the finals during the "Our Karachi� celebrations from January 8 to 11. School bands from all towns would perform on major roads. Additionally, a walk has been organized from January 8 to 11. More than 3,000 students are expected to participate.
For last few years, the buildings clock is also out of order. The City District Government, Karachi (CDGK) plans to get it fix the main clock before the platinum jubilee.
The clock mechanism comprises a three-story building and heavy machinery to keep it running. Two engineers from Hyderabad have been enlisted who are said to have expertise in fixing clocks from the days of British. Hopefully by the time the celebrations start the clock will be ticking off too.
Unaiza Nasim, based in Karachi, and also blogs at Metroblog Karachi. (Main Photo Credit: ZAK at Flickr.Com)