Nanga Parbat – naked mountain – is the ninth highest peak (8125 meters) in the world and second highest in Pakistan situated on the western tip of great Himalayan. It is also known as Killer Mountain because of the difficulties of reaching the summit. Its face in the south called the Rupal Face rises over 5000 meters from the valley floor to the summit.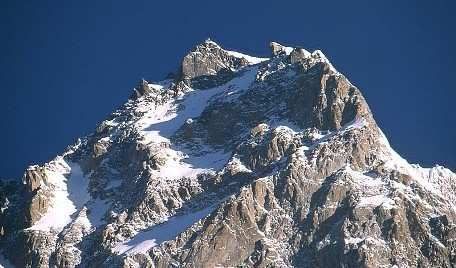 After a German climber Hurman Bhul scaled it in 1953, many climbers have stepped on the majestic peak including of Nazir Sabir of Pakistan. Many have lost their lives in this pursuit too. This is a story of an expedition with which I opted to go as a facilitator.
I have always been eager to visit mountains that lead me to join one expedition to Nanga Parbat as a local facilitator. I met leader of the expedition Adrian Burgees – a blonde foreign national with muscular, lean and tall disposition in the Ministry of Tourism Islamabad and instantly liked him. I was responsible to see that every thing goes smooth. Later, I was introduced to all other members of the expedition and together we tied up details for journey, rations, transportation and purchase of additional climbing gears.
On a hot evening of early May, we boarded a NATCO bus for Gilgit. By nightfall we were in Abbotabad, the city was quiet and cool. In the darkness, I could not witness the scenic beauty around but the freshness and aroma in the atmosphere was quiet alluring and it reminded me of the days I had spent there during training. The bus went on through Patan, Bisham, and Chilas and reached Gilgit at noon next day. We stayed next two days at Hunza Inn situated on the banks of Indus River. The hotel lawn was bustling with people in the evening, mostly the foreigners who were the trekkers, mountaineers or sight watchers. We tied up all details about forthcoming events there.
We all remained busy in final preparations. Adrian Burgees, Paul, Hugh and Guy Burton assembled the equipment and rations into 70 equal porter loads, each load weighing 25 to 30 kilograms. Myself, Clark and Tony, the British expedition doctor went out to coordinate for transport and purchase of commodities. It was a cool summer morning when we set off for Tarishing, a small village on the edge of Rupal valley and a road head. Bunji is the first town that comes on our way after getting off the metalled road. This town though rich in landscape and colour could not force us to halt due to time constraints and we stopped at Astor instead. This small town is located at the hillock top and provides view of picturesque Astor Valley, Astor River, adjoining Rama Lake and a view of Nanga Parbat. After lunch we continued driving downhill and went past Gurikot, a small military hutment area and thin local population scattered around. Moving along the Indus River on bumpy track was immensely joyful. The river current was very fast with ice cold water. Small water streams coming down from the hills occasionally splashed water on moving jeep showering us.
In the after noon we were at Tarishing, this small village is located at uneven landscape comprising a few small flat patches, small hillocks and a main water channel running in the centre of the village. We camped at the site near the stream, and allotted the loads to seventy porters who were already waiting there for us from nearby villages. Next day, early morning we started the ascent forward. We crossed the Tarishing Glacier whose width would have been around 2 kilometres. The glacier was emanating from Nanga Parbat's adjoining hills from the south, and its mouth lies in the Rupal River. Melting glacier hampered steady walk and at places it was hop-step and jump. Upon crossing this glacier, we entered mystic Rupal valley. As we trekked past the Rupal village, the surroundings were quiet and I could only hear birds singing and Rupal River roaring at a distance.
Lush green meadows, quiet and sleepy villages, natural forests and captivating Nanga Parbat views are main attributes of the Rupal valley. At noon we reached at Begre (known as Polish base camp) camp, located next to the main Rupal Valley. This site too has natural beauty, meadows, crystal clear water stream and an impressive view of Nanga Parbat ahead. After taking quick lunch and rest, we decided to move ahead. The Bazing Glacier was impregnable obstacle in front; single file was adopted to minimize the risk. The breaking glacier was full with crevasses, creeks and conduit water ways. It took us more than two hours to negotiate two kilometres width of this glacier.
After crossing this glacier we were into a lush green flat spot with forests nearby. This is called as the Letabo Base Camp. All the major expeditions to Nanga Parbat had stayed here under the shadow of the great mountain. The Koreans were already camped alongside the fresh water stream. They greeted us warmly. This place is also called as Herligcoffer base camp, named after a German climber and expedition organizer. But this was not to be our base camp area. We stayed the night at this spot. Early morning we set off for our final leg of trek to base camp. This new site was chosen by Adrian Burgees who come here few years ago to climb Nanga Parbat but went back without taking the peak. We climbed up through the narrow gorge which opens into a relatively flat but ascending bowl shaped feature. This place is approximately 1000 meters higher then the Letabo Base Camp, much cooler and windy due to narrow tunnel effect of the valley. This place is just under the nose of Nanga Parbat peak.
This is the place where I was to spend rest of the period while the others were to climb Nanga Parbat. Fakir Muhammad, a middle aged man from Hunza, was our cook. He quickly established the kitchen behind a big boulder. Climbers began their work, made a steady progress and established three camps but unexpected weather would always pull the climbers back from the mountain to base camp. In base camp, I mostly spent the time exploring nearby features. One day, I also joined Adrian and Paul who were going to camp one for reconnaissance. I donned my high altitude outfit, carried necessary gear and trailed behind. Soon we were near the famous icefall, approximately 1200 feet higher from base camp. At places the gradient was more then seventy degrees. But with the help of fixed ropes and jumpers, I managed this climb by afternoon. We stayed for two days at camp one and reached camp two the third day. I tried to acclimatize but after two days, heavy storm struck the camp, continuous snow fall almost buried us in the canvas tents. Finding a pause amid bad weather, we slipped down during a moon lit night, while the winds were relaxing.
Witnessing transformation of a dry and barren gorge into splendid natural artefact was a unique experience, but the nature took its toll. The expedition suffered from damages: Hugh slipped from icefall, injured his back while the Australian boy escaped an avalanche and lost equipment as ransom to nature. Fakir too was running low on rations. Such were the conditions which forced Adrian to abort the expedition, very disappointing though it was.
Move back to civilization was rather quiet. We trekked back from the colourful gorge, saddened, members of the expedition for not conquering Nanga Parbat and me for their aborted efforts – I had developed a fraternity with them. Quickly, we moved down the gorge to the Letabo Base Camp, where Koreans were still struggling with the weather. Instead passing through Bazing glacier, we chose to prefer a foot track along northern range of medium sized mountains to Rupal valley. This new route was a little long but safe, throughout its length it gives splendid view of Rupal River and the mouth of the Bazing Glacier. At dusk we reached Tarishing and in next three days, I was backing home.