Today we are going to feature Model Town, Lahore as one of the best planned localities of Pakistan. In the past we've featured North Nazimabad, Karachi and Eight bazaars of Faisalabad in the same series.
Model Town is designed in the shape of a square with major roads dividing it into blocks vertically, horizontally and diagonally. The area of Model Town is 5.9 square kilometers (or 1463 acres). The center of the square shape is a circular park. I don't know the exact dimension but somewhere I've read the circumference of this circular park is more than 2km. Besides the obvious symmetry of design, what else has always attracted me to Model Town's planning is its generous allotment for green areas and parks. Almost 19% of model town's area is alloted to parks. Another 4% area is alloted to plant nurseries and playgrounds. This ratio of open area (23%) to residential area (56%) is hard to match in most of the well-planned localities of Pakistan.
It is very clear from the following satellite image of Model Town that how well the groups of residential plots have been provided open air facilities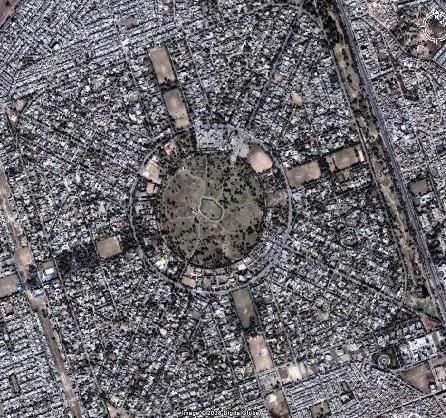 Model Town has been divided into 10 residential blocks which have been named A, B, C, D, E, F, G, H, I and J. Surrounding the big square of Model Town there are 8 more residential blocks named as K, L, M, N, P, Q, R, and S which form a locality called Model Town Extension.
Following schematic map of model town shows location of main 10 blocks. From this map one can easily appreciate the symmetry of town planning done here. When I look at the following map, I am just amazed by the geometrical patterns created here. For this reason alone, I've always considered Model Town as one of the best examples of town planning in Pakistan.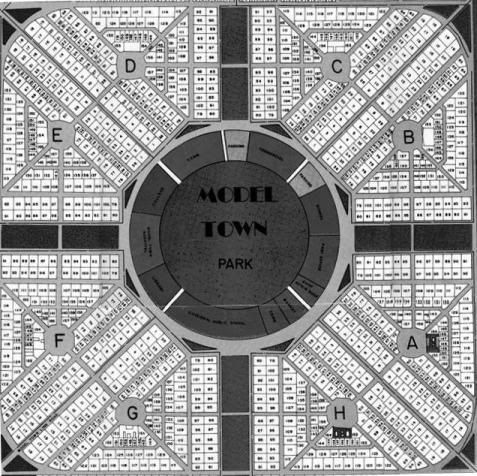 How Old is Model Town?
I tried to do an internet search on Model Town's history. Most of the internet chatter seems to come from one unconfirmed source; according to which Model town's cooperative was formed in November, 1921 and Sir Ganga Ram played an important role in the planning that went behind Model Town's civil desgin. However, a more authentic record comes from Model Town Cooperative Society's page which lists first President of the society as Raja Narendra Nath who joined the post on April 3, 1924. The complete list of Presidents of Model town cooperative can be viewed here.
Famous People Who Live(d) in Model Town
Model Town's Cooperative society lists following important personalities on their website, who have lived in Model Town. Ashfaq Ahmed, Faiz Ahmed Faiz, Hafiz Jallandhari, Hasan Nisar, Mian Aamer Mahmood (nazim Lahore), Nawaz Sharif, Nusrat Fateh Ali Khan and Shahbaz Sharif. Besides these I also know that Mushtaq Ahmed Yousufi also lived in Model Town Lahore in 1950s before moving to Karachi. Cricketer Wasim Akram, Ramiz Raja and Ijaz Ahmed as well as tennis player Aisam-ul-Haq also call(ed) Model Town as home.
We can always use our knowledgable readers' input on adding more names to the list above.
Electric Supply to Model Town
The model town cooperative buys electric power in bulk from LESCO at a distribution voltage of 11000 volts from three feeders. It is then downstepped at several transformers to bring it down to a distribution voltage of 220V.
Civil Work Details:
The total length of road network in Model town is 64 km. The length of water supply pipelines and sewarage lines are 60 km each.
Following is an aerial photograph of Model Town.
References and Credits:
1. Title photo is from Adnan Latif's collection at Flickr.
2. Model Town Cooperative Society
3. Model Town Google Map here.
4. Model Town Map at Estateman here.