New ATP Poll: Who do you think will win?
Video Highlights added to the post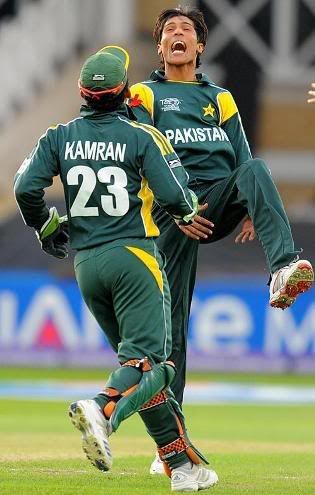 Just this very minute in the T20 World Cup being played in Nottingham, the Pakistan (149-4) team has beaten South Africa (142-5) by 7 runs to reach the Finals of the Twenty-20 World Cup. Congratulations Pakistan.
I believe everyone who comes to this blog has already got the match details so I don't need to delve on what happened when, except to say that Pakistan played superbly and they are now in the finals. Score Card here. Shahid Afridi has been declared as man of the match for his all round performance.
Pakistan will face either Sri Lanka in the finals on Sunday.

Here are the highlights of Pakistan vs South Africa Semi Final
(i) Pakistan innings
(ii) South Africa innings
Prize Ceremony:
Following is our earlier post after Pakistan's qualified for the Semi Finals:
Just few minutes ago Pakistan has comprehensively beaten Ireland by 39 runs to qualify for the Semi Finals of the Twenty20 World Cup. Score Card here. Points Table here.
What do our readers think about Pakistan's chances in the remaining World Cup? In semi finals they'll be facing off against South Africa which has remained unbeaten so far in the tournament (5 wins out of 5 matches). But today, we just wanted to wish good luck to Pakistani cricket team and offer congratualtions on their performance.
Blogs and Cricket analysis are calling Pakistan Cricket Team, 'the Mercurial Pakistan'. We hope it continues to prove right against South Africa in the semis.
What do Stats Say?
Well if statistics is any worth in Cricket, then stars do seem to align in favour of Pakistan. Do you know that Pakistan has the highest Winning Percentage in Twenty-20 Internationals in the world. Yes, Pakistan's record is 75% wins out of 22 matches they've played so far. They are followed by Sri Lanks at 72.22% from 18 matches.
Complete list of ranking in terms of win% in Twenty-20 Internationals is as follows. It is valid up to and including Pak v/s SA semi final of the world cup.
(Following list is updated as of November 13, 2009)
1. Pakistan 79.62% (27 matches)
2. South Africa 64% (25 matches)
3. Sri Lanka 60.86% (23 matches)
4. Netherlands 60% (6 matches)
5. India 55.88% (18 matches)
6. Ireland 50% (9 matches)
7. West Indies 50% (18 matches)
8. Australia 47.82% (23 matches)
9. New Zealand 43.33% (30 matches)
10. England 42.85% (20 matches)
11. Canada 35.71 % (7 matches)
Zimbabwe 35.71% (7 matches)
13. Scotland 28.57% (8 matches)
14. Bangladesh 23.07% (13 matches)
15. Kenya 12.50% (12 matches)
16. Bermuda 0% (3 matches)
Photo Credits: Dawn