A day and night long monsoon rains have left 28 people (later updated to 33+) dead in Karachi and other areas of Southern Pakistan and washed away infrastructure, including at least two bridges.
170mm rain has been recorded in the past 24 hours. Atleast one newspaper is claiming it to be the record rainfall in 30 years (I am unable to verify the claim). Anyways, as always what was supposed to be blessing of nature has once again became bad news. Electricity supply across the city lies in shatters as circuit breakers started tripping with first drops of rain. Atleast two bridges in Karachi have washed away and several homes lost their roofs and walls besides the loss of 28 precious lives.
This report in The News describes some of the havoc brought by these rains
At least 33 people were killed and over 70 injured in various accidents and mishaps as a result of the unprecedented catastrophic downpours in Karachi. The bridges near Hawks Bay and Airport washed away in heavy showers.

According to police and hospital sources, the first monsoonal showers triggered various accidents in which at least 33 people were killed and over 70 injured owing to collapses of rooftops and walls, electrocution and drowning.

Two brothers—Salman and Usman—lost their lives as the wall of their house collapsed in Musa Colony. Two brothers died in collapse of rear wall of Rangers headquarters in Mujahid Colony. Meantime, the bodies of Majid 19 and Abid 17 have been recovered from Qayyumabad nullah. Zaman s/o Sher Afzal was electrocuted in Mehmoodabad-8. A woman passed away owing to suffocation; while, four people lost consciousness.

A man was electrocuted in Lines Area. A child drowned in stream of Machchar Colony. A portion from sixth storey of a building fell on an adjoining building, killing man, his wife, their two children Rehman 5 and Rutaba 7; while, Muhsin 10 was injured. A housetop in Iqbal Market in Orangi Town collapsed injuring Rabia Khatoon 28, her daughter Ayesha 4 and Umar 7. They were rushed to hospital, where they succumbed to injuries.

Bukhtiar 26 and Zahir Shah 50 were killed in Orangi Town house collapse; while, Muhammed Asif lost his life by drowning in water in Abudr Rehman Goth area of Hawks Bay. Two labourers were electrocuted at a textile Mill in Site. The electricity wires snapped near Akbari Masjid in Korangi Bangali Para, electrocuting Nur Muhammed 40. Also, a KESC employee Kalandar bux 38 was killed in Liyari. In other incidents of electrocution, Abdur Rehman 19 was killed at Jahangir Road, Muhammed Wali 20 in Ranchore Line, son and father in Shirin Jinnah Colony and Adnan 40 was killed in Korangi Nasir Colony.

11 people were injured in collapse of wall of a house in Mangopir area near Hamdard University. While, over 70 were injured in various incidents of collapses of rooftops, walls and pylons in Orangi Town, Site, Dawood Goth, Gulshan-e-Iqbal area of Shanti Nagar, Ittehad Town, Lasi Goth, Musa Colony and Taiser Town. A bridge washed away near Maripur police station at Hawks Bay Road, causing traffic to and from Hawks Bay to be blocked. Meantime, a bridge, linking Airport to Gulistan-e-Jauhar washed away near Airport Security Forces headquarter in rainwater, causing to obstruct the way.
The photo above shows Liaqatabad underpass filled up with water during the rains. Once again all the planning and engineering that goes behind designing an underpass failed. This is not the first time that newly built underpasses change into water ponds with every major rain.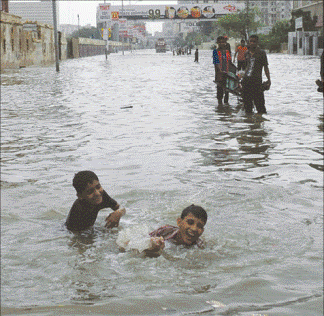 The photo to the right shows boys swimming in accumulated rain water on I.I. Chundrigar Road. This road as many of our readers may know is called the Wall Street/Financial Capital of Pakistan. With children swimming on this major road gives an idea of how bad is the water drainage system in the city.