A while ago, we had a post about the experience of a young cricket fan watching his very first International match at National Stadium Karachi. Today's post is about the similar experience at Qazzafi Stadium Lahore that happened on the cold frigid day of December 31, 1982.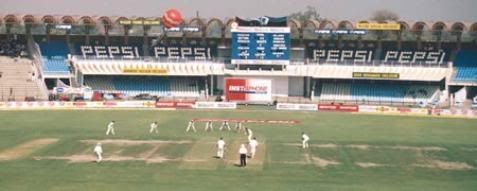 India's cricket team was touring Pakistan in 1982-83 to play 6 test matches and 4 One Day Internationals. This was one of the most important cricket series' of the 80s.
Javed Miandad writes about this series in his bioagraphy as:
Infact, in that 1982-83 home season, the nucleus of the Pakistan team that would go on to dominate the world in the 1980s was starting to take shape.
One of the ODIs of this series was scheduled in Lahore on December 31, 1982. I was in Lahore in those days. A cousin of mine and myself decided to go to the stadium and watch the match. Our tickets were for the roof covered Club Enclosure towards the College-end. The enclosure is visible in the photo above, just next to the sight screen – towards right side.
On the morning of the match it started to rain in Lahore. Since we had to sell tickets so on that frigid Lahore winter morning, we reached the stadium around 7 a.m. People had already started to pour in the stadium.
Due to morning rains, the match was reduced to 33-over-a-side. Imran Khan won the toss and elected to bat. Cricketer-turned-Film Star Mohsin Khan and Mudassar Nazar started the innings for Pakistan and Kapil Dev started bowling for India. His first ball was a wide but on very next ball he caught-and-bowled Mohsin Khan for 0. There was a sudden silence in the stadium, which was by then jam-packed with over 35000 people. Zaheer Abbas came to bat next. Zaheer and Mudassar Nazar steadily took the score to 70 when Mudassar fell caught-and-bowled to Ravi Shastri. Javed Miandad came to bat next.
At some point in the match a section of the crowd became rowdy to cricketer Balvinder Singh Sandhu. He complained to umpires and the match was stopped. Javed Miandad came towards the crowd and beckoned the crowd by putting put his finger on his lips. The whole crowd became as silent as dead. Such was the power of cricket superstars in those days. There was no crowd trouble after that for rest of the day.
Zaheer and Javed were both at the top of their batting form. They hit, drove, pulled and cut at will. Mohindar Amarnath who always bowled with a Red handkerchief in his pocket for Good omen was smashed all over the ground by Javed-Zaheer duo for 50 runs off 5 overs. Kapil Dev went for 73 runs off his 7 overs.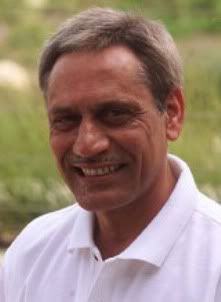 When 33 overs finished, Pakistan scored 252 for 3. Javed Miandad was not out at his career best 119 off 77 bowls, with 5 sixes. Zaheer Abbas scored 105 off 82 bowls. I think I am fortunate to have seen Javed Miandad playing his career best innings live.
After lunch break Sunil Gavaskar and Kishnamachari Srikkanth started the innings for India. It was Srikkanth's third one-day match and not many people knew him then. Imran Khan started bowling for Pakistan but was hammered by Srikkanth in his first over for 2 sixes out of the ground on mid-wicket. The mid-wicket boundary in Qazzafi stadium is full 75 yards, plus some extra yards behind that, and then a huge general enclosure. So those were some really giant hits by Srikkanth that went out of the stadium. The crowd was silent again. Nobody could grasp that a new kid named Srikkanth could hit 2 consecutive sixes to Imran Khan. When Imran came for his 32-step bowling start near our enclosure, someone in the crowd started shouting 'Oyay Oyay'. Imran looked at the crowd and with hand gestures asked them to clap for Srikkanth.
When Pakistan off-spinner Ijaz Faqih came to bowl, I remember the crowd was shouting
Ijaz saada sher eh, (Our Ijaz is the lion)
dum lagaan di der eh (Only thing missing is his tail)
Pakistan's bowling attack in those days used to rely solely on Imran. Checkout the bowling line of Pakistan in that match: Imran Khan, Tahir Naqqash (he used to circle his arm 5 times before actually delivering the ball), Shahid Mahboob (him and Rashid Khan, used to bowl on wrong foot, remember?), Ijaz Faqih (theoretically an off-spinner but practically a straight slow flighted lolly-popper), and our Lord's hero (1982), the man with the golden arm, Mr. Mudassar Nazar.
Finally Srikkanth (39) was out caught while going for a big hit on Shahid Mahboob. Gavaskar(69) was removed by Tahir Naqqash. Sandeep Patil scored 51. When 27 overs finished, India were 193/4 and required 62 to win in 6 overs. At that instance rain came again, and India won the match on better run rate because Pakistan's score at the end of 27th over were 175/2. It was a big disappointment for the crowd because had the match went up to 33 overs, it would've been very difficult for India to score 62 off 36 bowls, especially with 2 overs of Imran Khan remaining. It was the peak season of Imran Khan and during the same series later on he got his famous stress facture. Javed recalls this series of Imran in following words in his biography:
Imran, (in this series) was phenomewnal and bowled some of the best spells of his career, taking 40 wickets for 13.95 a piece. His famous afternoon spell in Karachi during the second Test – where he brought down India from 102-1 to 114-7 with reverse-swinging boomerangs – is one of the most famous spells of bowling in Pakistan cricket. It was just out of this world.
After the match we came back with a 'latka hoa muNh' (long face) because Pakistan had lost the match. But I'll always remember this match for Javed Miandad and Zaheer Abbas batting.
Next week I came back to Karachi, and watched the 4th one-day at National Stadium Karachi. That story some other time.
And complete score card of the Lahore match is available here.